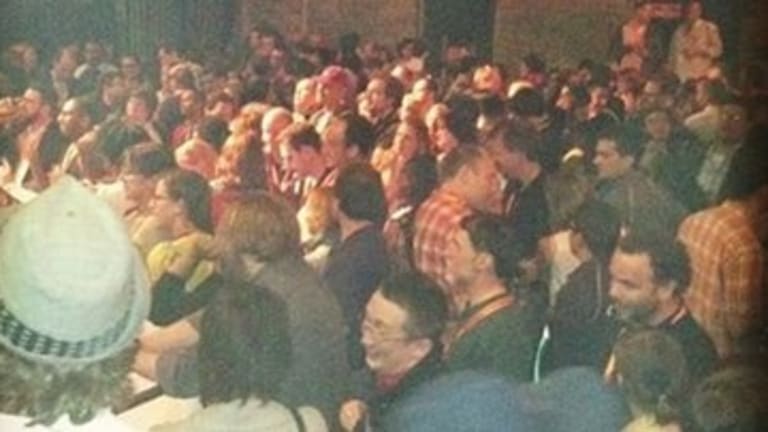 Netroots Nation Lacks Diversity
Sharon Kyle: Netroots Nation Lacks Diversity, even as the organizers of the convention consciously focused on inclusiveness, the lack of faces of color is striking
Progressive activists, talking heads, politically savvy bloggers, elected officials, non-profits, political candidates, and a host of others found their way to the Netroots Nation convention for four days of trainings, panel sessions and parties with a mostly left leaning focus.
I'm at one of the largest gatherings of progressives in the country writing to you from a hotel in the wee hours of the morning of the third day of the Netroots convention after spending two days with upwards of 3,000 attendees

For social justice advocates, NN is the place to be. The halls are packed with the kinds of people who want to change the world, who want to make it a better place for everyone. Which brings me to the point of this piece: Although Netroots touts itself as being an incubator for ideas that challenge the status quo, judging from the racial make-up of the NN attendees, lack of diversity is one status quo that doesn't seem to be challenged enough.
It's important to acknowledge that Netroots Nation instituted a policy requiring all panels to be diverse. In full disclosure, I was a member of the panel selection committee. As we prepared to make our selections, we were instructed to dismiss any panel that was comprised entirely of white males. To their credit, the organizers were very clear that they intended to be inclusive. But you couldn't have guessed that by looking at the crowd at the popular Netroots Nation Karaoke party on Thursday night or by perusing the halls of the convention center where the Netroots crowd convened. For the past two days I've been one of a sprinkling of racial minorities floating in a sea of white.
Unlike NN12 which was hosted in Providence, Rhode Island, NN13 is hosted in a majority minority state. Blacks, Latinos and Asian Pacific Islanders make up more than 50% of California's population putting an even brighter spotlight on the overwhelming whiteness of this convention.
Wanting to get the opinion of a Netroots insider, I spoke to Jenifer Daniels, a long-time Netroots supporter who has come to the convention for 5 consecutive years. Daniels is a vocal advocate for racial inclusivity and was a member of the popular NN panel, "Ask a Sista". I was surprised to learn that she had decided to make NN13 her last Netroots convention. Citing the lack of involvement by racial minorities, Daniels told me, "I won't be back. I've had enough". We chatted a while at the "This Week in Blackness" party discussing the reasons why minorities don't turn out. I mentioned that it seemed to me that the black people who were in attendance were not representative of the black people in my life. She didn't disagree.
Note: After this was posted Jenifer contacted me and emphasized that she might come back to NN but her ten year wedding anniversary plans conflict with the Denver convention. Here is a link to the article Jenifer wrote entitled, "My Last Netroots?"
So while I applaud NN13 for making a conscious effort to be inclusive, the outcome was disappointing which raises questions about the unintentional ways we exclude others. Why is it that this topic is such a hard one to broach? Is the progressive movement racially segregated? What can we do to change the racial composition of future Netroots conventions? I don't have answers to these questions but I think progressives would be in a more powerful position if they did.
I believe that until the progressive movement comes to terms with the racial divisions that exist within it, we will continue to mount campaigns with one hand tied behind our backs. When confronting our powerful adversaries, we'd be in a much stronger position if we had all-hands on deck. In other words, it seems to me that the racial divide affects the entire progressive movement whether the focus is fracking or money in politics, or universal healthcare -- we must be united if we expect to successfully challenge the status quo.
The NN convention is certainly something I want to continue to be a part of. It is educational, fun, and provides lots of opportunities to network. My only issue is the lack of racial and ethnic minority engagement.
My hope is that there will be a more focused, more determined effort to make future NN conferences attractive to all progressives. At the NN conferences we've attended, we didn't have to worry about finding each other if we separated to attend two different conferences. My husband could scan the room and easily spot me seated in any of the sessions (with the exception of the "Ask A Sista" panel) because my blackness made me stand out. When I show up at future NN conventions I'd like to be able to get lost in the crowd and I'm willing to work to help make that happen. Who will join me?
(Note: This article was linked to a site that is frequented by rightwing ideologues. Most of the comments posted below come from that site)
Sharon Kyle
Publisher, LA Progressive