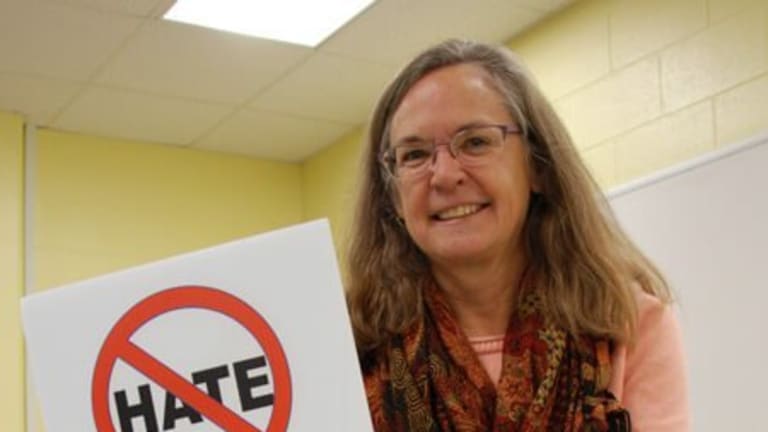 No Place For Hate In Our Town
Berry Craig: "Whoever was dropping the leaflets came back over the Memorial Day weekend. This time they had an anti-LGBT message. They left them again in driveways and on stoops."
When Ku Klux Klan leaflets appeared mysteriously on lawns, driveways and doorsteps in Murray, Ky., Barbara Cobb decided to fight hate with love.
The Murray State University professor had a local business print up little yard signs that proclaim, "There's No Place For Hate in Murray, KY."
About 400 sprout from lawns in Murray, population 18,100, in westernmost Kentucky.
"This is the 'grassrootiest' of grassroots movements," said Cobb, a Maple Glen, Pa., native, who earned a Ph.D. from Rutgers University. She has been on the Murray State English faculty since 2002.
Cobb's message is migrating. "I got so many requests for signs from beyond our town that I had more signs printed up that say, 'There's No Place For Hate In Our Town.'"
Some of those signs are planted in New Orleans, upstate New York, and Oberlin, Ohio.
She said the Klan fliers first appeared on the night of Kentucky's May 17 primary election. They were anti-immigrant and anti-Muslim.
She said the pamphlets understandably frightened some residents. "A lot of people were very upset, not just because of the message but because these people had been in their yards."
Cobb didn't get scared. She got even.
"I thought of the idea of just making a simple yard sign that said there was no place for hate in Murray, Ky."
Cobb had 100 run off, paid for them herself, and started passing them out.
"Whoever was dropping the leaflets came back over the Memorial Day weekend. This time they had an anti-LGBT message. They left them again in driveways and on stoops."
"Whoever was dropping the leaflets came back over the Memorial Day weekend. This time they had an anti-LGBT message. They left them again in driveways and on stoops."
Extra KKK fliers were deposited under each yard sign.
Immediately, Cobb got more requests for signs, with people offering to pay for them. She made up and distributed another 100.
A third KKK leafleting followed after June 12, when an American-born shooter who'd pledged allegiance to ISIS murdered 49 people and wounded 53 more at a gay nightclub in Orlando, Fla.
"At this point, requests for signs were coming so fast that by the time I got to the third set of 100, every one was paid for even before I had ordered them."
People kept on asking for signs, especially as Nov. 8, election day, neared. So she ordered another 100.
Donations have paid for all but the first 100 signs.
She has only 15 signs left.
Cobb is also running low on anti-hate decals. She had 1,000 made, and 800 are gone. "They're just the word 'HATE' with the universal 'no' sign in front of it. Those were all paid for by donations as well."
She gives the decals to anyone who asks for them. She mailed 100 decals to a woman in Danville, Ky., "who is spreading the same message," according to Cobb.
Cobb, who voted for Hillary Clinton, is planning another run of signs in the wake of Donald Trump's election.
She's not sure what the signs will say. But Cobb plans to stick to a positive message.
Meanwhile, she continues to promote her cause on "There's No Place for Hate in Murray, KY," her Facebook page. Cobb said she has 350 followers.
"We are not part of any one group; we don't support any one cause. We are here to promote inclusion and tolerance and finding ways of bringing people together in any form of no-hate that we can possibly promote--reaching across racial lines, reaching across religious lines, reaching across class lines. Everybody who is part of this simply wants there to be less hate in this world."
She said Murray was once dubbed "the friendliest town in America." Cobb added that Klan hate "has no place in the town called 'the friendliest town in America.'"
The election didn't stop decal and sign seekers. "Requests are still trickling in." Requesters can contact her via email at barbarawestky@gmail.com.
Cobb hopes her signs will help prove that Murray merits its "friendliest town" title. "Our one issue is spreading the good."
She said she started her sign campaign in part because of her son, Austin, 17, and other local teens.
"He has lived here since he was three-and-a-half. He loves this town, and he has seen the diversity that that is this town, and when we see these reactions against diversity, these reactions against tolerance and against inclusion, we have to stand up.
"We are going to make [Murray]…as no-hate as we possibly can."
Berry Craig