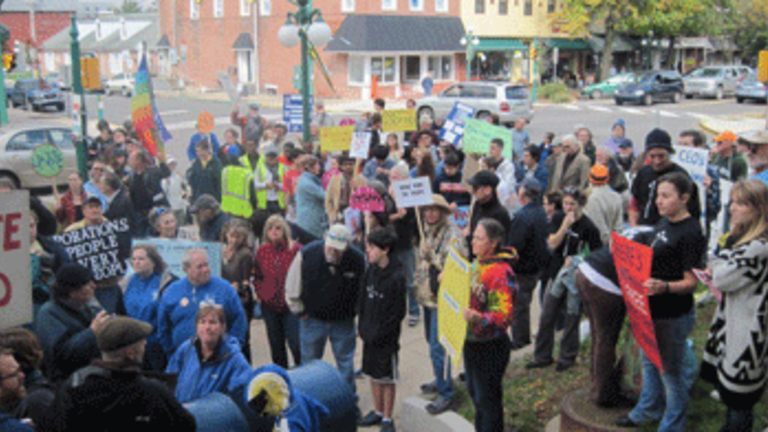 American Idol or American Ideal?
David Kristjanson-Gural: A number of occupiers spoke up in favor of this idea, connecting the idea of the kitchen to the creation of community meeting space, space for kids and parents, community education and outreach and space for the performing arts.

Jordi Comas took the people's mic last Friday night and led Occupy Lewisburg in an unlikely exercise he called "American Ideal." Offering five creative options for collective action, he then challenged the occupiers to propose their own ideas and compete in an activist "beauty contest."
Groups of occupiers put their heads together and came up with some darlings.
"This is just a beauty contest," Comas continued to emphasize, seemingly to no avail. After two rounds of advocacy and voting, here is what our local occupiers came up with.
Joanne F. Henry spoke eloquently on behalf of an intergeneration collective of artists/performers who would periodically create a mobile Occupation by the Arts in response to community concerns. Occupying an old school bus, the performers would travel to a specific local site in need of an Occupy event and create an artistic performance/installation to draw attention to the need. By filming the artistic endeavor, the Art Bus would use various media platforms to generate awareness of the particular community issue.
"Artistic expression cuts though our thinking in a way that reading words on a page does not. It lets us take in ideas we may otherwise brush away," Joanne said. "This community has such a wealth of performers. I would like to see our creations cross lines of gender, race and class to include everyone in the community and slip into many different media platforms."
Stacy Richards shared her experience with an ongoing project in New Berlin to create energy independence at the community level. The Community-Wide Energy Independence Project has focused for the past two years on reducing energy use through conserving energy. The project is also exploring further energy reductions through renewable energy options such as solar PV, solar thermal and bio fuels. Financial models are being explored, including individual and community-owned renewable projects in which community members would be shareholders.
"The community is well on its way to reducing its energy consumption by 20% within three years through energy conservation in homes, churches and businesses. They are poised to create a real alternative to fossil fuels," Richards said. "I think we can really do this."
Don Stechschulte offered his vision of community-based health care.
"The two most important question that determine your odds of recovering from illness, be it cancer, diabetes, HIV, are not medical. Are you economically secure? Do you like your job? These are not questions that doctors are trained to ask," Stechschulte explained.
A community health initiative would explore ways of providing economic security and meaningful employment as a means of improving community wellbeing on all levels.
"We need to take responsibility for peoples' health and wellbeing in this community beyond the hospital and the doctor's office and put it back in peoples lives," Stechschulte concluded.
Kate Parker spoke on behalf of the idea of creating a Community Kitchen.
"We have it in our power, probably within this room, to feed our entire community if we want to. Yes, it requires work to create a meal, but if you take the time and if you do it with love, you cannot only feed people's bellies, but you can feed their hearts and souls and help them feel cared for."
A number of occupiers spoke up in favor of this idea, connecting the idea of the kitchen to the creation of community meeting space, space for kids and parents, community education and outreach and space for the performing arts.
"It is an opportunity to spend time working together, which is something we also need to do, and when you care for people, when you offer them something with no expectations, they remember that and it creates a community bond," Parker added.
The Community Kitchen ended up winning the title of the "American Ideal."
"We have decided nothing," Comas insisted. "This is just a beauty contest, just an opportunity to generate ideas." And it was clear that, indeed, those present had begun to see possibilities of combining these ideas into the first sketch of a plan of action.
"We need to put a human face on the Occupy movement," Margaret Moyer insisted, "and sharing a meal is an ideal way for people to see the real people behind this effort, and perhaps to begin to question the information they are getting on the news."
"If you don't like what you see on the news," offered Steve Mitchell, drawing on the wisdom of earlier protests, "Go out and make your own news."
It seems the seeds planted on Friday night at Occupy Cherry Alley may have already begun to take root. If you would like to be part of the Occupy Lewisburg efforts to support the American Ideal, go to OccupyLewisburgPA on Facebook or contact me at kristjan@bucknell.edu.
David Kristjanson-Gural
Spilling Ink: Voices for Radical Democracy