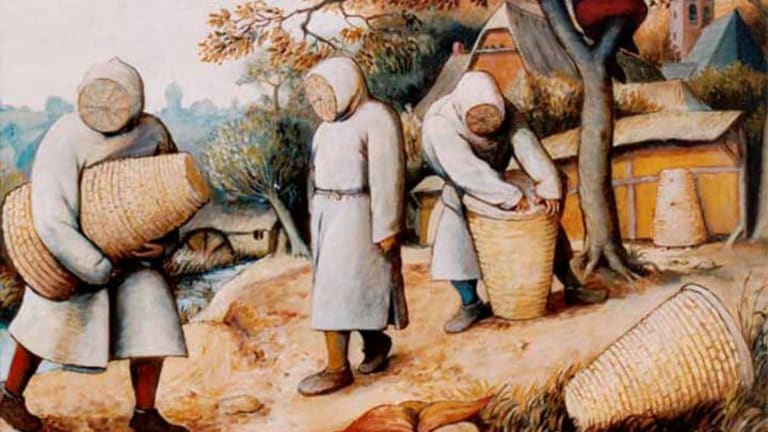 The Detangler: Banksters, Spies, Bees, and Saving Healthcare and Retirement
Larry Wines: Globally, bees are in trouble. And without bees, most food crops would not be pollinated and would not produce edible outcomes. Science knows that and has nevertheless been handed court defeats.
This week, we let you know how to get involved in ways that make a difference, with opportunities Friday and Saturday right here in Southern California. That's part of our cornucopia of underreported local, state, national and global topics, all with major implications.
Why DAPL matters far more than Big Media acknowledges
The Dakota Access Pipeline. It's being built by Energy Access Partners, Inc. with banksters profiting by using your deposited savings to fund it. You may have known that much, but corporate mainstream media has minimized it, at best. Here are a few of the many unreported and unchallengeable facts.
Sworn law enforcement officers equipped with military gear and using chemical weapons, deploy fire hoses in freezing temperatures, and use lethal and menacing tank-like vehicles. Supposedly public servants, they are being privately paid and are taking orders from the corporatocracy to attack and arrest unarmed protestors—and the few journalists who go there to report from the scene in North Dakota. Please read those two sentences twice. Because that, alone, should be the biggest news of the past eight-plus months, instead of the BS and baloney on Big Media's daily blue plate special of pablum.
Added to it, federal laws and an Executive Order protect Native American sacred lands, if not definitively in one statute, and that has been brutally ignored by the Big Oil corporatocracy. Similarly, Big Media's editors have failed to assign their in-house legal correspondents to explain the applicable laws to the public. Of course, now that the Trump Administration has ordered completion of the pipeline without delay, things have changed. But only enough to add mention of summary approval to the dogpile of mainstream media coverage in its tacit advocacy for a coup.
Still, the complicated, often heartbreaking history of cases that have robbed or attempted to protect Native American rights is ignored. Rulings in cases are especially heartbreaking when they vacillate on whether Native American lands or burial sites or places sacred to their cultures can be taken or exploited for private profit or developed or destroyed.
Still, there are some key victories that can be cited and applied to current cases, including DAPL. Accordingly, one wonders why the outgoing Obama Administration failed to invoke any of the following: Section 106 of the National Historic Preservation Act (as described on page 406 at the above link); or Executive Order 13007 issued by President Clinton on May 24, 1996 (page 482, above); or the "Preservation of American Indian Sacred Sites on Federal Lands Act" of 2003 (page 490) -- any of which could end the clearly illegal construction of DAPL across lands sacred to the Lakota. One answer: mainstream media failed to bring adequate awareness to result in sufficient public pressure.
That's not the only failure of Big Media to inform us and protect the rights we all assume we have. There is a more universal transcendent concern, and it reaches to your neighborhood and your home. Our readers are probably aware that private property rights vanished when government gave itself authority to use "public domain condemnation" procedures on behalf of private interests. Meaning your house can be seized and you evicted, specifically because some rich guy wants to build a mansion on the lot or to enable a tacky strip mall to go in -- as backed by the city who will collect higher property taxes than they can get from your humble abode.
Or your property and everyone else's on your block can be seized if Wal-Mart wants it for a store, because their "higher use" produces sales tax revenue. All it takes is the "free speech" of unlimited campaign contributions doled-out to city council members, county supervisors, or state legislators. The wheels for seizure are greased by those nefarious Supreme Court decisions in Citizens United and McCutcheon.
"...this is rampant all over the country. It's like a plague," said Jim Saleet, who was in the midst of being dispossessed of his residential property in Ohio. The CBS story that interviewed him also spoke to his attorneys, Dana Berliner and Scott Bullock, with the libertarian non-profit group, The Institute for Justice. The lawyers asserted that taking private property this way is unconstitutional. But statutes in state after state, and most court cases that can be cited as tort law since the trend began in the 1990s, have consistently allowed property seizures for profitable private development.
"This is a nationwide epidemic," said Berliner. "We have documented more than 10,000 instances of government taking property from one person to give it to another in just the last five years."
That was the five years prior to Berliner's comments in 2003. Why did we reach back so far? Because it's much worse now, and corporate mainstream media scrupulously fails to report on it anymore. They've ignored these issues for well over a decade.
DAPL seems to extend the corporatocracy's hegemonistic theft of 'purt near anything they want. That includes enabling the de facto override of separate laws designed to protect lands with special status. Even "spiritual" status. So keep an eye on the cemetery where grandpa is buried. He could be dug-up for a feed lot for McDonald's beef production. Or they may want your back yard for the wellhead to an underground gas storage field, like the one that leaked and poisoned Porter Ranch. Or a rich guy may want every house on your block for a vacation mansion with a helipad and tennis courts.
The ever-expanding facilitation of "cybersecurity"
Congressman Steve Knight (R) represents California's 25th district, including Santa Clarita, Simi Valley, and Antelope Valley. He writes, "Last Wednesday I participated in a House Committee on Science, Space, and Technology markup in which we passed H.R. 1224, the 'NIST Cybersecurity Framework, Assessment, and Auditing Act of 2017.' This legislation would protect the information of our government personnel and projects from foreign cyberattacks by requiring federal agencies to meet the highest standards in cybersecurity software and protocols."
Wait a minute. Congressman Knight is focused on "... requiring federal agencies to meet the highest standards in cybersecurity software and protocols," but he says nothing about giving back to ordinary Americans even some of what used to be our individual privacy rights under the 4th Amendment. The ones we thought we had:
Before Ed Snowden outed the massive NSA data collection being done on all of us.
Before the CIA ran its own little in-house version of NSA and lost control of an overwhelmingly creepy arsenal of cyberwarfare tools that are spying on ordinary Americans, revealed in Wikileaks "Vault 7" as we discussed in last week's "Detangler".
Before Google, the world's chief sales outlet for what used to be private information, built data collection and processing centers as massive ships that can escape territorial waters on short notice.
Before an enormous, $1.7 billion NSA data collection center was built in Utah, to hold every miniscule digital record of every mundane detail of our lives. It's described, with differing measures of alarm, here and here, and its function is minimized in what looks like an establishment-planted comparison to "a Wal-Mart Superstore" here.
But, hey: if you're part of the military-industrial-cybersurveillance complex? Well, as long as that fairy tale that "The Russians did it!" still sells, why not ride Trump's intended 10% increase of the Pentagon budget and go for a piece of the gravy train for "cybersecurity enhancement"-? (And try to ditch the creepiness with assurances that "we're protecting you!" dispensed along the way?)
To Knight's credit, he concluded his characterization of "protecting you" with a YouTube link for the congressional hearing, so you needn't search to "Watch the whole thing here."
Help for California homebuyers, or easier exploitation?
California Assemblyman Tom Lackey (R) wrote last week, "Owning a home shouldn't just be for the rich." Sounds good so far, because that's verifiably a bigger issue in this state than elsewhere. In his "District Update" email to subscribers in the 36th Assembly District, Lackey continues, "California was just named the worst state in the country for first-time homebuyers."
Before you decide this guy "gets it," you need to see the rest of the story. In addition to the above quote, Assemblyman Lackey completes his message with this: "What are some lawmakers proposing? Throw money at the problem without addressing the issues driving the crisis. I want a different approach that helps homebuyers save, lets homebuilders build, and makes things easier on working-class renters with a tax credit. Follow me on Facebook to learn more."
I'll never encourage anyone to join Facebook, much less "like" anything there, because it is one of the top marketers on the planet of every move you make online, in addition to all your private information. So you can reach Assemblyman Lackey with your questions or thoughts at Assemblymember.Lackey@outreach.assembly.ca.gov.
But before we move on, read his quote carefully. His point about a plan that "helps homebuyers save" sure looks like a "healthcare savings account," so it bears watching.
Moreover, his simply expressed desire to "let homebuilders build" is a doozy in the 36th A.D.
That's because cities there have, for decades, flagrantly and routinely violated both the National Environmental Policy Act and the California Environmental Quality Act. That pair of 1970 legislative milestones, in addition to curbing the poisoning of the planet, have directed how government interacts in key issues of resource exploitation by for-profit businesses. One of many specifics that's common to both? They prohibit leapfrog developments that jump over undeveloped land that is proximate to existing urban/suburban settlements. Yet, in the 36th, the "right people"—all of them wealthy Republicans—have never had difficulty hopscotching their new housing tracts and strip malls onto the land they acquire "farther out," where it's cheaper. It's been a rampant pattern throughout the district.
One result is that surface roadways are a clogged quagmire for hours during morning and evening rush hours. Residents of hopscotched housing areas are miles from transportation arteries. They overload capacities of the pavement perpendicular to the distant freeway, or rail line, just to get to it. Employment possibilities in the 36th A.D. have never come close to matching the population numbers. Hence, the failure of proper planning—driven by municipal flaunting of laws to enrich the few—becomes painfully evident in the form of stoplight-ridden, high-blood-pressure gridlock. All of it an unnecessary obstruction that becomes permanent. Reaching the freeway or a Metrolink train station are essential to begin the long and crowded commute to the L.A. Basin, whether development occurs along the freeway corridor, as it should have, or perpendicular to it, as it illegally (but profitably) has.
So, Assemblyman Lackey, do we really need to make it easier for rich builders to put more McMansions in the bottom of the riverbed in Santa Clarita? Or add to the sprawl that's punctuated by abandoned alfalfa fields and desert woodland littered with windblown garbage amidst sprawl that's illegally leapfrogged into the hinterlands, miles from the freeway in Lancaster? Especially when you consider the cost to public treasuries of extending fire and police protection and municipal water and sewer systems to people who get ever-farther away and disproportionately harder and more expensive to reach?
And with over a million acres in flames last week across four states, all due to wild fires, it isn't hard to see why the two major pieces of enduring environmental legislation feature serious constraints on development. A runaway capitalist desire to "let homebuilders build" wherever the view is best or the land is cheapest is crazy. Not just because habitats are destroyed and indigenous plants and animals vanish. But also because the tough and costly logistics of adequately serving hopscotch developments are not in the public interest.
Bee defenders in court
Last month, the Bee Defenders Alliance (BDA) were at the European Court of Justice standing up for the bees.
BDA is a small group of independent scientists and beekeepers, and they were able to take on the world's biggest pesticide producing industrial giants: Bayer, Syngenta and BASF.
Globally, bees are in trouble. And without bees, most food crops would not be pollinated and would not produce edible outcomes. Science knows that and has nevertheless been handed court defeats
Their efforts are funded by donations from a network of environmental and progressive groups and activists, including the international progressive advocacy group, "Sum of Us." Tricia Rich says, "I was there with them, to deliver messages of support from over 57,000 Sum of Us members from across the world. The team were so grateful to know there were so many people standing with them."
She recounted a few of the messages received by BDA scientists and bee advocates:
"You're not just beekeepers, you're the keepers of our collective future."
"You have the support of thousands. We are right with you."
"Thank you for your amazing work and dedication to bees, nature, and our future."
"Thank you for caring enough for our planet and insects to fight on their behalf. Our future generations owe a debt of gratitude to you."
The European Court of Justice hearings have been completed. Now the judges are considering the case.
Rich says, "There were some outrageous claims made during the hearings. Syngenta's corporate lawyers told the court they're the ones trying to protect the bees -- saying the idea they would market a product that harmed bees is 'absurd.' They even said their neonic pesticides are so safe you can drink them!"
That refers to neonicotinoid pesticides that are known to cause bee colony collapse. To which Rich added the aside, "Please don't drink pesticide! Drinking even a very small amount can cause significant harm to humans."
Her primary narrative continued, "But the Bee Defenders Alliance lawyers were there to call out all of their (pesticide producers) lies for what they were. They made it clear that neonic pesticides are bad news for bees - and for all of us!"
Globally, bees are in trouble. And without bees, most food crops would not be pollinated and would not produce edible outcomes. Science knows that and has nevertheless been handed court defeats, usually on procedural or jurisdictional grounds, especially in the US. A lot is riding on this pending European court verdict.
Meantime, Rich encourages, "...keep standing up to the corporate giants putting profit before the environment."
Local Town Halls on the Future of Healthcare in CA
The California Nurses Association is taking a strong and activist stand for the Healthy California Act, SB 562 (sponsored by state senators Lara & Atkins) even as Republican efforts to repeal the Affordable Care Act, aka Obamacare, dominate the headlines. They are inviting public participation in Town Halls on the Future of Healthcare in California, planned throughout the state.
They tell us, "Our healthcare is under attack and as the current administration in DC moves forward to dismantle critical healthcare protections – California is ready to show another path is possible. The Healthy California Act, SB 562 (Lara & Atkins), allows us to go on offense by guaranteeing healthcare to all in California. Join community members at our Town Halls on the Future of Healthcare in California to learn more about our current healthcare crisis and our proposed solution: the Healthy California Act. You'll hear from nurses, doctors, as well as business, labor, youth and community – and we want to hear from you!"
They also invite you to join their Healthy California email list to learn more and get involved in the statewide campaign to guarantee healthcare for ALL in the Golden State.
A pair of local Healthcare Town Halls are scheduled.
Saturday, March 18th, 10 AM - Noon "Fullerton Town Hall," Hilltop Banquet Center, 1400 Elks View Ln., Fullerton, CA 92836
Sunday, March 26th, 11 AM: "Healthcare is a Human Right – March & Rally," Assemble at Pershing Square, 532 S. Olive St., Los Angeles, CA 90013. March, then Rally at City Hall until 2 PM.
Their additional events will be available here.
Act by Friday: Banksters are after the remaining retirement accounts
"The Trump administration already has begun working with Wall Street lobbyists and Republicans in Congress to once again deregulate Wall Street at the expense of working people," says Damon Silvers, Director of Policy for the AFL-CIO.
One of the key regulations they're targeting for elimination is called the fiduciary rule, a consumer protection, worker-friendly measure scheduled to take effect next month.
As Silvers says, "This rule requires financial professionals who provide investment advice to retirement investors to put their clients' best interest ahead of their own financial interest. It's a commonsense rule to protect the retirement security of working families."
He adds, "Right now, Wall Street bankers are aggressively fighting to delay and, ultimately, kill it. The Department of Labor already has said it wants to delay the rule, and we all know in D.C. that 'delay' is a code word for killing something."
Until the deadline on Friday, March 17, the Department of Labor is taking public comments on this rule. Silvers says, "...we need to flood the department with comments in support of the rule before (then)."
You can tell the Trump administration to stop trying to kill the fiduciary rule and keep Wall Street from draining our retirement accounts, here.
The AFL-CIO is leading this fight. Silvers says, "Wall Street interests have lobbied hard to kill this rule since it first was proposed. They want to maintain the status quo so some financial advisers can get big commissions and kickbacks when they convince retirement investors to invest in certain products—even when those products are not in the best interest of their clients. This rule is critical to promoting retirement security for working people. It means we will have more of our hard-earned funds available for a secure and dignified retirement."
He concludes, "Wall Street insiders are hoping they can keep their efforts to weaken this rule under the public's radar. Let's show them we're not going to let them. Tell the Trump administration to stop Wall Street from costing working people billions. The public comment deadline is this Friday."
See you next week. Meantime, don't get tangled in "the narrative."
Larry Wines