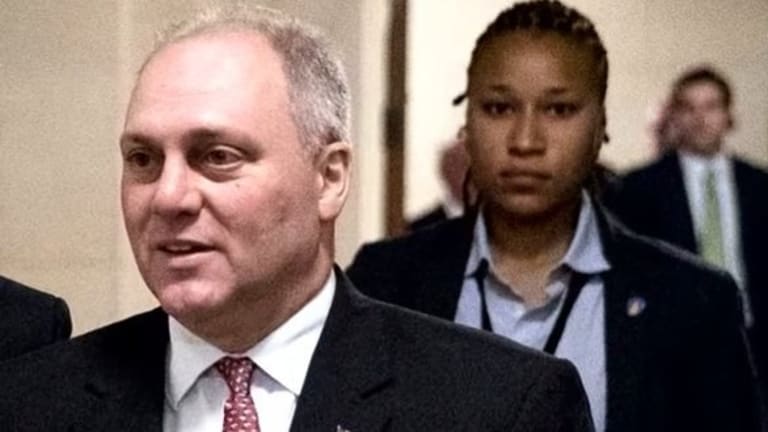 Crystal Griner and Steve Scalise
Tom Hall: Donald and Melania Trump visited Medstar Washington Hospital, and gave Crystal Griner a bouquet of flowers. Then they returned to the White House, so Donald could work on legislation ensuring that more people in America have access to guns.
Crystal Griner is recuperating at Medstar Washington Hospital, after being shot while rushing gunman James T. Hodgkinson, on Wednesday, as he fired at lobbyists and their congressional employees practicing for a ball game.
Crystal Griner is black. Crystal Griner is a woman. Crystal Griner is married to another woman. Yes, one of the wounded guards who helped save Republican congressmen and their lobbyists was a black lesbian.
Steve Scalise, the congressman who received the most serious gunshot wound, says on the campaign trail that he is "David Duke, without the baggage". He is a hardcore racist. He doesn't think black people, like Crystal Griner, should be able to vote. Or own or handle guns. Or have positions of responsibility in law enforcement, or in government.
Steve Scalise is a homophobe. He thinks that the Constitution should be amended to prevent lesbians like Crystal Griner from marrying the people they love.
Steve Scalise is a misogynist. He thinks that women should stay in the home, obey, and submit to their husbands or their fathers (in his state of Louisiana, that may be the same thing), and not go around looking for any rights that are not 'natural' for a woman.
But when he selected his security detail, Steve Scalise chose a black lesbian woman to guard himself
Leaders of the Corporate Republican Party have made sure that Steve Scalise is getting the best possible medical care. They want to make sure that he regains enough stability and mobility to get back to the House, to vote on their bill to take medical care away from 24 or 30 million Americans who are too poor to afford the kind of care Steve Scalise is getting at taxpayer expense.
Donald and Melania Trump visited Medstar Washington Hospital, and gave Crystal Griner a bouquet of flowers. Then they returned to the White House, so Donald could work on legislation ensuring that more people in America have access to guns.
Donald and Melania Trump visited Medstar Washington Hospital, and gave Crystal Griner a bouquet of flowers. Then they returned to the White House, so Donald could work on legislation ensuring that more people in America have access to guns.
Steve Scalise is one of those legislators who believe that protection is a personal responsibility, and that society will be better off when each person is packing their own gun for self-defense. His theory is that no one should rely on police or other security people, but should be armed and prepared to whip it out and blast away in any danger situation. His spokesmen have not yet explained why Steve Scalise was irresponsibly unarmed at the time of the shooting, or why he chose to rely on a black lesbian to protect himself.
The other member of Steve Scalise's security detail who was injured on Wednesday, David Bailey, is also black. Steve Scalise doesn't believe Bailey should be able to vote, or have health insurance. But he does believe that Bailey should be willing to die defending a 'superior' white man. And after all of Scalice's campaign rhetoric about whites being superior in every job to blacks, he chose a black man to be his other guard for Wednesday's public outing.
David Bailey was on crutches for the Thursday congressional baseball game. He was injured, but not wounded, in the Wednesday shooting. He was able throw out the honorary first pitch for the pre-game ceremonies. Then, after some photos for the press, he hobbled off the field on his crutches.
Both Griner and Bailey are expected to recover from their injuries. But will either recover enough to regain their security positions? Will either need psychological counseling, or physical therapy? We can't know for at least a while.
But we can know that House Speaker, Paul Ryan lavished great praise on both of them, after Wednesday's shooting. This is the same Paul Ryan who pushed legislation through, earlier this year, to dump 24 million people off health care, whether or not they need counseling or medical care. And who pushed through legislation (signed by The Donald) that will allow investment brokers to defraud and steal from middle class clients like Griner and Bailey, weakening their retirement plans.
Paul Ryan will be involved in deciding whether Bailey and Griner are 'fit' to return to service on the Capitol Police Force. Paul Ryan supported the Cheney/Bush policy of slashing veterans' care during two colonial wars, and turning our backs on returning, injured veterans. We'll have to wait and see how he treats two injured security officers, after the glare of the TV lights moves on to new stories.
Steve Scalise will automatically return, whether on his feet on in a wheelchair. Louisiana voters gave him a guaranteed high salary, larded with perks like comprehensive health care. If he needs psychological counseling after being shot, he will be allowed to continue his anti-black, anti-women, anti-gender equality, anti-Moslem, anti-Native American hate-mongering on the House floor.
If Paul Ryan or Steve Scalise decide that the security detail needs to be 'whitened,' there will be nothing Griner or Bailey can do.
Our politicians need security details. They need to be able to do their work without worrying about being accosted by angry constituents or others.
No one, armed or not, can just walk onto any of the film lots here in L.A. We understand that people involved in making the films, series, and video games that entertain us work hard, need to focus, and need to be protected from emotional fans. We cannot believe that the job of running our government is less demanding and less important than the job of creating the next Casablanca, or the next Bill and Ted's Excellent Adventure.
The job of creating entertainment involves being isolated on exotic locations, and being locked up on sturdy sound stages. Interaction with the entertainment customer is not required, or helpful. The job of running a nation, or a state, or a city, requires interacting with the citizens and residents of the same. Government employees, especially the elected ones, must interact with their 'customers,' and must be safe while doing that part of their job.
An entertainer has no obligation to her audience. If the audience likes the product, the entertainer benefits, and will entertain some more. But an elected official is not in office to create and offer an entertaining product. Such people are there to represent constituents, and must constantly consider what their constituents want. They must be accessible and responsive to the people they represent.
But being responsive does not mean submitting to being targets for people who disagree with them. Crystal Griner and David Bailey were part of an effort to keep a congressman protected, as he was out in public, where lobbyists could pay him, where protestors could yell at him, and where a madman could approach him with guns.
Steve Scalise's belief that everyone (at least everyone white), no matter how impaired, how young, how impulsive, should have and carry guns in public certainly contributed to the situation in which he was caught on Wednesday morning. He says that more guns make life better for everyone. So now let us watch and keep a spotlight of public attention on how the corporate Republican Party Congress takes care of injured black security officers, after the glare of TV lights turns elsewhere. Will Scalise and his party make sure that this episode of gun use ends up making life better for Griner, Bailey and their families?
And let us also watch to see that progressive and liberal activists and journalists keep some attention on these officers, to inform us whether the Republican claims of interest in the welfare of everyone rise to the level of actual care for two who put their lives on the line for a white, male, racist, misogynist.
Tom Hall