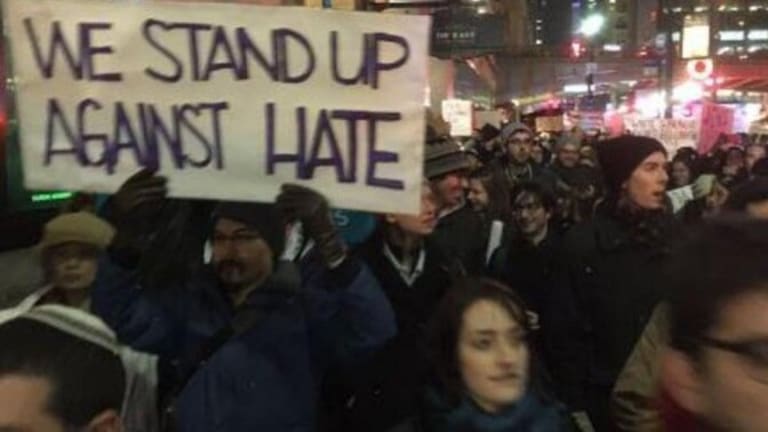 ZOA Madness: Bannon Gala
Murray Polner: The unitary peoplehood of Jews is a mirage, as well as the idea that there is a spokesperson or organization.
Sunday, November 12, Mort Klein of the Zionist Organization of America (ZOA) welcomed Steve Bannon to speak at a ZOA "gala," along with Alan Dershowitz, U.S. Ambassador to Israel David Friedman, ex-Sen. Joe Lieberman (D-CT), and Sen. Tom Cotton (D-AR).
The Times of Israel website reported,
Speaking to the ZOA, Bannon said Trump's election victory "would not have come without one other person besides Donald Trump — Sheldon Adelson."
In particular, he said Adelson's advice helped Trump overcome the release of the "Access Hollywood" tape, in which Trump boasted about sexually assaulting a woman.
"Sheldon Adelson didn't cut and run," Bannon said, regarding the time after the scandal broke. "Sheldon Adelson had Donald Trump's back. Sheldon Adelson offered guidance and counsel and wisdom of how to get through it. He was there for Donald Trump about how to comport oneself and how to dig down deep and it was his guidance and his wisdom that helped get us through it."
 The next day, Adelson issued a statement separating himself from Bannon's campaign to purge establishment Republicans from the party, and did not attend, although Bannon specifically was at the gala to introduce Adelson, according to the program.
Guests at the ZOA dinner included former White House figures Sebastian Gorka and Sean Spicer.
The ZOA "gala" inside the Grand Hyatt Hotel on E 42nd Street, next to Grand Central Terminal, was matched by protesting Jews outside.
The circumstance of IfNotNow and Eli Valley protesting in front of the ZOA gala showed a fine Jewish "disunity," consistent with American Jewish history, where a wide spectrum of identity, from Jewish nationalist to American of the Jewish faith, has always existed, as well as Jews finding that other Jews exhibit Nazi-like behavior.
The unitary peoplehood of Jews is a mirage, as well as the idea that there is a spokesperson or organization.
The unitary peoplehood of Jews is a mirage, as well as the idea that there is a spokesperson or organization.
The mainstream American Hebrew magazine, in a 1938 editorial, protested Zionist rabbi Stephen S. Wise's American Jewish Congress campaign to represent American Jews, saying, "As Americans and as Jews we are not willing to give any man or men control over Jewish Affairs."
The furious editorial called the AJCongress' campaign, "the greatest propaganda drive ever conducted in Jewish life. It has been as unremitting and as carefully planned to deaden all sensibilities as any Hitler propaganda drive ever was."
In 1948, the American Jewish Committee chairman Jacob Blaustein wrote, "I am deeply concerned over the concept of the World Jewish Congress that it speak for all Jews everywhere."
Founded as the Federation of American Zionists in 1896, Zionist Organization of America (ZOA) is an American component of the World Zionist Organization.
Since its beginnings during the 2014 Gaza war, IfNotNow has performed many actions at "mainstream" Jewish organizations, in service of valuing Palestinian lives as dearly as Jewish lives.
In this case, the action was as much for the protection of American Jews as Palestinian Arabs. The cartoonist Eli Valley made a pointed comment on the nexus that is developing with the American alt-Right, Zionists, and the Israeli leadership. (Bannon's Breitbart news site proudly maintains a news bureau in Israel.) The Forward reported:
He didn't mince words explaining why he'd given up his Sunday night to protest ZOA.
"I'm here because we need to let the world know that Nazi collaboration is not Judaism, and these motherf—kers should be excommunicated," he told me.
He was holding a sign that read, "You collaborate with neo-Nazis and call us Kapos?"
"Some of the greatest anti-Semites of our time are Zionists," Valley said. "That's no defense."
IfNotNow, like Open Hillel and Jewish Voice for Peace, attempts to decentralize political Zionism from American Jewish life, while not explicitly disavowing it in all forms.
The J Street organization attempts to bring what one can call a denatured Jewish nationalism to the table, a detoxification of the project, in a quest is to hold on to the Herzlian dream of nationhood.
The drama of ZOA, with Adelson and other Zionist donors, cozying up with figures of Christian nationalism and regressive nostalgia -- "Make America Great Again" -- brings to mind Herzl's attempt at collaboration with Russian anti-Semitic Interior Minister von Pleve.
The question is whether the logic and spirit of support for the Jewish state must lead to alliance with other ethnic nationalisms, contradictory to the interests of Jews outside of Israel.
Abba Solomon
Mondoweiss