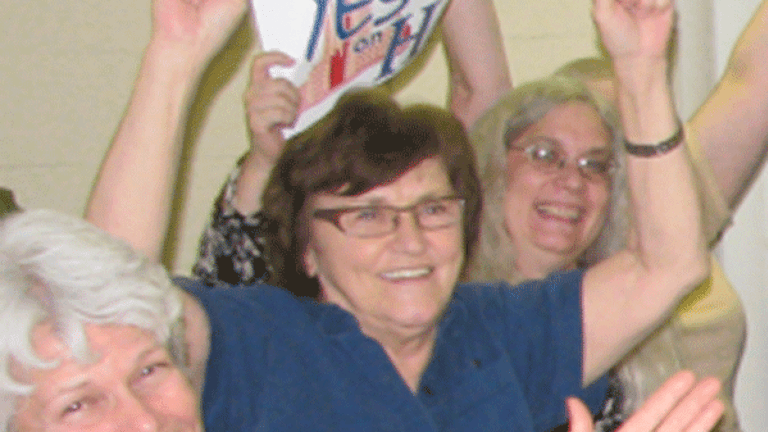 Cancer Claims Life of 'Fair Elections' Activist Tobi Dragert
Linda Milazzo: Tobi Dragert, a passionate advocate for fair transparent elections, equality, ending war and much much more, succumbed to cancer after a long and valiant battle.
On April 27th, the Los Angeles progressive community lost one of its truly valiant social justice warriors. Tobi Dragert, a passionate advocate for fair transparent elections, equality, ending war and much much more, succumbed to cancer after a long and valiant battle. A native daughter of North Dakota, Tobi spent much of her 72 years in the heart of Los Angeles, participating actively in campaigns to better our city, our state, our nation and our planet.
Of the many issues that motivated Tobi's activism, the one closest to her heart was clearly The California Clean Money Campaign; an organization she'd been involved with since its inception.
In his message to the Clean Money family, Trent Lange, the organization's President and Chief Executive Office, described Tobi as "one of the original leaders... that birthed the California Clean Money Campaign." Lange went on to say, "It would be hard to name a more dedicated volunteer than Tobi, both for Clean Money and for all the progressive causes she believed in... Tobi was a real fighter. We have lost a great friend. But we will carry on her fight for her." Lange offered this photo of Tobi (center in blue) "cheering the overwhelming victory of Measure H in Los Angeles that she helped make happen -- just one of many things that are a little bit better because she fought so hard for them."
Fight hard she did. As Tobi's colon and liver cancer advanced, forcing her to endure the ravages of chemotherapy and harsh clinical trials, she never stopped campaigning for SB 52, the California DISCLOSE Act, requiring campaign ads to disclose, on the ads themselves, the identities of each ads' funders. Tobi worked tirelessly to pass SB 52. Despite her constant discomfort, she set up a booth at the Los Angeles Green Festival, transported the Disclose Act materials, and worked the booth from morning till night. As of now, according to the California Clean Money Campaign, SB 52 passed overwhelmingly in the California Senate and comes up for vote in the Assembly this year.
Over the years, Tobi had been active in several progressive organizations, including CODEPINK, moveon, Progressive Democrats of Los Angeles and the White Rose Coalition. She offered her energy and time to progressive candidates, including Marcy Winograd's congressional campaigns. No matter the cause or the candidate, Tobi was a laser focused, involved volunteer.
On a personal note, Tobi Dragert was an amazing friend. In 2011, during a time when we thought her cancer was in remission, I was diagnosed with Stage 4 Lymphoma. Tobi was the first person I told and the only person I told for several weeks after. She was my cancer buddy. She accompanied me to the oncologist for my initial staging and cheered me on every step of the way. Though I can't repay Tobi for her friendship and support, I can pay it forward and support others "in the fight." That I will do.
The California Clean Money Campaign has established a facebook page inviting commenters to share their sentiments about Tobi. Friends may do so here.
Tobi is survived by her son Todd, daughter Paula and grandson Derrick. According to her son, Todd, Tobi's memorial service will be June 20th from 6:00pm to 10:00pm at The Annenberg Community Beach House in Santa Monica, California.
Rest in peace, dear friend.
Linda Milazzo