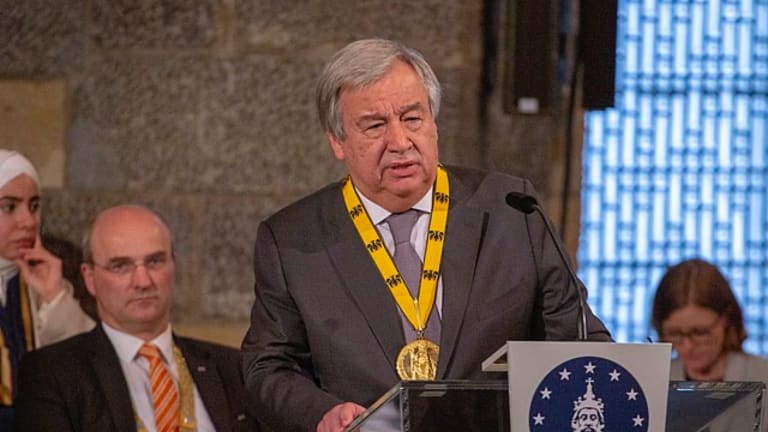 UN Secretary General António Guterres: Catholic, Socialist, and Progressive
In the midst of world miseries, individuals like Pope Francis and António Guterres provide glimmers of hope.
From time to time I have heard or read pronouncements of UN Secretary General António Guterres and generally liked them. Finally, I decided to look into his background more, and then analyze a few of his recent speeches.
In his views I found him to be progressive, and for a long time he has been a practicing Catholic and a socialist. Having been raised Catholic myself and been educated in Catholic institutions for over twenty years, I have known many Catholics.
With some, their religion has made them better people. I think, for example, of Dorothy Day, one of four or five people that both Barack Obama and Pope Francis identified as a great American. With others, however, like some of our Supreme Court justices, their religion seems to have reinforced their ideological bent, a flaw Pope Francis has warned against. ("Ideology chases away the people. It creates distances between people…It is a serious illness, this of ideological Christians…[It is] rigid, moralistic, ethical, but without kindness.") Judging from his speeches and actions, Guterres seems more like Day than someone like the ideological Catholic Supreme Court Justices Samuel Alito and Clarence Thomas.
Mr. Guterres was born in Portugal in 1949. He was an outstanding student at a prestigious technical institute that was part of the University of Lisbon. There he studied physics and electrical engineering. He began his university studies in the waning days of the decades-long dictatorship of the right-wing António de Oliveira Salazar, but Guterres's opposition to the Salazar regime was fueled more by his Catholic concern for social justice as opposed to any radical leftist ideology. As a young man, he worked as a volunteer among Lisbon's poor people, and for part of the early 1970s he was an assistant professor at the institute from which he had graduated.
By 1974, after a coup had ousted Salazar's authoritarian right-wing successor and made democracy possible, Guterres had concluded that the best way to bring about social change was through political reform. That same year he joined the Portuguese Socialist Party and soon thereafter left academia to devote himself to a political career.
In 1976 he was elected to the Portuguese Parliament, where he held various positions until in 1995 becoming prime minister, an office he continued to hold until 2002. In two polls conducted in Portugal in 2012 and 2014, he was voted the best prime minister among the seven who served in the previous three decades. In 2016, when he became Secretary General of the United Nations, the Financial Times of London noted that he had "built a reputation as a consensus-builder" with a "preference for dialogue."
In emphasizing dialogue, Guterres has been like two other outstanding Catholics mentioned earlier in this essay, Dorothy Day and Pope Francis.
In the mid-1950s Day wrote, "We must always be seeking concordances, rather than differences—that is the basis of the ecumenical movement, which is part of the peace movement." (Day was a pacifist.) After converting to Catholicism as a young unwed mother, she also continued to dialogue with, and see much good in, some of her former radical friends who remained atheists.
In a long encyclical on climate change in 2015, Pope Francis continually urged dialogue, using the word about two dozen times. And later that year in an address to the U. S. Congress he used it a dozen times. Among his other remarks, he told the lawmakers: "When countries which have been at odds resume the path of dialogue…new opportunities open up for all…A good political leader is one who, with the interests of all in mind, seizes the moment in a spirit of openness and pragmatism. . . . Being at the service of dialogue and peace also means being truly determined to minimize and, in the long term, to end the many armed conflicts throughout our world."
Like Day and Pope Francis, the Catholic Guterres as prime minister held views on abortion that many would view as unprogressive. In 1998, in a national referendum he opposed the liberalization of abortion rules. By June 2022, after the U.S. Supreme Court had overturned the Roe v. Wade 1973 decision, guaranteeing a constitutional right to an abortion, his thinking had changed somewhat. Reuters News Agency reported that "a spokesman" for him declared that restricting abortion access does not stop women from it, "it only makes it more deadly…Sexual and reproductive health and rights are the foundation of a life of choice, empowerment and equality for the world's women and girls."
While still Portuguese prime minister, Guterres was also active on the international level. From 1999-2005 he was president of Socialist International, the worldwide organization of socialist parties. And then—in his post-prime-minister career—he became UN High Commissioner for Refugees from 2005 to 2015. Largely because of wars in Syria, Iraq, and parts of Africa, the number of refugees and displaced persons shot up to over 60 million by 2015, and Guterres did his best to ease their suffering, including urging European countries to adopt more humane policies toward them. By the end of 2015, he oversaw a staff of more than 10,000 people working in 126 countries.
As UN Secretary General, he began his duties on 1 January, 2017. Although his chores and responsibilities have been great, what is most impressive about him is that not only is he a tireless worker, be he has his priorities straight.
In July 2022, with western Europe and the USA experiencing record-breaking climate-change related heat waves, wildfires, and drought, he warned that "half of humanity is in the danger zone from floods, droughts, extreme storms and wildfires." And "no nation is immune…We are failing to work together as a multilateral community. Nations continue to play the blame game instead of taking responsibility for our collective future. We cannot continue this way…We have a choice. Collective action or collective suicide. It is in our hands."
A few months later, in an address to the General Assembly on 20 September, he again expressed his alarm: "The climate crisis is the defining issue of our time. It must be the first priority of every government and multilateral organization." He then detailed many of the world's failures to adequately deal with the crisis.
A day earlier in an interview he identified a main reason why dealing with this number one issue of our time is so feeble. "Climate change is the defining issue of our time. And I'm extremely worried because with the war in Ukraine and several other events, climate change seems to have moved out of the priorities for many decision makers around the world, and this is suicide. We see emissions growing and we see fossil fuels becoming fashionable again [even though] we know that fossil fuels are the main [cause] for the progressive war against nature that we have been waging throughout our history."
As I wrote in a July 2022 essay on LA Progressive: "Once again, other problems, this time inflation, Russia's invasion of Ukraine, food shortages, Supreme Court rulings, mass shootings—there's always something that our U. S. electorate considers more pressing, more important—divert our attention from climate-change problems. But these problems are like a slowly developing hurricane, and we are failing to prepare."
As we see in his September interview, Guterres mentioned the Russian-Ukraine war and dealing with it has also been one of his main priorities since it began in late February 2022. In late April he visited Kyiv and the surrounding areas and decried the destruction and indications of atrocities he witnessed. Displaying empathy, as he often does, he stated, "I must say what I feel. I imagined my family in one of those houses that is now destroyed and black. I see my granddaughters running away in panic, part of the family eventually killed. So, the war is an absurdity in the 21st century. The war is evil." He also called upon Russia to cooperate with the International Criminal Court (ICC) investigating Ukrainian charges of Russian atrocities in the area.
One of the many evils flowing from the above war was the near elimination of Ukrainian and Russian exports of grain and fertilizer to poorer nations of the world. Guterres worked hard to overcome this failure which increased world hunger and starvation. And he achieved partial success.
In August he visited Ukraine again, and when he returned he reported that as a result of the Black Sea Grain Initiative, signed in July by Ukraine, Russia, Turkey, and the UN, "dozens of ships [were] sailing in and out of Ukrainian ports, loaded so far with over 720,000 metric tonnes of grains and other food products." He also called for the demilitarization of the Zaporizhzhia nuclear power plant, which was under Russian military control.
In his September address to the General Assembly, he indicated that some of the ships carrying grain were "destined for the people of the Horn of Africa, millions of whom are on the edge of famine."
As UN Secretary General and as a believer in dialogue, Guterres has been restrained in his criticism of Russia. He realized that to move Ukrainian grain shipments forward from out of the Black Sea he needed Russian cooperation. And to bring about the end of what I have referred to as Putin's "Morally Abhorrent" War, he realizes Russian cooperation will be needed.
Thus, he told the General Assembly that "in a splintering world, we need to create mechanisms of dialogue and mediation to heal divides." And "the reality is that we live in a world where the logic of cooperation and dialogue is the only path forward."
In an essay on this site a decade ago, I indicated that the world needs both prophets who forthrightly decry evils and more diplomatic persons who try to mediate differences. Guterres has chosen the latter role, but his heart is with all those who are suffering and victimized, be they victims of war, refugees, minorities, or other unfortunates.
But despite all the evils he has witnessed, he continues—as wise people often do—to hope. As he told the General Assembly in September 2022, the UN stands with "the hope found in climate and peace activists around the world"; "in young people, working every day for a better, more peaceful future"; "in the women and girls, leading and fighting for those still being denied their basic human rights"; "in civil society seeking ways to build more just and equal communities and countries"; "in science and academia, racing to stay ahead of deadly diseases and end the COVID-19 pandemic"; and "in humanitarian heroes rushing to deliver lifesaving aid around the world."
In December 2019, Guterres had a forty minute meeting with Pope Francis and they agreed on their support for many issues dear to progressives—fighting climate change and addressing the "scandal of hunger in the world, of poverty, of children who die because they lack water, food and necessary healthcare"; working for peace, religious tolerance, and aid to refugees, etc. And Guterres praised the "clear moral voice" of the Pope and his message of hope.
In the midst of world miseries—for example, failures to adequately address climate change, the Russian-Ukrainian War, the plight of refugees, political polarization, continuing Covid infections, world hunger, and a global economy that is faltering—individuals like Pope Francis and António Guterres provide glimmers of hope. They may be fighting an odds-against-them battle, but the world would be a much darker place without them.