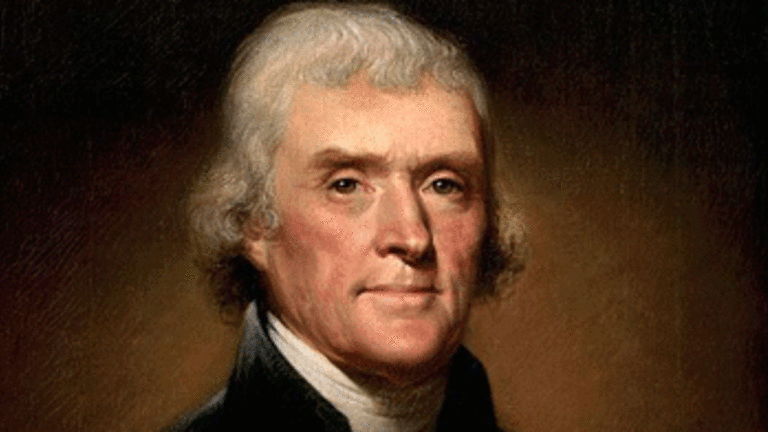 Walmart Gets Jeffersonian on ALEC, Freezes Membership
Bobbi Murray: Walmart is well-equipped to forge ahead despite scandal and without ALEC, tidily attending to image-protection and lobbying chores on its own. The company, after all, has carefully worked Washington circles over the last decade.
Last week, after months of hammering by grassroots and webroots, Walmart withdrew from the American Legislative Exchange Council, also known as ALEC. The 41-year-old organization, made up of corporations and legislators, operated below the public's radar for decades, working directly with lawmakers to craft policy that advances an unfettered free market approach. ALEC has been a powerful force in wrenching the national policy debate to the right.
The February shooting death of teenager Trayvon Martin drew attention to ALEC's role in promoting the "stand your ground" laws that allowed Florida police to initially release Martin's accused shooter, now in custody on murder charges. Such laws have proliferated around the U.S. with ALEC support — Walmart, the largest vendor of ammo and shotguns in the nation, has also come under public scrutiny as an ALEC member.
ALEC has been pivotal in other noxious initiatives, such as voter suppression measures and Arizona's discriminatory SB 1070 law.
Under pressure from such organizations as Color of Change, Common Cause and People for the American Way, some 18 companies jumped the ALEC ship–Coca Cola Co., Kraft Foods Inc., McDonald's Corp., Procter & Gamble Co. among them. Amazon dumped ALEC May 24th.
Walmart became the latest to break up with ALEC last week (or at least to seek a separation) when the company's vice-president of public affairs and government relations sent a letter to ALEC's executive director asking him to suspend the world's largest retailer's participation.
"Previously, we expressed our concerns about ALEC's decision to weigh in on issues that stray from its core mission 'to advance the Jeffersonian principles of free markets,'" the letter from a Walmart VP said according to Reuters, a report that also noted "Wal-Mart has benefited from ALEC campaigns involving taxes, commerce and technology."
There's little doubt Walmart sees its reputation as one of its most valuable assets. The uber-retailer added health benefits after coming under the bright glare of scrutiny from community groups, labor organizations and the states feeling the squeeze of rising Medicaid costs.
And corporate HQ is living with a sharp daily reminder that image matters as the fallout of a major bribery scandal continues to pelt down on the company. An April New York Times article reported that executives squelched an investigation after a whistleblower provided details of $24 million in bribes in Mexico to finesse Walmart's expansion there.
As a result, Walmart is presently the subject of a probe by the Justice Department and the Security and Exchange Commission.
All this landed executives on the griddle at the contentious shareholders meeting in Bentonville, Arkansas last week.
A shareholder revolt that included the nation's two largest state pension funds, two major national investment proxy advisors and employees calling for more transparency on compensation policy failed to unseatPresident Mike Duke and former CEO Lee Scott, now on the Walmart board of directors.
Walmart board chair Robson "Rob" Walton, son of Walmart founder Sam Walton, owns approximately a 50-percent share, so disgruntled shareholders lacked the leverage to vote out the executives.
But investors are suing top executives, and complaints about Walmart's poor governance have continued to waft throughout the media.
Walmart is well-equipped to forge ahead despite scandal and without ALEC, tidily attending to image-protection and lobbying chores on its own. The company, after all, has carefully worked Washington circles over the last decade.
A recent New York Times story reports the existence of a Walmart PAC and of employees donating $1.7 million to candidates in 2010. "The contributions are about evenly split between the two parties, as Wal-Mart has made an aggressive push to attract political support from Democrats and liberals even in the face of the prominent opposition," the article said, adding:
Even the company's critics acknowledge the political inroads it has made. "Wal-Mart is a huge force in Washington," said Dan Schlademan, director for the anti-Wal-Mart coalition known as Making Change at Walmart, financed largely by unions.
But not impervious to public pressure–Walmart is facing a number of challenges, many, like the bribery scandal, seemingly of the leadership's own making.
The dissent at the stockholders meeting was probably duly noted–anotherNYT story quotes business analyst Paul Hodgson as saying a significant percentage of stockholders supporting a recall could put pressure on the Walmart board of directors to clean up the company's governance:
"Particularly at a time when the company might be more chary of its public reputation and its image than might normally be the case because they're being hit hard by a bribery scandal, it might therefore turn around and say, 'O.K., it wasn't the majority of the shares, but we got the message,' " Mr. Hodgson said.
Bobbi Murray
The Frying Pan
Posted: Tuesday, 5 May 2012