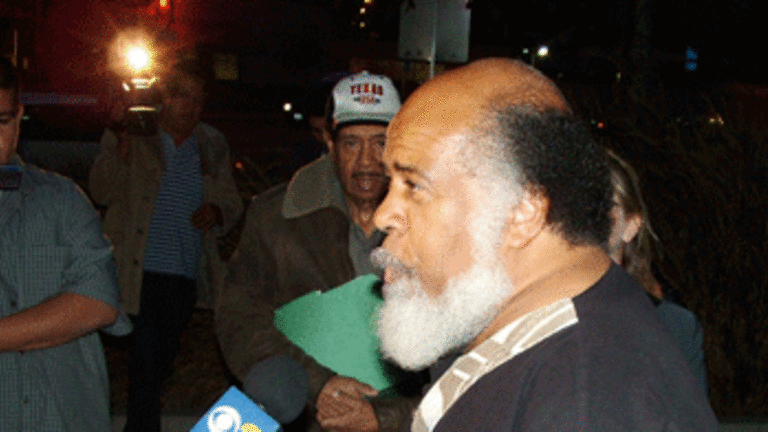 Wells Fargo Meets Occupy: Where There's Smoke There's Smoke?
Dick Price: Occupiers expressed satisfaction that their concerns had been heard by Wells Fargo leaders, but frustration that little concrete action had been taken and no promises made for future steps.
Fresh from a nearly three-hour meeting with senior Wells Fargo executives Monday afternoon, six key activists involved in various Occupy movement forces in Los Angeles expressed satisfaction that their concerns had been heard by leaders of the banking giant, but frustration that little concrete action had been taken and no promises made for future steps.
"The Wells Fargo team promised to take our 'Eight Challenges for Wells Fargo' document back to their CEO and President," reported Peter Thottam, a lawyer and the Occupy The Rose Parade organizer who coordinated the meeting from the Occupy side along with Carlos Marroquin, an Occupy LA activist and homeowner advocate.
"In particular, they said they'd address our demand for acknowledgement of culpability or responsibility for the mortgage finance scheme that not only bankrupted California homeowners but the whole country and beyond, and consider implementing a $2 billion write-off for homeowners who cannot meet their payments and are in danger of foreclosure," Thottam continued. "They said they would also address a group of 27 specific homeowners here in Los Angeles and in Bernal Heights in Northern California."
Wells Fargo officials had approached Thottam and others involved in the Occupy The Rose Parade event in late December, apparently eager to avoid disruption of an event the bank had heavily supported. A half dozen high-level Wells Fargo executives made the trip down from San Francisco, according to the Occupy team who met with them. Also invited were Regina Birdsell from the Center for Nonprofit Management, where the meeting was held, and Cooke Sunoo, Director of the Asian Pacific Islander Small Business Program.
"Wells Fargo came to the Occupy the Rose Parade organizers because they had two floats in the parade and didn't want them damaged," said Cheryl Aichle, an Occupy LA representative who attended the talks. "But today, they said they needed some time to digest the demands we presented."
Although the press conference on the plaza outside downtown LA's California Endowment Building where the talks were held began on a bright note, frustration soon bubbled out.
"The meeting was disappointing," said Mark Lipman, another Occupy LA representative. "It was expected that they would have something to offer. They called for the meeting, after all. But instead, Wells Fargo did a lot of shifting the blame, showing how other institutions -- Fannie Mae, JPMorgan Chase -- had done much more harm."
Others in the Occupy contingent agreed that the bank's representatives did a lot of passing the buck.
"They presented lots of charts with numbers, lots of data. But they obviously have little understanding of human life, of what families go through with foreclosures," continued Lipman. "That's what we'll remember from today."
Kwazi Nkrumah, a most recognizable figure in the Occupy LA contingent, attempted to put the afternoon in perspective.
"The primary significance was that Wells Fargo thought it necessary to come down here to meet with a group of activists. What will come out of it, we'll have to see," said Nkrumah, who is now a key figure in LA's Occupy The Hood effort. "We've had 12 million foreclosures in the last three years, 3.5 million more due for foreclosure this year. At least this meeting does show that every CEO of every multibillion-dollar corporation has some accountability for their corporation's actions."
Nkrumah wondered about the possible connection between Wells Fargo's willingness to meet today and what's happening in Sacramento where California Attorney General Kamala Harris' decision to decline participation in the Obama administration's multibillion-dollar, multistage mortgage settlement with the nation's largest banks might be wavering.
"I hear now that she may change her mind," Nkrumah said, shaking his head. "That would leave only Arizona's and Nevada's attorneys general to launch their own lawsuits."
The Occupiers pointed to additional pressures on Wells Fargo, beyond their own demands and the potential lawsuits from the Department of Justice and potentially individual states: The City of Berkeley plans to move $350 million in deposits from Wells Fargo to a community bank at year's end, citing Wells Fargo's foreclosure abuse practices. The City of Los Angeles also has $370 million with Wells Fargo that could be put into play as well, according to the negotiating Occupiers.
Ellen Hodgson Brown, the lawyer who regularly writes on progressive banking reform issues, had the last word. "If this kind of negotiation doesn't lead to anything substantial, the people will need to rise up themselves and form a class action lawsuit against these banks under the RICO Act."
RICO, which stands for Racketeer-Influenced and Corrupt Organizations, is a federal law that provides for extended criminal penalties. That kind of talk might motivate even bankers to stop passing the buck.
Dick Price