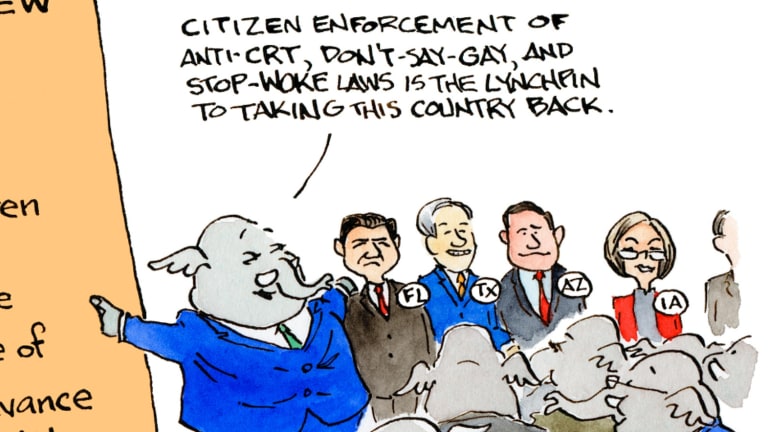 What Do Republican Lawmakers and the Russian Education Ministry Have In Common?
Indoctrinating Students with a Government Imposed "Patriotic" Version of History
We need to know how to infect them with our ideology. Our ideological work is aimed at changing consciousness." While these words were spoken by Sergei Novikov, a senior Kremlin bureaucrat, speaking to thousands of Russian schoolteachers in a recent online workshop, they could have been uttered by any number of Republican legislators, who are systematically promoting laws intended to indoctrinate schoolchildren - and the public - in the United States with a slanted and distorted view of American history.
According to PEN America, between January and September 2021, 24 legislatures across the United States introduced 54 separate bills intended to restrict teaching and training in K-12 schools, higher education, and state agencies and institutions. The majority of these bills target discussions of race, racism, gender, and American history, banning a series of "prohibited" or "divisive" concepts for teachers and trainers.
A dozen Republican-led states are seeking to ban or limit how the role of slavery and pervasive effects of racism can be taught. Idaho was the first state to sign into law a measure that would withhold funding from schools that teach such lessons. And lawmakers in Texas, Louisiana, New Hampshire and Tennessee have introduced bills that would ban teaching about the enduring legacies of slavery and segregationist laws, or that any state or the country is inherently racist or sexist.
One measure that passed the Texas House, largely along party lines, would limit teacher-led discussions of current events; prohibit course credit for political activism or lobbying, which could include students who volunteer for civil rights groups; and ban teaching of The 1619 Project, an initiative by The New York Times that aims to reframe U.S. history by placing the consequences of slavery and the contributions of Black Americans at the center of the national narrative. The bill would also limit how teachers in Texas classrooms can discuss the ways in which racism influenced the legal system in the state and the rest of the country. Another bill would create a committee to "promote patriotic education" about the state's secession from Mexico in 1836, largely by men who were fighting to expand slavery. And a third bill would block exhibits at San Antonio's Alamo complex from explaining that major figures in the Texas Revolution were slave owners.
At least 10 bills have been introduced in Congress to restrict the teaching of certain aspects of American history. Sen. Tom Cotton (R-AR) introduced the "Combating Racist Training in the Military Act of 2021" to prohibit the U.S. Armed Forces or any academic institutions operated or controlled by the Department of Defense from promoting certain "anti-American and racist theories." Rep. Mark Green (R-TN), Rep. Chip Roy (R-TX), and Rep. Dan Bishop (R-NC) introduced bills to prohibit federal funds from being used for training or education in Critical Race Theory at the five federal service academies; bar federal funds for K-12 schools or institutions of higher education that promote specified "race-based theories" or compel "teachers or students to affirm, adhere to, adopt, or process" certain beliefs; bar federal funds for any entity that teaches or advances "divisive" concepts; and bar federal funds for any elementary or secondary school that "promotes race-based theories."
On July 23, 2020 Sen. Cotton introduced the "Saving American History Act" to prohibit federal funds from being used to teach The 1619 Project curriculum in elementary schools and secondary schools. The bill would have mandated as a matter of federal law that the "true date" of America's founding is July 4, 1776, the day the Declaration of Independence was adopted by the Second Continental Congress. It would have declared The 1619 Project was a "distortion of American history" promoted by "an activist movement" which is seeking to "deny or obfuscate this history by claiming that America was not founded on the ideals of the Declaration but rather on slavery and oppression." The bill would have designated The 1619 Project as "a racially divisive and revisionist account of history that threatens the integrity of the Union" by denying "the true principles" on which it was founded. The premise of the bill is that the Federal Government has a strong interest in promoting "an accurate account of the Nation's history," through public schools and "forming young people into knowledgeable and patriotic citizens."
In September 2020, President Donald Trump created the "1776 Commission" after nationwide Black Lives Matter protests against racial injustice, to promote a "pro-American curriculum" that celebrates "the miracle of American history." Its one and only report, released a few days before Trump left office in 2021, equated American progressives with European fascists and said it is "untrue" that the Founding Fathers were hypocrites for enslaving people while calling for equality in the nation's founding documents. The White House said the report was aimed at countering what it said were efforts "to reframe American history around the idea that the United States is not an exceptional country but an evil one." The report says that students must learn about "our founding principles and the character necessary to live out those principles," including "restoring patriotic education that teaches the truth about America."
More than four-in-10 Republicans (43%) are opposed to public schools teaching the history of racism, according to a Monmouth University poll released in November, 2021, while a slim majority approved (54%). Similarly, a USA Today/Ipsos poll from September 2021 found that fewer than four-in-10 Republicans (38%) supported schools teaching about the ongoing effects of slavery. And a Reuters/Ipsos poll from July 2021 found that 32% of Republicans opposed teaching high school students about racism and its impact in the US.
Borrowing from the Republican Educational Playbook, Russia Imposes Its Version of "Historical Truth"
Last Sunday, under the headline "Putin's Mission to Indoctrinate Schoolchildred," The New York Times reported that under a new law signed by the Russian president on July 14, "all Russian children will be encouraged to join a new patriotic youth movement in the likeness of the Soviet Union's red-cravatted 'Pioneers' — presided over by the president himself."
Starting in first grade, "students across Russia will soon sit through weekly classes featuring war movies and virtual tours through Crimea. They will be given a steady dose of lectures on topics like 'the geopolitical situation' and 'traditional values.' In addition to a regular flag-raising ceremony, they will be introduced to lessons celebrating Russia's 'rebirth' under President Vladimir V. Putin," the Times reports, in a story by Anton Troianovski, Moscow bureau chief. As the war in Ukraine approaches the five-month mark, "the vast ambitions of his plans for the home front are coming into focus: a wholesale reprogramming of Russian society to end 30 years of openness to the West."
Troianovski observes that the "Kremlin has already jailed or forced into exile just about all activists speaking out against the war; it has criminalized what remained of Russia's independent journalism; it has cracked down on academics, bloggers and even a hockey player with suspect loyalties." But "nowhere are these ambitions clearer than in the Kremlin's race to overhaul how children are taught at Russia's 40,000 public schools."
According to Troianovski, the "nationwide education initiatives, which start in September, are part of the Russian government's scramble to indoctrinate children with Mr. Putin's militarized and anti-Western version of patriotism, illustrating the reach of his campaign to use the war to further mobilize Russian society and eliminate any potential dissent."
The new push represents "an intensification of Mr. Putin's years long effort to militarize Russian society, building on officials' ad hoc efforts after the invasion to convince young people that the war was justified. 'Patriotism should be the dominant value of our people,' another senior Kremlin official, Aleksandr Kharichev, said at last month's workshop for teachers, which was hosted by the education ministry." His presentation defined patriotism bluntly: "Readiness to give one's life for the Motherland."
Ahead of the next school year, the Kremlin is working to codify its educational ambitions. "A proposed decree published by the education ministry last month," according to the Times, "shows that Mr. Putin's two decades in power are set to be enshrined in the standard curriculum as a historical turning point, while the teaching of history itself will become more doctrinal. The decree says that Russian history classes will be required to include several new topics like 'the rebirth of Russia as a great power in the 21st century,' 'reunification with Crimea,' and 'the special military operation in Ukraine.'" While Russia's existing educational standard says students should be able to evaluate "various versions of history," the new proposal says they should learn to "defend historical truth" and "uncover falsifications in the Fatherland's history."
As government employees, Troianovski points out that "teachers generally have little choice but to comply with the new demands — though there are signs of grass-roots resistance." The Alliance of Teachers has provided legal guidance to dozens of teachers who have refused to teach this spring's propaganda classes, noting that political agitation in schools is technically illegal under Russian law. In some cases principals have simply canceled the classes, knowing they were unpopular. "You just need to find the moral strength not to facilitate evil," Sergei Chernyshov, who runs a private high school in the Siberian city of Novosibirsk and has resisted promoting government propaganda, said in a phone interview. "If you can't protest against it, at least don't help it."
Come September, Troianovski reports that "such resistance could become more difficult, with schools directed to add an hour of class every Monday promoting the Kremlin's version of patriotism. Virtual guest speakers in those classes will include Ramzan Kadyrov, the brutal strongman leader of the Chechnya region, and Patriarch Kirill I, the leader of the Russian Orthodox Church who has called the invasion a righteous fight, according to a presentation at last month's workshop."
To mark the March anniversary of the annexation of Crimea, first through seventh graders will take part in "virtual excursions" through the Black Sea peninsula, according to a schedule of the weekly classes posted by the education ministry. In October, fifth graders and up will have a session apparently meant to discourage emigration; its title: "Happiness is being happy at home."
A co-sponsor of the legislation, the lawmaker Artyom Metelev, said the creation of a new youth movement had long been in the works, but that the West's online "information war" targeting young people amid the fighting in Ukraine made that measure more urgent.
In America and in Russia, the People Need to "Find the Moral Strength Not to Facilitate Evil"
What authoritarians everywhere have in common is the goal to use their power to shape the minds of the people they control. "Whoever controls the image and information of the past," George Orwell wrote, "determines what and how future generations will think; whoever controls the information and images of the present determines how those same people will view the past."
If the Republicans or the Russian Education Ministry have their way, we will enter the dark future Orwell warned us about. "Every record has been destroyed or falsified, every book has been rewritten, every picture has been repainted, every statue and street building has been renamed, every date has been altered. And that process is continuing day by day and minute by minute. History has stopped. Nothing exists except the endless present in which the party is always right."
Our only hope rests with courageous people who resist indoctrination. In Russia it is brave people like Sergei Chernyshov, the teacher at the private high school in Novosibirsk, and Alliance of Teachers which is helping dozens of teachers who have refused to teach Russian propaganda classes.
In the United States, it has to be outspoken teachers, unions, educational associations, parents, responsible elected officials and the rest of us who refuse to allow the teaching of American propaganda. If Sergei Chernyshov can "find the moral strength not to facilitate evil," can we do any less?
·
·
·
·