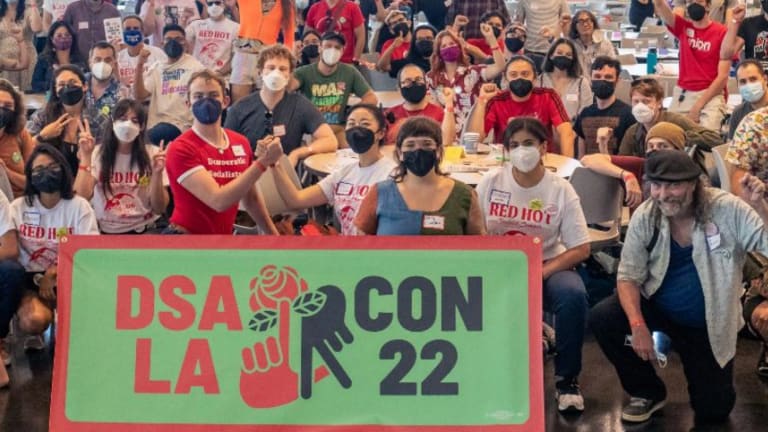 Who Is Steering This Thing?
Reflections after a year on DSA-LA Steering
I came into my position as an at-large steering member of DSA-LA in one of the closest ranked-choice elections you've never heard of on the Labor & Solidarity Slate to serve in 2021. Our infrastructure in Los Angeles was growing to fill the responsibilities expected by the ~4,000 dues paying members. Everyone's experience in DSA is different from meeting to meeting, year to year, and chapter to chapter. The DSA-LA Steering Committee still lives in relative anonymity minus some sensationalized disagreements, conflicts, and the public airing of dirty laundry. There are regular vacancies on the currently constituted Steering Committee because it is a stressful, important, volunteer position. [Org Chart, Chapter Leadership]
I have been active in Los Angeles politics since 2007 when I started making regular public comment calling out corruption and incompetence at City Hall. I had been on the periphery of DSA-LA for years, from the Ecosocialist Conference in 2013 to engaging with the Electoral Politics wing of the chapter. In 2018 when I ran for State Assembly I began to embrace my identity as a Hindu Socialist. Even though I didn't make the run-off, I continued my membership with a few Democratic Party Clubs, continued my Board Membership with the independent Americans for Democratic Action, leaned into my United Teachers Los Angeles membership as a substitute teacher, started working for Hindu University of America, and paid more attention to the DSA-LA, all of which I am still more or less engaged with.
There is a lot going on in this chapter that I only became aware of because of the bird's eye view Steering provided. I had started writing this when a previous conflagration was dragging the organization. This time around, the lack of Black membership has rightfully drawn glaring attention. I have had personal interactions with different current and past leaders, and I know some of the tea, but let's focus on more productive reflections. Suffice it to say, slates, factions, working groups, caucuses, and however you wish to label your particular group within or outside of the DSA are regularly at odds, the circular firing squad is in full effect, while our Earth witnesses its 6th mass extinction.
Chapter leadership is a vacuum. Generally speaking, strong voices with confidence fill political space. When socialists are actually interested in winning power and getting organized, I suspect there are at least a few capitalists understatedly undermining.
I still can't believe a Steering Member posted this message publicly: "if you believe so strongly that we are so unfit to serve as members of Steering, and yet you yourself did not take action to remove us from office throughout the year, then I have to point out that you are complicit in our 'behavior.'" This reflects a leadership style that avoids blame and admits no mistakes. This is not new, we have seen this repeatedly over the years at all levels of politics and public discourse, instead of holding leadership accountable they evade responsibility.
Community and trust-building spaces are often suspicious to those in power. I'm working towards supplanting the paradigm of power with the paradigm of knowledge. To me, this is how I express my Dharma. Who is allowed to define our words? Words and their indigenous definitions matter. I'm always open to deeper conversation, but most people don't have the capacity or time to dissolve their ingrained biases and unwind their subconscious.
We rarely give space to open and honest debate. We are handicapped by time constraints and emotion. Arguments over logistics, parliamentary procedure, or bylaws serve as proxy fights that sometimes hide deep-rooted ideological differences or sometimes are just vehicles for spiteful behavior.
And those of us that act and try hard, often burn out too quickly to change the inertia. I didn't take the position to add 10 hours a week of meetings, emails, organizing and event planning to my schedule. I believe we need an organization like DSA-LA to further the intersectional and inclusive socialist movement. An underlying problem to all of this is the fact that we haven't mapped out who is really down and who is really an enemy. Who is down 90/10 and who is 10/90? And we have to be able to differentiate those who are in our first tier of familial relationships, co-habitants, and the tiers of co-workers, friends and allies, then that tier of folks who are jealous and want to see failure all the way down to the enemy. A real enemy. And their allies. And their tiers.
We have had some success, but also missed serious opportunities. I don't want to read too much into it, but Dr. Daniel Lee, a strong democratic socialist and first Black Mayor of Culver City in Los Angeles County who earned DSA-LA's endorsement for California State Senate in the previous election cycle, was not even considered for an official endorsement for Congressional District 37 because the signatures we filed were deemed invalid because some of the activists who signed our petition were no longer dues paying members. Dr. Daniel Lee earned 17,414 votes, but missed the run-off by 579 votes, less than half a percent behind the second place finisher.
The DSA and DSA-LA have many various faults, but the overall socialist mission, ideas, and energy that this organization has mobilized since Senator Bernie Sanders' epic failure (or success) in the Democratic Party has moved me to be a lifetime member. At the end of this, I must mention that I put my name in the hat to fill one of the vacancies on the Steering Committee as an option of last choice. Hopefully, some folks will step up now that three new Steering Members are needed.
The inertia of the ship will keep some of us comfortable, a lot of us struggling, a few of us living opulently, while most try to enjoy life doing the best we can.