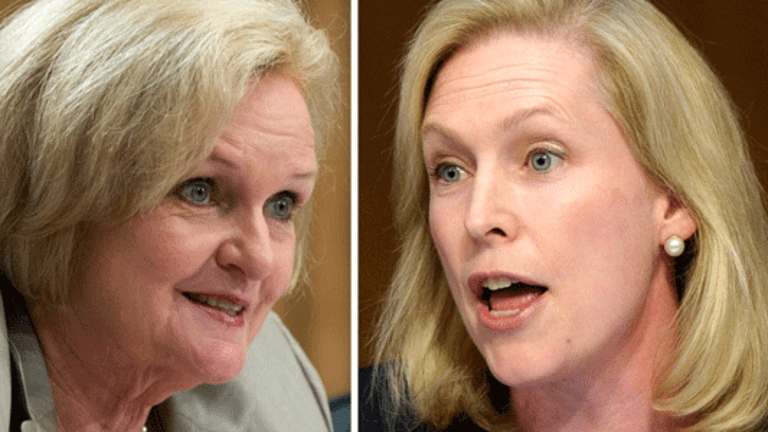 A Rift Among Senate Women: It's About Time
Senate Women: Now, it's the Senate as cat fight in the cafeteria -- as much a caricature of women lawmakers as hand-holding besties.
Collaboration and bipartisan compromise have been the watch words of the 20 women in the Senate.
On issue after issue — from the government shutdown to a budget deal — women, we've been told, with their easy, amenable ways, have forged deals and gotten things done, proving that when it comes to governing and legislating, women do it better. And for their super-nice behavior, Allegheny College awarded them the Prize for Civility in Public Lifelast month, noting their efforts at leading the Congress to a kinder and gentler path.
It is the Senate as sewing circle, with rank partisanship left at the door, a caricature painted by women to frame their historic numbers. Consider this comment from Sen. Kirsten Gillibrand (D-N.Y.) in a recent Washington Post article: "It's not surprising that every time I've passed a piece of legislation, I've had a strong Republican woman helping me across the aisle," Gillibrand said. "Women are often very good at finding common ground and building bipartisan support."
In other words, women rule — at playing nice.
Now comes the flip-side of this simplistic storyline, a result of the "fallout" of the legislative fight over how to revamp the way that the military handles sexual assault, an issue that has brought criticism from typical allies and shaken the Pentagon brass.
Here's what happened last week: Gillibrand since May of last year has pushed for a bill that would have removed sexual assault cases from the chain of command, referring the cases to a military prosecutor instead. The measure had 55 backers, including 17 of the 20 women in the Senate, but fell five votes short of the 60 needed to advance. Then a bill by Sen. Clarie McCaskill (D-Mo.), which would toss out the "good soldier" defense and add victim protections, sailed through a Senate procedural vote, 100-0, a remarkable feat given the usual gridlock and partisan bickering. The Senate is scheduled to vote on McCaskill's bill Monday night.
Seventeen women backed both bills, a fact that Gillibrand's most vocal wingwoman, Sen. Barbara Boxer (D-Ca.) repeated during a pointed debate on the Senate floor. Three women senators–Deb Fischer (R-NE), Kelly Ayotte (R-NH) and McCaskill — voted against Gillibrand's bill, which had been characterized as the stronger of the two, and therein lies the talk of rift.
Thisfrom a piece by our colleague, Ed O'Keefe on how Gillibrand helped her standing, even though she lost the vote:
Several aides familiar with the debate said that the ordeal has frayed relations between the 20 women, especially between Gillibrand and McCaskill. And senators of both parties and genders have openly expressed concern that the fight has distracted from the fact that Congress took steps in the past year to enact more than 30 changes in the military's legal system to address the rise of assault and rape.
Now, it's the Senate as cat fight in the high school cafeteria, which is as much a caricature of women lawmakers as the original idea that framed them not as take-charge leaders, but hand-holding besties.
"What strikes me is that we've probably made too much of the way they cooperate and collaborate with very little evidence and now as a result we have made too much of this fallout, which will be no greater than for any other defeat of this type, regardless of the sex of the senators," said Jennifer Lawless, director of the Women & Politics Institute at American University. "It would be naive for us to think that the sex of a senator is going to trump policy or party."
A spokeswoman for Gillibrand, in an email Monday afternoon, indicated that there were no hard feelings between the two lawmakers: "Senator Gillibrand appreciates Senator McCaskill's commitment and how hard she has fought to end the crisis of sexual assaults in the military. There is no doubt, they have a deep disagreement over how far we must go to reform the system. But, that disagreement over one reform of many does not change the fact they are both passionate advocates who will continue to work together to hold military leaders accountable. Senator Gillibrand looks forward to voting for her bill tonight."
There is a difference in where women now stand in the Senate. They have more power than ever — eight Senate committees are chaired by Democratic women, and two Republican women are ranking committee members. That power has meant that women have been at the center of many of the most pressing legislative debates.
They have also retained some of the old Washington, socializing at dinner over the last months and talking specifically about the military sexual assault legislation, according to one aide. Seven women on the Armed Services Committee banned together to push dozens of revisions that President Obama signed into law in December, an effort that might not have happened without that critical mass.
"Increasing gender diversity in a legislative body may lead to increased attention to and successful passage of women's issue bills not only because women are more likely to care about and sponsor those bills, but also because that might change the behavior of male colleagues," said Dana Wittmer, of the department of political science at Colorado College, who is working on a paper that looks at the types of legislation that men and women have sponsored in the House over the last decades.
Still, when it comes to their numbers in the Senate and House, women are still very much a minority — 18.5 percent — far lower than their percentage of the total population. Still, some observers have assigned an oversized and at times stereotypical assessment of what their presence on the Hill means in terms of legislation and culture. It happens with race too, as in when people talk about "the black community."
So perhaps this is progress. Women of the same party on the floor of the U.S. Senate with policy differences, shredding the kumbaya storyline of group-think, and instead voting and speaking as individuals, not worried about keeping up appearances.
Nia-Malika Henderson
Washington Post
Subscribe to LA Progressive's daily newsletter
* indicates required
Email Address *


First Name

Last Name

Email Format
Powered by MailChimp