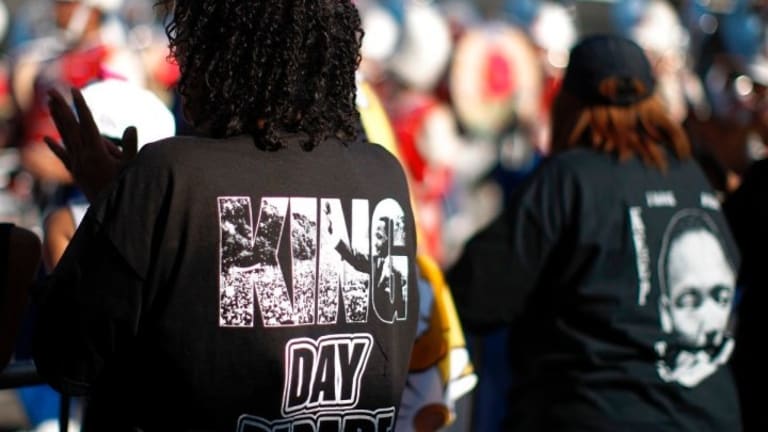 A Dream Deferred
Sharon Kyle: Aspiring to achieve solidarity takes you on a path beyond tokenism. It involves an investment in relationship building.
Will Martin Luther King's Dream forever remain a dream deferred? Just on the heels of Martin Luther King Day, I thought, as I often do, about how unfortunate it is that King's dream is hardly ever discussed on any other day of the year. National attention on healing racism has been relegated to its own little space on the calendar. King himself has been commercialized and toned down. The whole racism thing, at least from a national standpoint, is forgotten until next year.
Over the years I've encountered countless white progressives engaged in important social justice activism—work that is essential yet not as effective as it could be because the groups they work with, more often than not, lack diversity. These, generally well-meaning white people, often ask me how to get people of color to work with them.
Aspiring to achieve solidarity takes you on a path beyond tokenism. It involves an investment in relationship building.
Being a Black person who has learned the lesson of tokenism, I tell them there's no silver bullet. But at the very least, they should strive for solidarity across identities. Aspiring to achieve solidarity takes you on a path beyond tokenism. It involves an investment in relationship building. At the heart of that work, is the need to take a deep dive into understanding racism. This is about more than watching PBS on MLK Day.
Founder of the Whiteness Project, Whitney Dow once said, "Until you can recognize you are living a racialized life and you're having racialized experiences every moment of every day, you can't actually engage people of other races around the idea of justice." Although this statement is just as true for people of color as it is for white people, historically, issues of race reside outside of the white realm. In this country and perhaps globally, white people are not racialized.
Dow's statement brings to the fore an important key to understanding and working towards social justice—racialization is central to all of our lives and effective activism requires an understanding of that in order to build cross-racial, cross-ethnic engagement and ultimately solidarity.
Following is an invitation that was forwarded to me by a member of Coming to the Table an intentionally multi-racial multi-ethnic organization working to heal from the racial wounds of the past.
The invitation originated at the School of Activism and Inclusion. I have no connection with this organization but am sharing this because, based on the number of times I'm asked to help increase diversity, I believe the course is sorely needed.
If you find yourself, too often, in spaces that lack diversity or are interested in furthering your learning about racism and other -isms, here is a course that might interest you:
NEW COURSE
Hard Conversations: Whiteness, Race, and Social Justice
In this four-week online course, we will focus on the following:
Week One: The Social Construction of Race and Whiteness
Week Two: The Color of Supremacy
Week Three: The Making and Unmaking of Whiteness
Week Four: Developing a Positive White Identity
The online classroom work will be augmented by four live calls with facilitators Victor Lee Lewis and Patti Digh, leaders of the "Hard Conversations: An Intro to Racism" course.
Go here for more information and to register.
Other upcoming learning opportunities include:
Hard Conversations: An Intro to Racism (online class) Now in its 5th year, this four-week online class focuses on providing an understanding of structural racism, white fragility and white privilege, the myth of colorblindness, and how to be an effective ally. The 17th cohort begins March 3, with live calls on March 10, 17, 24, and 31. Go here for info and to register. This is a good prerequisite for the Whiteness course described above.
The Hard Conversations Book Club meets via phone once each month to talk about diversity, inclusion, and equity issues through the lens of a work of literature or non-fiction writing. Here's our reading list for 2020 (below). Go here for more info. Only $5/year to join. There is no substitute for reading and thinking in community.
January - How to Be an Anti-Racist by Ibram X. Kendi
February - Barracoon: The Story of the Last 'Black Cargo' by Zora Neale Hurston
March - The Underground Railroad by Colson Whitehead
April - Invisible Man by Ralph Ellison
May - The Hidden Rules of Race by Andrea Flynn, et al
June - I'm Still Here: Black Dignity in a World Made for Whiteness by Austin Channing Brown
July - Backlash: What Happens When We Talk Honestly about Racism in America by George Yancy
August - The History of White People by Nell Painter
September - Native Son by Richard Wright
October - The Souls of Black Folk by W.E.B. Du Bois
November - The Ways of White Folks by Langston Hughes
December - The Evidence of Things Not Seen by James Baldwin
Sharon Kyle
Publisher, LA Progressive