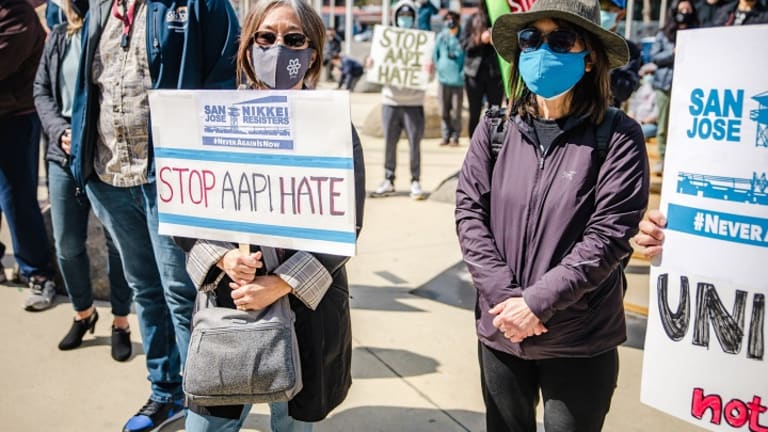 Anti-Asian Violence Through a Working Class Lens: Part 1
David Monkawa: Racial violence against Asians has been initiated by corporations and the government in order to make profit, and is part and parcel of our political economic system which perpetuates racism for all nationalities in particular working folks.
Individual acts of anti-Asian violence are offsprings of corporate anti-Asian violence
Our parents, grandparents and great grand parents have fought against anti-Asian violence (AAV) for more than150 years. Individual racists acts, organized white supremacists, corporate anti-Asian violence and state sponsored anti-Asian violence in the form of mass incarceration. Obviously, we have survived and prospered so we have done something right.
One of the deadliest periods of AAV occurred during the "Long Depression", 1873 to the 1890s. The economy was struggling and powerful forces were engaged in widespread campaign of anti-Asian violence. 18,000 businesses went bankrupt along with 10 states and hundreds of banks. Poverty hit workers of color hardest. Although the focus here is on AAV, lynchings of Black folks also began spiking in the 1890s.
Racial violence against Asians has been initiated by corporations and the government in order to make profit, and is part and parcel of our political economic system which perpetuates racism for all nationalities in particular working folks.
Early Chinese miners in California faced horrible racist acts because white workers believed Chinese "coolies" were "taking away" jobs from whites due to their "willingness to do any kind of work for nothing." California Governor Leland Stanford, then CEO of the Central Pacific Railroad, had harsh words about the Chinese in 1861, echoed by the "yellow journalism" of those times.
"To my mind it is clear, that the settlement among us of an inferior race is to be discouraged by every legitimate means. Asia, with her numberless millions, sends to our shores the dregs of her population."
Ships set sail for China to recruit railroad workers after he made these statements.
During the 1880s, Chinese settlements and communities were attacked in 34 cities in California alone resulting in murder, looting and burning down of entire communities. In 1871, in downtown LA, 19 Chinese men were lynched when 500 whites went on a rampage after a white rancher was killed accidentally by Chinese gangs.
In May 1887, in the Hells Canyon Massacre, 34 Chinese were killed and mutilated and their gold stolen. Chinese settlements began to arm themselves and relied on mutual protection societies which hired bodyguards in some cases to provide security.
The Chinese Exclusion Act was passed in 1882. In 1885, at the Rock Springs Massacre, 28 Chinese railroad workers were bludgeoned and killed by white railroad workers who were manipulated by the railroad bosses who brought in Chinese workers as "scabs" to break the strike.
In Hawai'i the US overthrew the monarchy and set up the Big 5 sugar companies with virtual total control over the labor and economy of the islands. Tens of thousands of contract laborers were recruited from China, Japan, Philippines and Korea as sugarcane cutters. Portuguese "lunas" (overseers) whipped the workers to encourage more production. Armed resistance, strikes and unionization enabled people to survive and prosper over time. Many acts of "individual" AAV that were committed within this context, like the lynching of Katsu Goto, can be attributed to The Big 5 companies even if individual attackers deny any racists thoughts when they committed the crime.
In the lead up to World War 2, California's ascending Big Agricultural industry and their bankers wanted a permanent solution to get Japanese farmers and workers out of the West Coast in order to grab their valuable farms and assets and to advance white rule. They allied with local rural racist organizations and began a 20-year campaign to get rid of the Japanese, culminating in the mass round-up into concentration camps. They lobbied FDR to throw them in camp as scapegoats for "terrorism" and "sabotage". An example of how state sanctioned violence against Japanese became part of popular mass culture was the issuance of millions of "Jap hunting licenses" by civic organizations of all types. The, veteran groups, restaurants and social clubs. Historical records on the number of "individual" AAV incidents were not kept.
There were many uprisings and demonstrations in the camps, over food shortages, medical supplies and other grievances. In a bloody uprising at Manzanar in 1942, nine inmates were shot by guards with two dead, aged 16 and 21 as they fought against machine guns and shotguns with sticks and stones.
The late 1970s and early 1980s was the height of the US-Japan Trade Wars. Japanese imports were outselling US cars and the Big 3 automakers were concerned. They fanned up racism by scapegoating Japanese cars and workers as the cause of the lay-offs instead of themselves. Across the nation, some boycotted Japanese cars while others participated in parking lot fundraisers for unemployed by donating $5 to bash-in a Toyota with a sledgehammer. In 1982, Ron Ebens and Mike Nitz, two white unemployed autoworkers bashed-in Vincent Chin's head with a bat mistaking him for a Japanese who "took away" their livelihoods. Corporate propaganda again played a leading role in the steep rise of "individual" AAV in this period. Large nationwide protests demanding justice for Vincent Chin triggered a movement for full equality for Asians and inspired legislation for stronger hate crime laws but the killers got off very light.
At about the same time in Texas, in 1979, immigration soared amidst a flabby economy and fossil fuel prices dipped increasing competition for jobs. Vietnamese immigrants settled in Galveston as shrimpboaters, which brought out the ire of local racists who saw them as "competitors working too hard for too cheap threatening white businesses." After the Vietnamese shot and killed a local white racist in self-defense, the KKK waged an all out war. They burned crosses and shrimpboats and tried to drive out the Vietnamese. But local white lawyers helped them file a lawsuit to chill out the violence and over time the Vietnamese overcame the Klan.
Today, anti-Asian violence has spiked to 3,800 incidents since the pandemic began. In 2011, the democrats created the "Pivot to Asia" a plan to shift 60% of the US naval power into the South China Sea and other strategic supply routes to compete with and encircle China. Chinese have been branded as, "spies stealing hi-tech secrets" ,"currency manipulators" and "human rights abusers" of Uyghurs and Muslims. Then came Trump.
When the pandemic set in Trump doubled down on the racist tirades and blamed the Chinese as the cause of the covid-19 virus. Biden was not far behind, at one point competing with Trump not to be "soft on China". Even though Biden and Harris have issued statements condemning anti-Asian violence, Sec. of State Tony Blinken stated,
"There's no question that Beijing's coercive behavior threatens our collective security and prosperity and that it is actively working to undercut the rules of the international system and the values we and our allies share." These mixed messages from Biden reveal how
US corporations in the Silicon Valley are threatened by Chinas advances in A.I., 5G, and robotics and sees them as an existential threat to US world domination.
The oppression in our histories are often diluted and the culprits who spread AAV are hidden behind vague terms like "Asian hate", as if "hate" floated around in neutral space landing on unsuspecting people. Or some "special emotion" encoded into the DNA of haters. But worst yet is the burial of our acts of self-defense and resistance that must be dusted off and proudly held up to defeat the racist "model minority myths". Lies we've swallowed about how "docile, passive and quiet" we are which cripple our people's minds and weaponize white supremacy.
What has "worked" in past periods when AAV was most vicious and deadly?
Survival through self-defense of our communities. Collective actions and demonstrations that portrayed Asians as united and forceful. Working with other communities to enact laws and resolutions to oppose anti-Asian violence and efforts to improve educational curricula with more Asian American history. The things we did before we must do again now.
Racial violence against Asians has been initiated by corporations and the government in order to make profit, and is part and parcel of our political economic system which perpetuates racism for all nationalities in particular working folks.
Asians have much to grieve about. But as in the past, we have little time to dwell in our sorrow and must transform our pain into anger and resolve to strike back at anti-Asian violence as we have done for 150 years.
David Monkawahttps://www.laprogressive.com/author/david-monkawa/
Look for part 2: "Asians in the field and Asians inside the house"