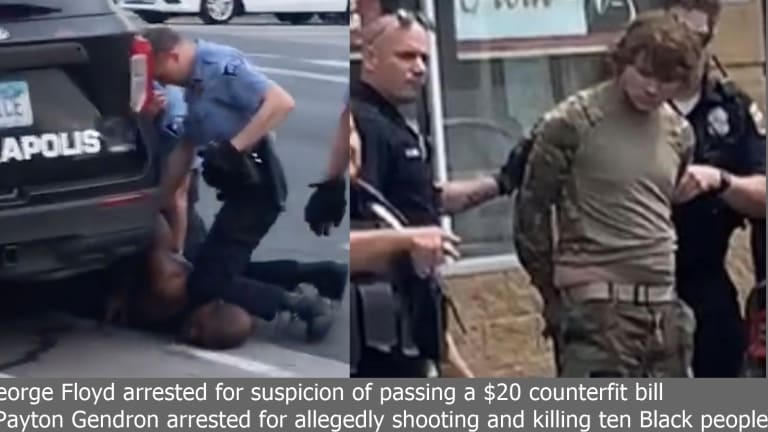 Black Journalists Coverage of Buffalo Shooting
"The role of the Black press is so important that we look back historically." Dominique DiPrima KBLA
Media coverage of mass shootings has shown up–again with bias. In the weeks since the May 14th execution of 10 Black shoppers at a supermarket in Buffalo, NY news coverage has shifted to Texas–and rightfully so. But, before doing so, the National Association of Black Journalists called out the disparities in coverage.
Ten lives were gunned down by a white supremacist terrorist on that Saturday afternoon. Now. that all have been laid to rest, Buffalonians are left with finding ways to grieve and heal.
Black Lives Matter Grassroots is returning to the city of good neighbors for the second time in as many weeks.
Conversation Live will be embedded with the BLMGR contingent from across the nation reporting on the ground.
As for the need to return, BLMGR wrote in Facebook post, "As the last of our loved ones, Ms. Ruth Whitfield, is laid to rest today (May 28th), we are committed to organizing in her honor, (and) in honor of all those stolen by white-supremacist terrorism in #Buffalo and throughout this nation, and for the benefit of our people and future generations."
Organizers with the storied activist group are hosting an in-person teach-in, healing justice space, and strategy session to #EndWhiteSupremacy.
Buffalo is ground zero.
How unconscious bias still plays a role in news coverage
NABJ recently admonished mainstream media outlets coverage of murderous perpetrator.
In a statement, NABJ wrote, "The coverage we have seen around this story reveals there is still much work to be done in how newsrooms report on issues affecting the Black community and how unconscious bias still plays a role in the way suspects and victims are portrayed in the media. We expect every newsroom in America to have policies, procedures, and people in place at all times to ensure coverage is fair, sensitive, thoughtful, and accurate."
Citing examples, the statement continued, "The Associated Press previously referred to gun violence victim Michael Brown as an '18-year-old Black man,' but Payton Gendron, the gunman in the Buffalo shooting, was initially described as an 18-year-old 'white teenager.'
NABJ statement explained, "This type of reporting helps to glorify stereotypes of Black young men and desensitizes their humanity and youth. All too often, white suspects are treated much more carefully in the media than Black victims. This must end now.
NABJ is asking The Associated Press and others to take time to explore whether their coverage helps to portray Black victims as a threat while portraying white suspects as unthreatening."
Black Media Matters
On the same topic, Dominique DiPrima, KBLA morning-drive talk show host added, "the role of the Black press is so important that we look back historically."
Pointing out the difference between independent and those employed by majority white-owned outs. DiPrima continued, "The Black press and the Black people within the mainstream press have the perspective to tell the story differently, something different with record and that's why I think it's so important that all of you are here."
Historically, Black media had to adopt a more moderate tone in order to achieve financial security. PBS reported.
There is nothing moderate about our journalistic approach.
We are only bound to the truth, fact-based storytelling, and investigative journalism.
In telling our truth–in Black fonts, those in opposition of it, read it as yellow journalism. Anti-blackness perpetuates a narrative that the Black press's only intent is sensationalism and crude exaggeration.
Equity needs an economy
By now, no one would disagree that representation matters.
Well, not all, but I digress.
Disadvantages do exist. Many Black-owned outlets don't have the resources to expense coverage outside of our local footprint.
The scope of our work is big, but the scale of our business model can't underwrite parachuting in at a moment's notice.
Fortunately, this time--we have been sent for–because of our work, balanced coverage, and integrity.
Our readers and viewers trust us.
And, the work can't be done without an economy to drive it.
Find a Black journalist, platform, and or organization and support their work.
They're plenty of creditable independent Black journalists and media outlets. Conversation Live and this publication are among them.
Readers can support Conversation Live through Pasadena Media Foundation by clicking (HERE)
Stay updated date with coverage from Buffalo by following us:
Facebook @conversation.live
Instagram @conversation.live
Twitter @JamesFarrLIVE
I'll share notes, videos, and photos.
Support of Conversation Live provided by Pasadena Media Foundation #SaveLocalNews
@BLM LA
@BLMGrassroots
@blacklivesmatter
#buffalo
#whitesupremacist
#racism
#conversation live
#jamesfarrlive
#nabj
#pasadenamediafoudation
#embeddedjournalist
#savelocalnews
#BlackMediaMatters
Remembering the Jefferson 10
Roberta A. Drury, 32, of Buffalo
• Margus D. Morrison, 52, of Buffalo
• Andre Mackniel, 53, of Auburn, New York
• Aaron Salter, 55, of Lockport, New York
• Geraldine Talley, 62, of Buffalo
• Celestine Chaney, 65, of Buffalo
• Heyward Patterson, 67, of Buffalo
• Katherine Massey, 72, of Buffalo
• Pearl Young, 77, of Buffalo
• Ruth Whitfield, 86, of Buffalo
• Zaire Goodman, 20, of Buffalo, was treated and released from hospital
• Jennifer Warrington, 50, of Tonawanda, New York, was treated and released from hospital
• Christopher Braden, 55, of Lackawanna, New York, had non-life-threatening injuries