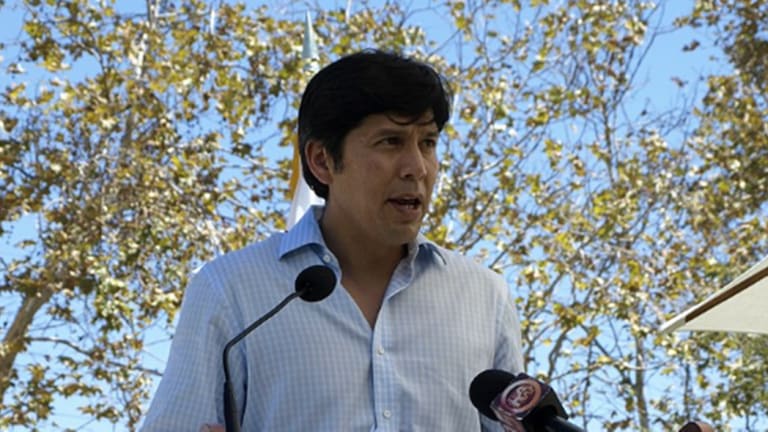 Black Lives Matter LA Holds Press Conference re: Kevin De Leon
LOS ANGELES BLACK, INDIGENOUS, LATINX, AND RACIAL JUSTICE ORGANIZATIONS UNITE TO DEMAND RESIGNATION OF DISGRACED CITY COUNCILMEMBER KEVIN DE LEON
Contact: Dr. Tabatha Jones Jolivet FOR IMMEDIATE RELEASE
310-994-0276 October 20, 2022
Los Angeles, California - On Friday, October 21st at 7am prominent Black LA Leaders, and allies, convened by Black Lives Matter - Los Angeles, will hold a press conference on La Roda and Fair Park Avenues in Eagle Rock, near the home of Kevin De Leon, where protestors are now on Day 7 of a 24-7 encampment to protest the disgraced Councilmember's racism.
Los Angeles City Councilmembers Gil Cedillo, Kevin De Leon, and Nury Martinez, along with Labor Federation President Ron Herrera, were exposed as anti-Black, anti-Indigenous racists when audio was leaked of a private meeting where the four were conspiring to gerrymander City Council district lines. Due to public pressure, two of those involved have resigned from their positions: Ron Herrera and Nury Martinez. Despite community demands, Kevin de Leon and Gil Cedillo have refused to resign.
Despite Kevin de Leon's attempt to disparage Black political power and double down on his anti-Blackness, the people of Los Angeles have stood firmly in solidarity. We cannot and will not stand for anti-Black racism, anti-indigeneity, anti-LGBTQ+ slurs, or any rhetoric, behaviors–or policies–that dehumanize marginalized people in LA City.
It is clear that vile city policies criminalizing vulnerable Black and Brown community members like 41.18, an ever-increasing LAPD budget, and the violent and repressive response to Black political organizing and resistance are, in fact, a direct derivative of the dehumanizing beliefs that City Council leaders and their colluders hold towards Black people, other marginalized communities, and, most troublingly, children.
We will continue to use this moment to deepen our commitment to racial and social justice. What we are calling for is not simply apologies for the use of racist rhetoric. We are calling for the immediate resignation of Councilmembers Gil Cedillo, Kevin de Leon, and a full investigation of their redistricting process that have undoubtedly affected Black and indigenous communities.
WHAT: Black Led Organizations, convened by Black Lives Matter -Los Angeles and allied organizations across Los Angeles will hold a press conference with demands for the resignation of Council Members Kevin DeLeon and Gill Cedillo, as well as a full investigation of their redistricting decisions that affected Black, indigenous and tenant communities.
WHERE: La Roda Ave and Fair Park Ave Los Angeles CA 90041
WHEN: Friday, October 21, 2022, 7:00 AM
WHO: Dr. Melina Abdullah, co-founder - Black Lives Matter - Los Angeles
Darryl Goode, area president - NAACP
Leda Ramos, California Faculty Association
Odilia Rodrguez, founder and executive director - CIELO
Kendrick Sampson, actor and co-founder - BLD PWR
Pete White, founder and executive director - LACAN
Supporting Organizations: Sunrise Movement LA, Keep LA Housed Coalition, Anahuacalmecac, Semillas del Pueblo, ACCE, NAACP (16 branches), Food and Water Watch, Eastside LEADS, LA Forward Action, Pilipino Worker Center, Youth Climate Strike, Clergy4BlackLives, Community Power Collective, Clergy and Laity United for Economic Justice, Bend the Arc: Jewish Action Southern California, Strategic Actions for a Just Economy (SAJE), Public Counsel, Innercity Struggle, Tenants Together, Inner City Law Center, Legal Aid Foundation of Los Angeles, Community Power Collective, Alliance of Californians for Community Empowerment (ACCE), Students Deserve, California Reinvestment Coalition (CRC), CIELO, California Faculty Association, Community Coalition, Los Angeles Community Action Network, White People 4 Black Lives, Centro CSO,