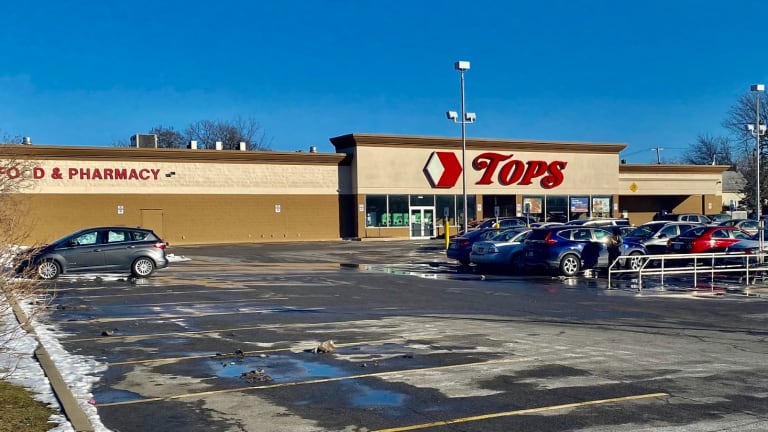 Buffalo Market Reopens After Mass Shooting
Two months after the mass shooting, the Jefferson Street Tops Friendly Market is reopening.  Mixed emotions run high.
What some in the East Buffalo Fruit Belt now consider as scared ground, others see as a food desert where they clamor for relief and search for an opportunity to quench their thirsts.
Are two months too soon to reopen the Jefferson Street Tops Friendly Market? Mixed emotions range from those experiencing joy while others are reeling — still in deep pain.
It has been two months since that fateful Saturday afternoon — when a self-confessed white supremacist gunned down customers inside of their neighborhood store. 10 were killed. Four others were wounded. And an untold number were left traumatized.
"It's a false choice," said Dr. Melina Abdullah, Director of Black Lives Matter Grassroots. Not everyone believes it should have been an either or — open or go without proposition.
The issue isn't about whether or not the only store that serves 22,000 within its footprint is necessary to the community.
"No other people in the world would be expected to traverse through the blood of their loved ones to buy a pack of frozen peas. It's a denial of our humanity to present us with two impossible options: reopen Tops or no access to fresh food," Abdullah said in a follow-up interview.
Protests over Tops Friendly Market Reopening
A gaggle of community members marched and assembled on the sidewalks to express their disagreement. The sentiment of two months being too soon rang out loudly from an amplified speaker.
Jalonda Hill, a community organizer with Black Girls Bike also feels two months is too soon.
Taking to the microphone adjacent to the market's parking lot, sign-in-hand, her voice was larger than her pattie frame.
"Not everyone is excited about the store reopening." Hill said.
Our people had to die to get an upgrade.
Meanwhile, inside the store — fresh paint and minor cosmetic upgrades provided an unnoticeable change to the store's original layout.
Having viewed some of the crime scene photos, it was difficult to block out information that others shopping alongside me are forced to face - while reaching for an item, they're treading on the exact death place where a luv-one took their last breath.
Inside the store
The ubiquitous sound of capitalism screamed on every aisle.
The beeping from the checkout scanning barcodes.
Announcements over the PA system.
Produce call on line two.
12 armed security guards flanking the property on three sides. One guard with a visible weapon was stationed next to a booth offering crisis counseling services.
Hand squeezable stress balls handed out by short-tempered and agitated service providers. Most appear to be irritated with unwanted attention and cameras prodding into their space.
It's one of the many ways a community is feeling disrespected. The most obvious is in plain sight.
"They are disrespecting our community. And more importantly, nothing has changed," Jerome Wright said in an interview.
"There are people who have not even left their houses yet who live in that neighborhood," he said.
Wright is a well-established community organizer in the Buffalo-Niagara region — focusing on criminal, social and restorative justice issues.
"And nobody's taking them into consideration in this fight to return to the status quo," Wright and many others feel that Tops just disrespected the lives of those who were lost.
Many other infamous locations of the mass shooting have never reopened. Either the business owners or city officials choose to keep them closed and to honor memories of those murdered as scared, the NY Times reported
Twin Towers never reopened. Why only two choices?
Cariol Horne has challenged the only two choices given. Horne is a community organizer and lifelong resident of Buffalo. "Can you imagine the families of 9/11 being given a choice." Could you imagine the Twin Towers opening two months after that tragedy?" KBLA's This is not a Drill.
It's unclear what choices were offered. What is very clear is — agree or disagree, Tops is back in business. For those in opposition, like Horne who said, tongue-in-cheek, "Black people are so resilient that we saw it (the shooting and are expected to) just bounce back."
Not everyone shares Abdullah and Horne's position. "Tops didn't kill the people. That white supremacist did it." A customer said on her way into the store. "I need things and this is the closest store." She, like many in and around the neighborhood, may not drive or doesn't have transportation and relies on the short walk to shop for daily food needs.
Walking through the store, it felt like being in any other market on a Saturday.
Horne thought she would be able to return to the store.
She was wrong.
Horne is a former Buffalo Police officer who has seen a lot of trauma in her career in law enforcement. Walking through the store's parking lot — in her mind, all she could see was the bodies that we're laying out there. Anxiety consumed her. A heaviness within her chest slowed her steps.
Seeking support before attempting to enter, she asked one of the brothers that hang out under the trees along the perimeter of the parking lot to accompany her.
Horne was still shaken as she recounted the trepidations. If she were to go back in, she'd need someone to go with her.
Continuing to move closer to the door, she saw Betty Jean Grant, another well-known community member.
Flanked by the two hands of comfort, Horne said, "I just started crying because I couldn't (like) overcome that feeling."
"I've seen a lot of trauma, so I didn't expect to even feel that way. I feel like this disrespect from the Tops executives."
Horne was unable to reenter but has tried to stay positive and take into consideration the people who want the grocery store open.
Her 97-year-old father shops there. He doesn't live far and like many elders, prefers to maintain his independence. "He'll hop on the bus to grab some groceries." Horn said in a national radio interview on KBLA 1580 This is not a Drill.
This presents a conundrum. What about those that are still not comfortable leaving their homes? Then, there are those that will not reenter the remodeled market. Is it possible they're the same person?
A quagmire — of sorts.
For others that have transportation, arriving at a near-capacity parking lot meant a few laps until a spot opened up. By every indication, it was business as usual. 18-wheeler big rigs making the tight turn out of the loading dock one after the other. Clerks retrieved shopping carts that had been collected in the lot.
A few customers took advantage of Northeast summer-tempered warm afternoon riding 3-wheel mobility scooters.
Unearthed Fruit Belt roots
"It is not a food desert. It is a food apartheid situation," Wright wanted to correct what he believes the media has incorrectly stated. "A desert is a naturally occurring ecological event."
Wright is speaking about what he and many others know is evidenced-based, planned, systematic racism, socially engineered to segregate the East Buffalo communities.
Setting another misnomer straight about the community being separated, he said "more importantly, it's good that we are all coming together because right now, the false narrative that's being painted is that our community is divided and it's us against them. And it's not. No community is monolithic."
Our community isn't divided," Wright continued. "We all agree on one thing. This is wrong, and it's too soon. Two months is much too soon."
There's little to no doubt that Black Buffalo is resilient.
Back outside under a canopy, a gentleman offered his reflective perspective. He's been around the area for 70 summers. "We survived for 20 years without a store."
A result of the 1967 riots that tore through the city ripping apart an already thinly threaded together whole Buffalo.
From 1968 well into the mid-eighties — for nearly two decades, the area went without a full-service market.
Adapting and overcoming are just a part of the American Black lived experience.
Most Black Buffalonians followed a northern immigration route from the tempered weather of Jim Crow south, to the bitter arctic seasonal winters off the shores of Lake Erie.
Needs Subheading
A continued presence of different religious groups and grassroots groups have continued to hold vigils, and prayer meetings - and one pastor has offered baptism in a tin wash tub in the truck bed of a rented uHaul pickup.
Men that work in gun violence prevention donning hi-liter green shirts marched down Jefferson Street in unison with a host of community members before deploying into various enclaves around the city. Buffalo's SNUG (GUNS spelled backward) stands for Should Never Use Guns. SNUG's mission is to mediate conflicts and reduce shootings and homicides. Their presence and existence dispel the myth that Black communities are not active in suppressing — or eradicating proximity gun violence.
Meanwhile, inside the store fresh paint and minor cosmetic upgrades provided an unnoticeable change to the store's original layout.
Wrights hasn't visited the store either. After learning that the only changes to the store were cosmetic, Wright exploded, "so that means that they completely lied to the workers because the workers said that they did not and would not go in there unless they completely redid it. So it didn't have the exact same floor plan!"
Horne about elders shopping
This store is a neighborhood store. It is not a destination shopping excursion. And, why would it be? Customers have long complained about prices being higher than other stores in the chain, complaints about a neglected store that was desperately in need of refresh long before May 14th
One of many balancing acts for the community — of which 90% receive public assistance — people don't enjoy the luxury of buying in bulk or loading up their shopping carts with a week or month's worth of groceries, For some, making ends meet, means buying what needed for a couple of days at a time, produce and other perishable items top that list of food staples.
Two months after the mass shooting, the Jefferson Street Tops Friendly Market is reopening. Mixed emotions run high.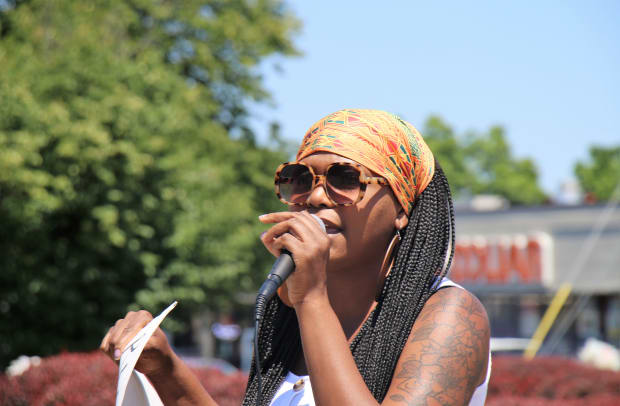 Sub-par food options
Of course, there are plenty of canned and processed frozen options, but for those battling hypertension and diabetes, that diet further places their health in jeopardy.
But it's not the only grocery store around. It's the one that has the fresher foods.
Without having a store to service the roughly 22,000 residents within its footprint.
Horne agrees with that assessment, saying "And I think that one of them is that we need to have more choices. More choices for healthy food."
Dr. Melina Abdullah, Director of Black Lives Matter Grassroots didn't hold back.
The lives were stolen and the people who survived deserve more.
"They deserve to have sustenance for their bodies in the form of fresh and healthy food, healing for their souls - which will take years, if not lifetimes, of investment, and justice for our people - beginning with an end to white-supremacist-terrorism and the building of Black self-determined communities," she said, with a heavy but fierce heart.
"Our people had to die to get an upgrade," Jerome Wright.
That ain't right.
Story editing by Georgia Sanders. Photos by James Farr
Support of Conversation Live provided by Pasadena Media Foundation #SaveLocalNews