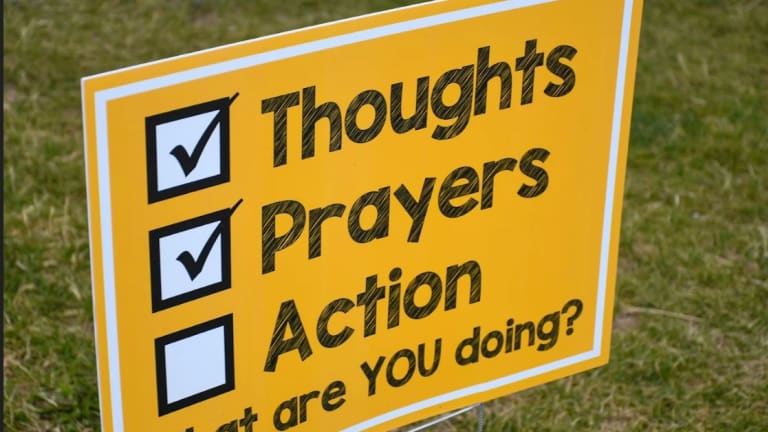 Buffalo, Several Weeks After the Massacre
This is one of many stories surfacing from survivors of the May 14, massacre inside the Jefferson St, Tops' Friendly Market in East Buffalo
Hidden underneath a counter inside of Tops Friendly Market, was another mother fearing her demise. Bunkered in, attempting to silence her own terror. Hoping and praying it would all end soon, Unsure if help was on the way. Reverberating bangs and echoing sounds of gunfire were exploding and ricocheting around her.
She believed the gunfire was a rescuer. It wasn't. It was the White Devil himself.
A scorching 359-degree heated rod of medal nudges against her neck. What if she had sneezed? A wiggle or flinch--and that's it.
She begged. And, then pleaded.
Lord, please don't release your hold on Satan's finger.
5.5 pounds of pressure is all it takes for a .223 caliber round to end it all.
At least 50 rounds were reportedly fired.
The 51st bullet could have been the one that ended her life.
Instead, the depraved-hearted racist terrorist spares you, then turns to execute someone else.
It could have gone either way. Why (not) you? Instead, it was them.
Terror in the Fruit Belt…
This is one of many stories surfacing from survivors of the May 14, massacre inside the Jefferson St, Tops' Friendly Market in East Buffalo's predominantly Black community. Some can be verified, but others' stories are passing through barbershops and across dinner tables.
All are too horrific to be made up. Besides, how one survived needs no exaggeration.
10 were murdered and 4 others were wounded. An untold number of witnesses were scared and traumatized.
Why are the police keeping the total number of uninjured victims and witnesses undisclosed?
Coordination of mental health wellness counseling and therapy is staggered from the City of Buffalo, Erie County and the state and federal government.
In some respects, many will have to look inward and figure it out for themselves.
East Buffalo Community is simmering. Recognizing that what happened in Buffalo was a white supremacist terrorist attack…
My immersion with Black Lives Matter Grassroots (BLM GR) and the community of Buffalo at the beginning of June, three weeks following the murderous shooting, was so much to process, the following is an overflow of the stories that are still unfolding today.
Cariol Horne, a former Buffalo PD Officer said in a Wednesday morning Black Lives Matter Grassroots media briefing via zoom, "The forgotten stories. There are other people who were in the store who survived who are not being represented."
By being represented, she was inferring to a sort of a caste system in play. The voices of most of the victims are those with influence or connections to the local political class. She is intent on raising the voices of the lesser-connected community members.
At a recent town hall meeting, the story of another victim inside of the market was shared.
Horne detailed a survivor still spiraling and emotionally collapsing. She described him in detail–distressingly, "The guy was there, he still was (literally) crying about the woman (one of the ten killed) saying, 'don't leave me'. And, he, (the 18-year-old suspect, Peyton Gendron) laughed because she was killed."
Horne told him, "You couldn't have helped her, because you would have been killed also."
Horne seemed frustrated and dejected about the lack of crisis counseling and access to mental health wellness wraparound services.
"He's still affected by it mentally and nobody's reached out to him for any other service," Horne concluded.
BLM GR chapters from around the country returned to Buffalo
Conversation Live previously reported in the LA Progressive, Buffalo is Ground Zero for Black Lives Matter Grassroots. BLM GR responded to the Buffalo community a week following the massacre. Then again, two weeks later.
About 40 members from chapters from across the nation, along with family members of souls stolen by police, arrived in Buffalo to stand with and to support this community reeling in pain, sorrow, and grief.
The community congregated at Macedonia Baptist Church. Pastor Julian Cook has a full understanding of the current issues, as well as the historic legacy of his pastoral charge in the Fruit Belt District–almost as if he has chosen a revolutionary gospel doctrine from his pulpit.
Understanding the cultural-isms of the Black church, I could see how it may not be some folks' brand of the gospel.
The pillared church was established in 1921 by members from Michigan Street Baptist Church, their collective histories trace back to being a strategic final passageway on the Underground Railroad for ferrying enslaved ancestors into Canada across Lake Erie–where freedom welcomed them to safety.
I waited for the overstated perception that BLM is a radical hate group. None of the weaponized propaganda I'd read showed up.
Only, righteous rage, that often intersected with love.
The conversations that took place can't begin in the middle or in the present day or with assumptions that everyone understands the beginnings.
"It's a clarion call to be with our people, either in spirit or physically to show our love and solidarity." Said Rev. Karlene Griffiths Sekou, a BLM Boston member in a recap of the three-day weekend in Buffalo on This is Not A Drill on KBLA hosted by Dr. Melina Abdullah.
In what could only be seen as intentional, she matter-of-factly said, "The blood of our kin necessitated that we stood [sic] in solidarity and that we show up when hate rears its head."
Sekou said. "All lives in Buffalo matter and that white supremacist terror is a lineage and a legacy that has been pernicious and persistent."
Righteous Rage is never (un)civil. Here's why…
"We have to talk about the fact that Buffalo is ranked second in the nation for child poverty. Why it ranks third in the nation for poverty citywide." Pastor Cook stated, speaking rhetorically, while also pleading that America understands some truths about the City of Good Neighbors.
Cook didn't hold back. He articulated examples, "We have to talk about why there is only one grocery store for two miles. And, why the consistent history of disinvestment has happened in the East Side." In the Baptist parlance of making it plain, "Why is Buffalo one of the cities where the Main Street divide still exists in such stark contrast? Why does the right to quality of life change almost immediately, once you cross the 33 Expressway?" Cook cried out, exhaustedly.
As any great orator poses questions to their audience, he also answers the question. "The only difference on those two sides of town is the color of people's skin, and so we need to think about what it means for 83% of Black people in this city to live on the East Side. So when you're talking about the quality of life and these fault lines that have been drawn, they are deeply linked and rooted to histories of redlining to years of disinvestment- and we've got to be able to talk about all of those things in order to understand what happened at that Tops (Jefferson St Tops Friendly Market) on that Saturday."
Memorials at Tops Market
Photo credit Kacey Bonner
Ebani Abram
BLM Grassroots member Ebani Abram engulfed in emotion outside of Tops Market (Photo Kacey Bonner)
Geneva Reed and Melina Abdullah
Geneva Reed (Mother of Sandra Bland) and Dr. Melina Abdullah
BLM Grassroots
Cariol Horne, Audrena Redmond (Director of Political Education and Training BLMGR and Co-Founder BLM Long Beach) & Dr. Melina Abdullah (Photo Credit Kacey Bonner)
Rev. Karlene Griffiths Sekou
Rev. Karlene Griffiths Sekou, Director of Healing Justice and Global Village BLMGR, BLM Boston
Fault Lines continue to shake East Buffalo to its core…
The idea of fault lines kept surfacing through the hours of community conversations. As a Californian, I think of tectonic plates shifting.
I came to understand that Buffalo is also an earthquake country. This western New York city is both literally and figuratively fragilely settled on an active fault, though the city hasn't recorded a measurable tremor since 1998.
Picking up on the ever-shifting plates of White Domination, Cook added, "The fault lines were already here. What he (Peyton Gendron) did became the latest manifestation of that reality."
BLM GR held a three-day series of intensive sessions June 3 through June 5, a mere three weeks after the atrocity, beginning with a Healing Justice conclave on Friday. Saturday consisted of a long day-long Teach-In. Examining the truths and roots of white supremacy. These sessions, held in the Macedonia Baptist Church and hosted by Pastor Julian Cook, also provided a space for the community to air out their feelings and emotions. Dr. Julianne Malveaux delivered one of her two powerful speeches during this time.
Sunday capped off the series.
No revival is complete without the word. Dr. Julianne Malveaux is one of the world's most preeminent Black Economists. She didn't have to pull on her ear to have the attention of the congregation, minus the brimstone and fire.
Between her two lectures over a hearty soul food dinner, I asked her to expound on the idea of white supremacy, more or less actualizing itself as White Domination. Without blinking, Dr Malveaux said "The domination is basically to control. They've always had it, but I think now people are calling it out–more."
Reinforcing her point, Malveaux continued, "Predatory capitalists want to control the means of production. They want to control literally everything that's going on."
Sunday morning Dr. Malveaux took to the lectern to raise a poignant question. "Who will we lean on?" She asked the congregation.
A day earlier, Malveaux joined the group to tour the community and see firsthand the aftermath. Masked with her smile, she reflected on the experience visiting the Jefferson St. market. She shared, "When we went by the Top's grocery store, I held it in for a while, but there were some tears. And, when I got up this morning to think about what I wanted to say, the tears came again. Because how can we talk about a year of God's faithful– where was the favor for those people being massacred?"
Amen.
Dr. Malveaux never said hold your peace or vengeance is mine said the Lord. Nor has the answer been provided to Abdullah's query of how to avenge the deaths.
Non violently.
For now, I'll end with this…
Yea, though I walk through the valley of the shadow of death, I will fear no evil: for thou art with me; thy rod and thy staff they comfort me.
Listen to Dr. Malveaux's Sunday Sermon (Click Here)
In part three of coverage from Buffalo, we'll hear more from the community. Including my second trip 30 days following the massacre. We'll explore the community's efforts to find ways to cope and possibly heal. We'll look at the Buffalo Black Billion's first steps at reducing the area's food insecurity and access to fresh groceries.
Story editing by Georgia Sanders. Photos by Kacey Bonner and James Farr
Support of Conversation Live provided by Pasadena Media Foundation #SaveLocalNews