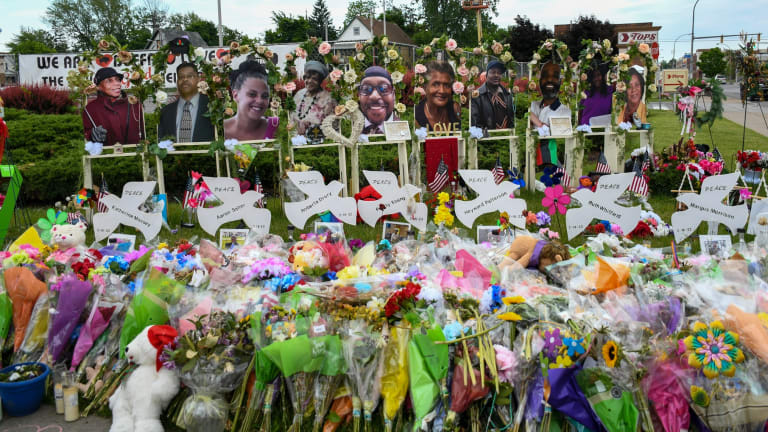 Buffalo, Weeks After the Racist Massacre
Three weeks after the massacre, corporate media and the political class are gone. The influx of charitable acts and relief has dried up.
(Buffalo, NY) Saturday, May 14th, 2:30 in the afternoon–near the Customer Service counter at a market in New York state. Do you risk your own life trying to save your adult child? What if she's already dead? What if you're killed trying to save her? Who will care for your two grandchildren? An unimaginable choice–ripe with palpable fear. Fight, flight or freeze are the only options for this grandmother --who barely escaped with her life from the terror of a hail of bullets fired from an AR15 assault rifle.
'Buffalo Strong', a Mindset That Has Been Disrupted
"I was involved in the shooting. I was in the store with my daughter." Tops Market employee Fragrance shared last Friday night–20 days following the Buffalo murderous massacre.
"We were at work on May 14, and we heard gunshots." She recalled.
While sitting before the altar inside the historic Macedonia Missionary Baptist Church, she reflected on how God gave her a premonition that danger was afoot. Pausing to seek comfort and support from Community Activist Cariol Horne, she continued, "it's almost like He touched me on my shoulder. My stress point is here (placing her hand on her left collar bone). I had a pain that was so painful. Right before we heard bullets and I turned to my daughter to tell her how much pain I was in. And, before I could say anything, we heard gunshots. We all just paused–because we hear gunshots in our community so often, that we don't know if it's for us to run, hide or drop to the floor."
Powering through her brief and painful testimony, Fragrance, a resident of the community, told the congregation, "You've got two things going on at once. We're grieving for those who passed away. We know that that could have been us. What's the difference between me and that person (is) that I made it and they didn't. I need you to remember us because we're alive."
A heavy silence fell upon the sanctuary.
The inflorescence print on this sista's summer dress came into focus.
Her deafening words emitted a fragrance of a corpse flower in full bloom.
Eyes haven't seen and ears have never heard. No hill to look to for strength.
If silence could speak, he would have cried out.
GOD DAMN.
What Happened at the Tops Market
What took place in Buffalo's predominantly Black East Side community was also a most fantastical tragedy. Evil acts blew in from the east, chilling generations of families and entire neighborhoods. Hate cascaded into the lives of not just the ten that were picked off and slaughtered and three others that survived — Black Buffalonians, some, not all, are frozen with fear, staying mostly inside. Many others are at a boiling point.
To be clear, what occurred in the Jefferson Street Tops Friendly Market can not be swept (entirely) into the national discussion of another mass shooting or the debate on gun control. It wasn't community gun violence or proximity opportunism that drive some into crime and mayhem.
Those snatched away in the produce section have perished. To the living–they are now ancestors. And much like their ancestors before them - who were discarded into the abyss of the Atlantic during the middle passage, but whose commoditized value was restored to their human traffickers by insurance, or like those who were attending a prayer meeting in South Carolina or Tulsa or Rosewood or–or like those who died in the documented thousands of racial terror lynchings in 12 states…
Like the Strange Fruit in Billie Holiday's song, this crop was harvested to satisfy the hunger of hatred.
In all the aforementioned cases, lives were snuffed out, simply because they were Black.
Fruit Belt Planted in Toxic Soil
This western New York city is not unlike many others of similar population. It's rich in its own history and culture. Full of regional issues–that are similar, yet strikingly different from other cities of the same size. A racist history, systemic oppression, redlining, and strategic intentional disinvestment have lessened opportunities for most of the 89,966 Black Buffalonians.
Most would consider what happened and still happening there as a northern form of White Supremacy.
No argument.
However, expanding the conversation–a bit, it is more like White Domination.
Now, just over three weeks after the massacre, mainstream media and the political class are gone. The influx of charitable acts and relief has dried up. The location of the Tops Friendly Market is shrouded and adorned with memorials. It is now sacred and hallowed ground.
Debates about when and if the store should reopen are being weighed against the village's access to fresh food and the current intensified scourge of food insecurity.
A divided city. The community continues to go without. Disinvestment on the wrong side of the Main Street.
City leadership is in denial that their city of 255,805 has its own homegrown racist and anti-blackness or that it is rooted–deeply. Speaking with a (white) native from Buffalo on one of the flights I took, I asked if the city is as segregated as what's been reported?
"Not at all." He said confidently.
"It's more like the Irish, Italians and other immigrant communities live in their own sections of town. And, Blacks live mostly on the East Side"
Disinvestment in the City's East Side Versus the West Side, are Obvious
Henry Taylor, an urban planning professor at the University at Buffalo, told the USA Today, "Among segregation, mortgage redlining, highway construction, dangerous housing, gentrification and few full-time jobs, many Black families in East Buffalo remain trapped in intergenerational poverty."
Generational unemployment has become an expected future.
At one time home to over 10,000 people, the Fruit Belt takes its name from the large number of orchards German immigrant settlers planted in the area. Holding true to their previously established agrarian nature, they planted large orchards and vegetable gardens in the area. As their numbers increased, in these orchards were laid out the present streets, the names themselves remaining as a testimony to the early nature of the neighborhood. The area remained a tight-knit neighborhood until the 1950s. Then, with no regard for the longtime residents, construction of the Kensington Expressway severed the neighborhood in half, destroying a harmony that had existed for over one hundred years.
After the destruction caused by the Kensington Expressway and decades of disinvestment by the City of Buffalo, the East Side neighborhoods rapidly declined. In recent years, due to rebranding as Medical Park and encouragement from the City of Buffalo for the construction of medical campuses in the East Side neighborhood, there has been outside investment. But that influx of money and development has been focused on the demolition of older houses dating as far back as the 1800s for brand-new medical buildings - to employ surrounding residents. Tenants and homeowners in the neighborhood have become increasingly active as pressures to reinvigorate the neighborhood have increased.
Presently, East Buffalo is home to over 900 vacant lots. A house here, two empty lots there. A repeating pattern, I naively and ignorantly viewed as open spaces that reduce population density.
The housing inventory is amongst the oldest in the nation. Lead paint and asbestos-lined walls have contributed to chronic health conditions for its inhabitants.
By comparison, a Bungalow in the East is valued at hundreds of thousands of dollars less than the same property in the West.
The American dream of wealth building through homeownership for Eastsiders has only trapped them into to being house-poor.
Buffalo is Ground Zero for Black Lives Matter Grass Roots
A few dozen members from Black Lives Matter chapters from across the nation, along with family members of souls stolen by police, descended into Buffalo last week in order to stand with and to support this community reeling in pain, sorrow, and grief. Under the glare of media scrutiny and disinformation, regarding the fiduciary stewardship of BLM Global Foundation, where nothing illegal has been shown, BLMGR came away activated and mobilized for the future.
Present to offer support were six members of a club that they never would have sought membership into. A not so exclusive group that is tethered to each other by state-sponsored violence. There was no room for false fronts with this group - shared trauma and suffering kept exchanges and soul-stances strong and genuine. A sentiment of "no-one" from this group gets left behind was demonstrated as more than real.
This group included the parents of Andrew Joseph, III (Andrew and Deanna Joseph). Sandra Bland's mother (Geneva Reed), Breonna Taylor's Aunty (Bianca Austin), Stephon Clark's brother (Stevante Clark), and the father of Jacob Blake (Jacob Blake).
How does this group of Black families survive and push forward through their personal pain to demand justice in the world we find ourselves in? Community. Community support. Faith. Tangible love.
More on that in part two of this story.
40 Hours on the Ground in Buffalo Embedded with Black Lives Matter Grassroots
I flew out to Buffalo from Los Angeles to tell a story. Upon leaving Buffalo, I realized that what I had witnessed was a revival. Two things I pondered, before I accepted this assignment, were experientially worked out.
How is the city that was the last stop on the Underground Railroad and the birthplace of the Niagara Movement faring? And, how, (not if),  would BLM Grassroots under the direction of Dr. Melina Abdullah continue their mission?
The neighborhoods on the East Side of Buffalo were once a thriving hub of the Black community, home to shopping, goods and services, dining and nightlife. Locals speak about it in the past tense. "It was our Harlem. It would have reminded you of Los Angeles' Central Avenue." Pastor Michael Chapman shared during a phone interview. That all changed in 1967. Riots rocked the East side of Buffalo from June 26th through July 1st of '67, virtually shutting down the city. In one night, on June 28th, over 40 people were hurt by the violence, 14 with gunshot wounds. Following these three days of civil unrest, the hub of the city has never been restored, with the area having been in decline ever since.
For example, according to Buffalonian.com, the Black population of Buffalo has risen to 100,000, yet only two hundred units of new housing have been built in recent years. Blacks have been essentially stuffed into the smallest of the East Side area.
For White Folks on the West Side it's business as usual
Honestly, in telling this story, I quickly had to come to grips with abandoning a word count. This is a long read. Readers (un)interested in the truth–can read more entertaining lies elsewhere, but I testify, this is what I learned.
The repetitive hypothetical of what if the shooter were Black doesn't matter in our inter-cultural discussions. A Black gunman would have likely got what any depraved maniac should have gotten–two shots to the head. The 18-year old white man taken into custody got what we've expected–less the cheeseburger and soda.
As for the omnipresent issue in the City of Good Neighbors, Pastor Julian Cook broke it down plainly. He called the gatherers attention to his observation of a larger situation.
 "The shooter was apprehended, but, in Buffalo, the killer, which is White Supremacy, is still on the loose." Pastor Julian Cook said.
In part two, we'll take a deeper dive into some solutions. We'll also hear more from those most affected, in their own voices.