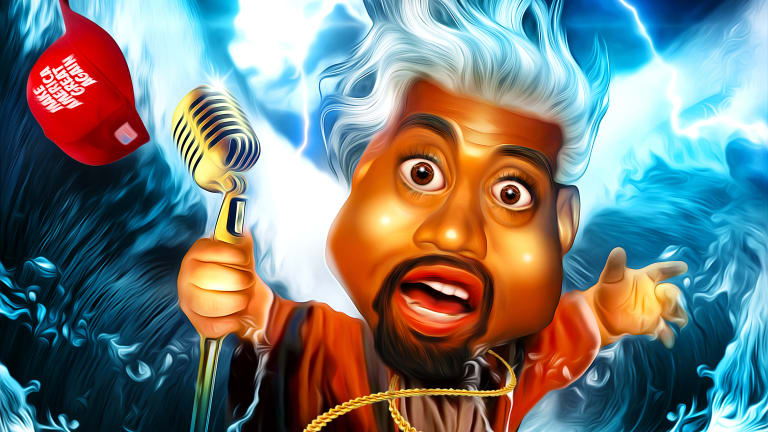 Why Canceled for Being Antisemitic but Not for Anti-Blackness?
Black people deserve the same decisive and swift response to anti-Blackness that is being meted out to Ye.
Kanye West is having a moment. It's not a good one, but it's a moment nevertheless. The rapper and designer continues to double down on his antisemitic remarks, and on Tuesday, Adidas joined Balenciaga, and prominent talent agency CAA in cutting ties with him. Meanwhile, just miles from Ye's Hidden Hills home, in downtown Los Angeles, two councilmembers continue to get paid after their involvement in a recorded conversation in which Latino officials made crude, anti-Black, and racist remarks while conspiring to expand their political power. It got me thinking about why we tolerate anti-Blackness and not antisemitism.
For the record, I am not antisemitic. It's sad, but I feel like as a Black woman, in 2022, I need to preface my comments with, "I am not antisemitic," in order to say anything about Jewish people. In fact, I struggled with whether or not to even delve into the whole Kanye situation. Frankly, we've evolved into a society where debate has been replaced by "cancel culture," and it's scary to have an opinion about anything these days that's different from the herd. We no longer have honest conversations about anything. Too many folks are forced to tiptoe around taboo subjects lest they risk catching the wrath of the mob.
All of the companies that cut ties with Ye were completely justified in doing so. You'll get no argument from me on that. What you will get from me are questions about why we're more inclined to tolerate anti-Blackness from people and antisemitism. No — this isn't a competition, it's a comparison.
It's been over two weeks since the audio of three LA councilmembers and a prominent labor leader plotting to increase their own political gain was leaked. Audio that did include racist and homophobic tropes offending other communities but was more anti-Black than anything else. Two of those councilmembers remain on the taxpayer's payroll today, with one doubling down, saying he won't resign. The calls for their resignations have gotten quieter and quieter, and except for a few performative statements calling on their resignations, it's business as usual at city hall.
Meanwhile, on Twitter, after Ye tweeted that he was going "death con 3 On JEWISH PEOPLE," referencing the defense readiness condition (DEFCON) alert state used by the US Armed Forces, he was immediately condemned in the court of public opinion and continues to lose financial business relationships.
Earlier this year, America's Grammy Award for Best Rap Performance went to "Family Ties" by Baby Keem Feat. Kendrick Lamar. A song that uses the word "nigga" eight times. "Family Ties" isn't alone in that category. Of the 15 songs nominated in rap categories in 2022, only three didn't include the word "nigga." Add to that, you'd be hard-pressed to find a song that doesn't include the word "nigga" on any of the Billboard rap charts.
But what you won't find are any songs that include antisemitic slurs or, for that matter, any other racial slurs. That's just a Black thing, and it's part of why anti-Blackness is tolerated in the way it is.
One thing I can tell you about Jewish people is that when it comes to antisemitism, they close ranks. Everyone is reading from the same page of the same playbook and speaking on message. You won't find a segment of Jews who identify with antisemitic slurs or feel that if you replace this letter with that letter and reclaim the word, it changes its meaning and makes it okay to use.
The same can't be said of Black people. Half of us use the n-word as a term of endearment. So why should the rest of America get their panties in a bunch over anyone else using it as long as we continue to use it and allow others to make millions of dollars from our use of it?
And that's why you get canceled for being antisemitic (and anti-LGBTQ, for that matter) and not for being anti-Black. It's also why those two councilmembers are comfortable ignoring the calls for their resignations.
Black people deserve the same decisive and swift response to anti-Blackness that is being meted out to Ye.
I am not mad at Jewish people. I admire their unity and the resolve they have against antisemitism. I long for the days I only heard about from my grandparents of when Black people had respect for themselves, each other, and stood together on our most pressing issues for the betterment — not the detriment — of our people.
In the end, it all comes down to this. Ye is going to be canceled, and anti-Blackness will continue to be tolerated in America as long as Black people are the main perpetrators of it. On this, we can't expect more than what we're willing to do ourselves.