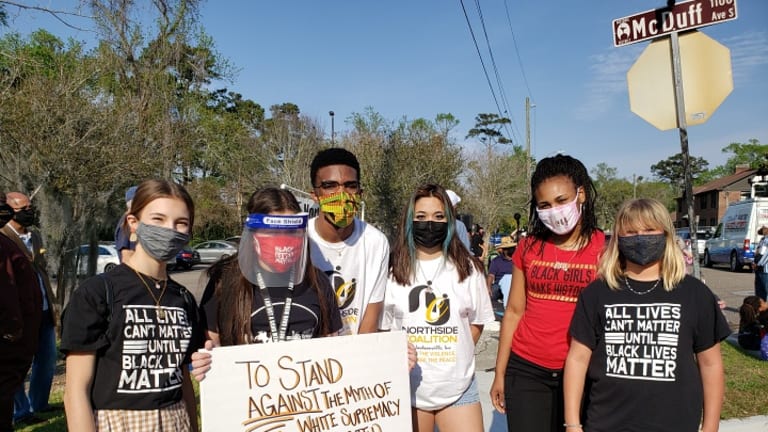 Florida Community Campaigns to Change School Name
"If you support the name Robert E. Lee on this school, you support Robert E. Lee," Rodney Hurst, the youngest organizer of the NAACP participating in the 1960's lunch counter sit-ins here, told the demonstrators.
He gave a history of General Robert E. Lee who led the efforts of 13 states to maintain slavery. Slaveowners were 65% of the millionaires in the entire US at the time…We need to right the wrong and change the school's name of this slave owner."
About 50 demonstrating for a name change held a rally prior to the school board open hearing on changing the school's name.
"We should not have a school named after someone who considers us Blacks as inferior. Young people have started this movement and we need to see it through."
Ben Frazier, coalition president opened the rally commenting "We recognize that there is a difference between Southern heritage and Confederate heritage. Southern heritage has to do with our culture, Confederate heritage is the perpetuation of slavery,"
Lyla, an 11-year-old fifth grader at the feeder middle school to this HS told this reporter "We are here today because Robert E. Lee was a racist and very cruel man, and no school should be named after him."
These sentiments were echoed by ninth grader Avery, and Joy, a 1tenth grader "We need to make a change and I am also involved in protests against police brutality and killings." All three youth wore Black Lives Matter t-shirts.
A veteran and leader of the Jacksonville committee, which successfully got a school named changed from Nathan Forrest, first Grand Wizard of the Ku Klux Klan, Wells Todd told the crowd "We should not have a school named after someone who considers us Blacks as inferior. Young people have started this movement and we need to see it through."
Robert E. Lee High School, when named in 1928, was an all-white school. Desegregation in Jacksonville didn't occur until 1970, despite the 1954 Supreme Court ruling that schools should be desegregated because separate schools were not equal. Much later, many of the schools were named after Confederate leaders by the school board which included members of the United Daughters of the Confederacy (UDC). They were responsible for naming Nathan Bedford Forrest High School, for example. Local NAACP president, Isaiah Rumlin added that "We cannot allow these generals who kept us from having freedom to have schools named after them, Rename the school."
Lanelle Phillmon, representing the ACLU of Florida, addressed the protestors. "A HS named after Robert EW Lee or any other space named after someone who represents the institution of slavery sends a message of oppression and inequality…Shrines to white supremacy and racial violence denigrate the existence of communities of color in Jacksonville."
She continued
"Many of those opposing the name change I'm sure would say they are adamantly against the abuse of children and yet, they have demanded these students daily attend a school and wear a name on their school sporting and other uniforms and pride gear that bears the name of a man who did not see the Black person as an actual person and did not see them as being capable of education.
Those who seek to keep this school name are honoring one who allowed surrendering Black Union solders to be murdered, saw to it that those held in bondage as his property were beaten and then further harmed by having brine thrown into their open wounds, worked those in bondage after his father-in-law's legal intent for them to be held captive, and separated all but one family of those he held captive making it almost impossible for them to find one another and committing his own form of cultural and heritage genocide."
Recent new endorsers for this effort include the Baptist Ministers Conference of Duval and Adjacent Communities. Speaking for them, Rev. Darien Bolden emphasized, "The conference supports renaming the schools, and new names should reflect positive people. School culture must change, so must the old equipment, lower expectations of the students. If we change the name and not the culture, it's like putting clean clothes on a dirty body."
Later at the school board meeting there were over 100 comments, about equally divided in changing the name. The all white and older crowd organized on one side of the auditorium spoke against the name change because of their fond memories, that they would have to throw away their yearbook, that the good old days are historically important to save, and changing the name would signify the end of an era. (the school was segregated from 1928 to 1970.)
Some who are against changing the name believe the history needs to be preserved. "We can't change history. All you can do is learn from history," one person said during the meeting.
There's an organized group of alumni from Lee High School are pushing to keep the school's name, saying that Lee High has too much history to be renamed. "Our voice should carry much more weight than the people who never attended this school. We're the alumni of this school. We love this school. It was never about racism. It never has been about racism for us. It's about Southern pride," said an alumnus.
A website opposing name changes says their mission is: "Renaming the targeted schools will disrupt their historic identities, decimate alumni financial support, and waste upwards of two million dollars; dollars that could be used to help with costs of covid-readiness, and for improving academic and social outcomes for the students, ultimately benefiting the entire community." It further bullets:
We protest depriving alumni of their historical connection to their Alma mater
We cite the likelihood of a significant, negative impact on future alumni support based on accounts from other schools with changed names A young activist, Wendy spoke to the crowd "The biggest name on your diploma from this school should not be a slaveowner and someone who if alive today, would oppose you and make you a slave. We are not trying to cancel history or culture, but to make a correction. This is a new civil rights movement."
A letter to the editor, reviewed by the author Etta Ettlinger, who grew up in Jim Crow Jacksonville said: "To the alumni of Robert E. Lee, why would you remove support to the school if the name is changed? Memories and experiences will always be treasured but those are not related to the name. It is important for Jacksonville to acknowledge the truth, honoring enslavers and continued racism is nothing to be proud of and is hurtful to many citizens of this community. It's time for Jacksonville to proudly honor all of its citizens--to begin to free ourselves from the bonds of prejudice and intolerance."
As of this writing it is unclear if the school board will make a decision. Some say the proposal will be to refer it to a referendum of all of the living alumni of the Robert E. Lee school. (overwhelmingly majority white).
Six of the schools under consideration for renaming honor Confederate Civil War leaders and the other three schools are named after leaders who perpetrated violence against Native Americans.
Mark Friedman