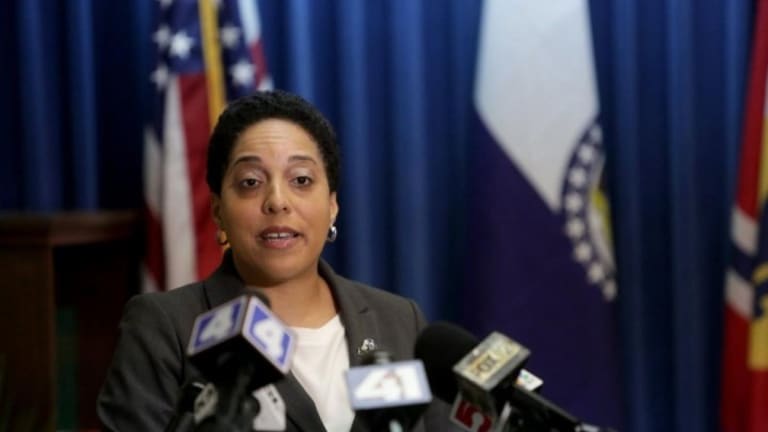 Empowered Black Women Unite!
There's only one thing worse than a fat-ass empowered black woman. That's a fat-ass empowered black woman who's got public reins in her hands.
Across the nation, Black prosecutors are under attack for attempting to carry out reform agendas. Black women have been especially targeted. In a post-Ferguson world, history was made when voters elected the first African American prosecutors in St. Louis County and St. Louis City. Kim Gardner was swept into the office of city prosecutor in 2016. Ferguson Councilman Wesley Bell become county prosecutor in 2018. Both have been catching hell ever since they took office.
The white power structure, protected by racist police associations and supported by the mainstream media, have made their jobs a living nightmare. These public servants have been attacked personally and professionally. They have received hate mail and death threats. Their actions have been challenged in the courts and in the court of public opinion.
Kim Gardner has received more than her fair share of racist vitriol. Gardner came into office making it clear that she intended to honor the reform platform that she ran on. She declared that no one was above the law. She took on Missouri Governor Eric Greitens, charging him with two felonies—invasion of privacy and misuse of his charity's funds. Gardner took on killer cop Jason Stockley for the murder of Anthony Lamar Smith. Although these two lawbreakers escaped convictions, the audacity to charge white men was a powerful message which rippled throughout the region.
Greitens was forced to resign in disgrace, putting a freeze on his meteoric rise in the electoral arena. He had his sights set high—Congress and maybe even the Presidency. Stockley opted for a bench trial and was summarily acquitted by a white judge. His acquittal led to days of protests in the streets of downtown St. Louis.
These are familiar roadblocks experienced by other Black, female prosecutors. Recently, six of these converged on St. Louis to support Kim Gardner who had become sick and tired of being sick and tired. She filed a federal lawsuit under the Klu Klux Klan Act calling out the mayor, the St. Louis Police Association, Special Prosecutor and a few others for conspiracy to violate her civil rights. Proof positive that the whole, damn system is guilty as hell.
In sistah solidarity, these beleaguered but resilient woman stood on the court steps in St. Louis to tell their stories. They were Contra Costa County District Attorney Diana Becton; Prince George's County State's Attorney Aisha Braveboy; Portsmouth, Virginia, Commonwealth's Attorney Stephanie Morales; Ninth Judicial Circuit Court of Florida State's Attorney Aramis Ayala; Suffolk County, Massachusetts, District Attorney Rachael Rollins; and Baltimore City State's Attorney Marilyn Mosby.
Mosley's comments must have struck a nerve with one racist, coward who left an anonymous voicemail for the unapologetic prosecutor most known for trying to hold police accountable for the death of Freddie Gray back in 2015.
This white supremacist must be living in a Southern antebellum time warp. She challenged Mosley's right to even travel to St. Louis. The message is important to hear and absorb because it validates the kind of vitriol these women face on a regular basis. It also affirms the deep roots of white supremacy and racist hostility in St. Louis.
I urge all fat-ass empowered Black women to unite and organize. Our unity is critical whether we hold public office or not. Girls, women and transgendered face threats on the job, in schools, in public spaces and in our homes. We are under attack politically, socially, economically and sexually. Education and organization are the key elements to staving off these kinds of attacks and moving forward to address all forms of women's oppression. We need our allies to join us and intensify their commitment to the struggle for Black empowerment and Black life.
Black women of the world unite--regardless of how fat your ass is!