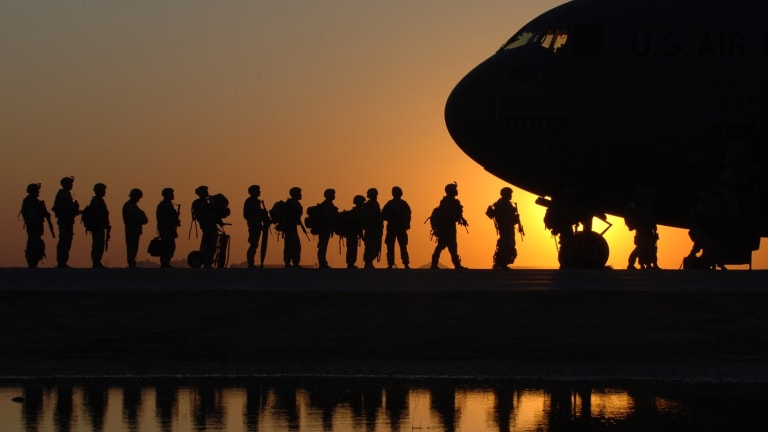 Environmental Racism at California's Military Bases
California is home to at least seven military bases whose drinking water was contaminated with high levels of pfa substances.
California is home to at least seven military bases whose drinking water was contaminated with high levels of perfluoroalkyl and polyfluoroalkyl substances. These chemicals, PFAS, are extremely detrimental to human health, as significant exposure can result in crippling diseases such as kidney cancer, leukemia, prostate cancer, lymphoma, and pancreatic cancer. Furthermore, they are persistent environmental contaminants, some taking over a thousand years to break down completely.
Often dubbed "forever chemicals" because of how long they can pollute the environment, PFAS in the drinking water at military bases in California originate from firefighters using Aqueous Film Forming Foam (AFFF), a fire suppressant, to extinguish jet fuel and petroleum fires. Although this firefighting foam, whose formula was developed by the US Navy, is very effective, it sometimes contains up to 98% PFAS. This makes AFFF very hazardous and everyone who spent time at these military bases is at high risk of developing serious health problems.
Military Installations Contaminated with Toxic Agents
Naval Construction Battalion Center Port Hueneme is a California military facility with acute PFAS contamination. It is located approximately 60 miles northwest of Los Angeles, on the scenic Southern California coast. To comprehend how severe PFAS contamination was, it is important to know that the safe exposure limit to these harmful chemicals from drinking water is 70 parts per trillion (ppt). At Naval Construction Battalion Center Port Hueneme, the greatest PFAS level was measured in 2017, and it was 1,080,000 ppt, eclipsing the safe exposure limit by over 15,420 times.
Naval Construction Battalion Center Port Hueneme was active between 1942 and 2000 when it merged with Naval Air Station Point Mugu to create Naval Base Ventura County. Despite the relentless cleanup endeavors of the Environmental Protection Agency (EPA) to remove PFAS from the drinking water of the military installation, the toxic chemicals are still contaminating the environment, though in considerably lower concentrations. To make matters worse, other toxic chemicals were present at Naval Construction Battalion Center Port Hueneme, such as haloacetic acids, chromium, bromoform, and dibromoacetic acid.
Another military base with heavy PFAS drinking water contamination is Naval Air Weapons Station China Lake. It is still used today, situated roughly 150 miles north of Los Angeles. This military installation is the second on the Top 100 Military Bases with PFAS list by Environmental Working Group, as the level of these dangerous substances was 8,000,000 ppt in 2017, exceeding the safe exposure limit by 114,285 times. Therefore, one can only imagine this facility's health hazards living and training poses. The EPA tested 11 wells at Naval Air Weapons Station China Lake and found 7 to contain very high levels of PFAS.
Naval Air Weapons Station China Lake accounts for 85% of the US Navy's land for weapons and armaments research, development, and testing and for 38% of the US Navy's land holdings worldwide. Unfortunately, little progress in cleaning up the military bases where "forever chemicals" lurk has been made so far. Out of the 50 military facilities with the most severe PFAS contamination, only nine have cleanup plans devised under the Superfund law at the moment. Finally, Edwards Air Force Base is another military base close to Los Angeles where drinking water is polluted with PFAS. The highest level of these chemicals was 277,000 ppt, which is 3,950 times over the safe exposure limit.
In addition to PFAS, other toxic agents were discovered contaminating Edwards Air Force Base, including trichloroethene, benzene, vinyl chloride, perchloroethylene, and heavy metals. These also polluted Camp Lejeune in North Carolina for almost 35 years during the last century. Built in 1942 with the purpose of training Marines for the forthcoming World War II, this military facility also had a dangerous level of PFAS in drinking water – 172,000 ppt, eclipsing the safe exposure limit by 2,457 times. Camp Lejeune was a major pollution hotspot for service members and their families who lived there and for the nearby disadvantaged communities.
One Million People Drank Contaminated Water at Camp Lejeune 
Between 1953 and 1987, more than one million people lived and worked at Camp Lejeune in Jacksonville, North Carolina. Out of the eight water distribution plants at the military base, two became extremely contaminated with industrial solvents due to the improper disposal practices of the dry-cleaning firm ABC One-Hour Cleaners. The safe exposure limit for trichloroethene and perchloroethylene is 5 parts per billion (ppb). In 1982, at the Hadnot Point water distribution plant, the trichloroethene level was 1,400 ppb. In 1985, at the Tarawa Terrace water distribution plant, the perchloroethylene level was 215 ppb.
The most contaminated wells were closed in the winter of 1985, and four years later, Camp Lejeune was added to the EPA's list of Superfund sites. While the drinking water at the military installation is safe, PFAS still lurk on at least 14 sites. It is estimated that the toxic exposure risk evaluation will be completed by 2025 and that it will take several decades for the agency to thoroughly remove the contaminants from the environment of Camp Lejeune. Currently, over 170,000 people live at the military facility, and half of Jacksonville's population resides there, as the rent and land costs are slightly more affordable.
Due to being exposed to such a hazardous concoction of chemicals, numerous veterans and civilians struggle with debilitating health problems today, such as liver cancer, aplastic anemia, renal toxicity, scleroderma, lung cancer, autoimmune diseases, ovarian cancer, and cognitive disability. A sliver of hope for the innocent people who were let down by the military is the new legislation known as the Camp Lejeune Justice Act, which allows everyone who spent at least 30 days at the military base between August 1, 1953, and December 31, 1987, to seek financial compensation from the US government.
More Black Service Members but Fewer Opportunities for Career Advancement
If eight decades ago, only 5% of all military enlisted members were Black, today, they represent 19% of all service members. However, there is a blatant lack of representation of Black people in military leadership positions – while 76% of officers are white, only 9% of service members with this rank are Black. To further illustrate how Black military members have few opportunities for climbing the career ladder, it is important to acknowledge that 43 out of the 245 generals are Black, and out of the 94 colonels, only two are Black. "The Army combat arms only have two Black incoming commanders out of 96, showing that the path to attaining senior rank remains effectively closed to Black soldiers," said Congresswoman Jackie Speier.
Unlike officers, generals, and colonels, low-rank service members have to live and train at contaminated military bases, increasing their risk of developing a life-threatening illness several years or even decades after being discharged. According to the Department of Defense, high PFAS levels are contaminating water supplies on at least 12 military bases. Moreover, even in military facilities whose environment has been cleaned of hazardous agents, service members may still encounter sources of exposure. Exposure to low doses of toxic chemicals over a long time can be as dangerous as exposure to high doses of harmful substances over a short period. Consequently, not only are Black service members more likely to sustain combat injuries, but they are also more prone to service-related health problems.
Military's Efforts to Fight Racism
By virtue of the Camp Lejeune Justice Act, which was recently signed into law by President Joe Biden, veterans who came to struggle with health problems due to drinking contaminated water at the military base can now seek reparations outside the VA. This new legislation, initially proposed by Representative Matt Cartwright, allows everyone who spent at least 30 days at Camp Lejeune between August 1, 1953, and December 31, 1987, to file a lawsuit with the US government. The Camp Lejeune Justice Act is a wider part of the Honoring Our PACT Act.
Also, the new legislative package expands and extends the eligibility criteria for multiple categories of veterans and includes 20 new presumptive diagnoses for toxic exposure.
As for racism, there have been multiple efforts to fight it within the past years on behalf of the military. Some of these refer to updating anti-harassment policies, developing strategies to guide endeavors meant to attract and retain diverse service members, and striving to identify unhealthy work environments. 
Hopefully, we are going to witness less and less covert racism in the military and more and more service members of color in leadership positions soon. "We must thoughtfully examine our institution and ensure it is a place where all Americans see themselves represented and have equal opportunity to succeed, especially in leadership positions," said the Joint Chiefs of Staff Mark Milley.