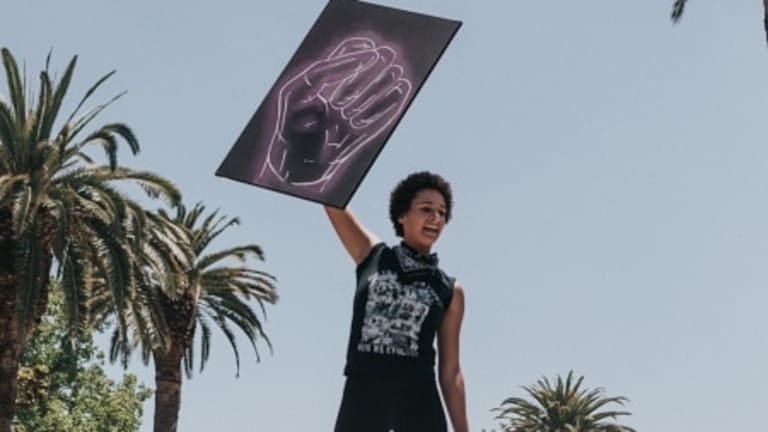 "If We Got Us": Lessons From The Pandemic
Tyler Campbell: the Coronavirus hasn't created any of the issues plaguing the Black community, only added bricks of salt to the ever widening wounds.
Growing up, I remember constantly hearing about the war in Iraq and becoming desensitized to the horrific images of military tanks turning whole buildings to rubble and armed soldiers patrolling the streets of Baghdad plastered all over the nightly news. I came to associate these images of "war" and occupancy as something inherently distant; foreign.
I never once imagined that early one afternoon this past June when a friend and I walked to the Wendy's in my neighborhood, itching to get outside after weeks of quarantining in our homes, that we would be greeted by an olive green military tank seemingly bigger than the Wendy's itself.
In front of the tank stood a soldier armed with an American flag on his chest and an assault rifle dangling at his waist, just like the soldiers I'd see countless times on TV in Iraq.
The ominous look in his eyes as he glared at us from across the street, as if we didn't belong, is permanently etched in my memory. I walked home that afternoon feeling hungry and unsafe in my own neighborhood.
This was the scene in cities across America as governing bodies chose to meet peaceful protesters enraged by yet another senseless killing of a Black person at the hands of police with more than 17,000 National Guard troops in 23 states and Washington DC. This time it was George Floyd who was lynched in his native Minneapolis after officer Derek Chauvin thrusted his knee into Floyd's neck while fellow officers stood by for an unfathomable 8 minutes and 56 seconds in a viral video that was viewed 1.4 billion times within days of the brutal murder. Floyd's only crime: buying a pack of cigarettes with a fake $20 bill in the midst of the worst economic shutdown since the Great Depression.
In the eight months since the outbreak of COVID-19, the virus has claimed north of 207,000 lives across the country. To put that number in perspective, it's roughly 50 times the number of U.S. casualties from the Iraq war, which lasted seven years.
Unsurprisingly, the pandemic has ravaged Black communities at alarming rates. According to data published by the CDC, Black people are 2.6 times more likely to contract COVID-19, 4.7 times more likely to be hospitalized as a result of contracting the virus, and 2.1 times more likely to die from COVID-19–related health issues.
In states like Illinois and Michigan, Black people account for 25 percent of those who have tested positive and 39 percent of the COVID-related deaths, while making up just about 15 percent of the general population in both states. Disparities are similar across the country.
The Coronavirus hasn't created any of the issues plaguing the Black community, only added bricks of salt to the ever widening wounds. 
Numbers like these have led some to ask, "why are African American communities being hit hard by COVID-19?" but this is to be expected in a nation where so much of the labor of Black people is deemed "essential" but the same cannot be said for Black lives in America. Still, the Coronavirus hasn't created any of the issues plaguing the Black community, only added bricks of salt to the ever widening wounds. 
The swift and violent response by city and state officials, spurred on by the 45th President, in response to peaceful protests, in conjunction with the lack of adequate quality healthcare, masks, testing sites, and economic relief, has left Black Americans to fend for ourselves during a national crisis. It's like my grandmother always used to say when I was growing up, "when America gets sick baby, Black folks gon' catch pneumonia."
COVID-19 is just another AIDS epidemic or Hurricane Katrina or Flint Water Crisis to us, a public health crisis being grossly mismanaged at every level; being forced to watch as all the support systems fail yet again, and Black people are left falling through the cracks. 
Of course, to be Black in America is to be perpetually living through a pandemic: a racial one. Hence why with no cure in sight and the only proven way to slow the spread of the virus — social distancing —millions of Black people and allies still took to the streets protesting over the police murder of George Floyd, confirming the truth we have all known since the quarantine first began: the color of our skin has meant death for us either way. The prevailing takeaway from the pandemic, when all else fails and it will fail, is that Black people are going to have to take care of ourselves. 
And we have been. Though Black people can undoubtedly depend on the system failing us whenever possible, we can also depend on each other. Following in the tradition of grassroots organizing in dire times of need, laid out by activists like the late Ella Baker and groups like the Black Panther Party, ordinary Black folks have risen to the occasion time and time again during the COVID-19 pandemic to support our own.
Seeing Black people stand up for one another in the face of such adversity, I am reminded of the famed quote from exiled revolutionary and movement foremother Assata Shakur, "It is our duty to fight for our freedom. It is our duty to win. We must love each other and support each other. We have nothing to lose but our chains."
We are winning in New York with groups like Harlem Grown providing school-age children who are virtual learning and local homeless shelters with nutritious meals cultivated in community gardens.
We are winning in Chicago with groups like Voices of Youth in Chicago Education (VOYCE) using momentum from anti-police protests to put pressure on the Chicago Board of Education to remove officers from all schools in favor of more guidance counselors.
We are winning in Flint with Leon EL-Alamin and his team of formerly incarcerated people at the MADE Institute advocating for Gov. Gretchen Whitmer to use her clemency powers to release even more at-risk prisoners while providing them resources to stay healthy during the pandemic.
We are winning in Philadelphia with local artists Tierra Whack and Gianni Lee using their social platforms to galvanize the community to clean up and restore their own neighborhoods in the "Philly Big Clean Up".
We are winning in Atlanta with the Atlanta Solidarity Fund working to bail out protesters and supply them with proper representation and "know your rights' training helping to keep protesters safe in the streets.
We are winning in Oakland with Bay-Peace holding community teach-ins to disseminate knowledge within the community and advocating for policy change on the local level to fight the increase in violence in inner city neighborhoods.
We are winning in Baltimore with groups like the Baltimore Algebra Project working to help school-age children in low income areas across the city continue to do well in subjects like math as classes became remote during the pandemic.
I list all of our wins not because there is no more work to be done but to commend and shed light on those risking their lives and sacrificing their time to support Black people in the grim face of the pandemic. 
In the midst of the continued struggle for survival in this country, there are no wins without setbacks. It's heartbreaking and still unsurprising that after a long day's work in a hospital ER during the pandemic Breonna Taylor could be murdered in her own bed by police, and her neighbors' walls received justice before Breona does.
I am left wondering if it had not been for Black folks standing up and banding together through months of protests and social media advocacy, surely Breonna's life and tragic murder would have been swept under the rug by the same authorities that were supposed to protect her.
The same goes for Elijah McClain and Ahmad Arbery, two young Black men killed before the pandemic, whose murders would likely have gone unnoticed by the public and ignored by law enforcement, if not for Black people's collective social media activism.
While the system continues to show Black people that our lives do not matter, we are the ones continually doing the work looking out for each other. To paraphrase Kendrick Lamar's Black Lives Matter rallying cry "Alright"... if we got us then we gon' be alright. 
Tyler Campbell