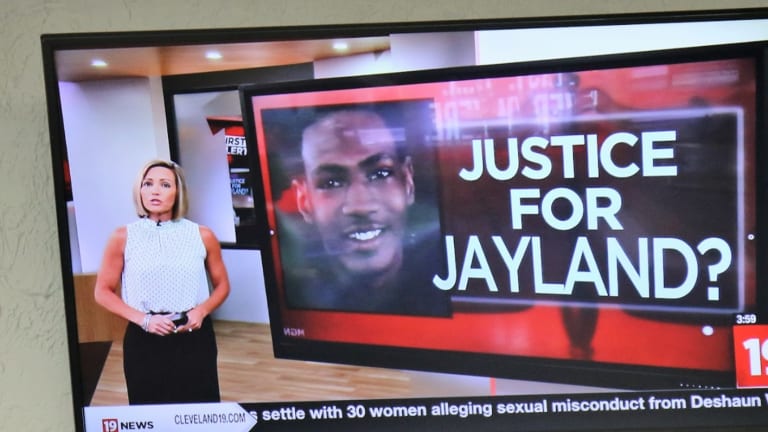 Jayland Walker: More than a Hashtag
"When we fight, we win." Dr. Melina Abdullah, Director of BLMGR reminded the overflowing storefront office location.
As news broke that the Jayland Walker medical examiners would release an official autopsy report on July 13th, activist and community organizers were already meeting in support of the Walker family and strategizing their next steps to demand transparency and accountability in his case.
The autopsy results painfully confirmed most of what was already known.
Medical Examiner Report
Any one of the 46 gunshot wounds to his heart, both lungs, and to his right iliac artery would have caused Walker to bleed out extensively.
The wounds included:
● 15 gunshot wounds that entered Walker's torso and caused internal injury to his heart, lungs, liver, spleen, left kidney, intestines, and multiple ribs.
● 17 gunshot wounds to the pelvis and both upper legs.
● One bullet struck Walker's face and fractured his jaw.
● Eight gunshot wounds injured his arms and right hand.
● Five gunshot wounds injured his knees, right lower leg and right foot.
A toxicology report came back negative for any evidence of drugs or alcohol in Walker.
The medical examiner's report is separate from an investigation by the Ohio Bureau of Criminal Investigation. The state law enforcement agency will determine how many times Walker was shot and how many bullets officers fired at him.
Earlier the LA Progressive reported that 25-year-old Walker was laid to rest amidst continued protests and police brutalizing protestors.
News reports have flooded timelines about the daily peaceful demonstrations about Walker's homicide — Cleveland's ABC5 stated the multiple officer-involved shooting is, "dragging out-of-state protestors" into town.
Some are calling these reports a newsroom dog whistle reminiscent of how Freedom Riders of the 1960s civil rights era were once characterized. Contemporarily, it screams of narrative shaping to their battleground swing-state audience.
A bunch of agitators or Families United
Conversation Live is embedded with a dozen out-of-towners —that received a welcomed invitation, and a great appreciation that they came — from Akronites.
Landing in The Land. I expeditiously made my way in the 57-minute rideshare on I-77 south to catch up with this squad of justice crusaders. Inside of this not-so-exclusive group is the binding of shared experiences. Each has had a family member — as they refer to it, stolen at the hands of police.
Seasoned and experienced, out of necessity, they've become crack subject experts of every phase and stage of what comes with the spoils of unsought national attention. Each in their respective hometowns and even nationally has become overnight known public figures. Often overshadowed by the way in which the public has come to know them. They've lost their individuality. Only to be recognized or introduced as the Luv-One of their deceased Luv-One.
Cameras at every turn. Strangers approach them and they are not sure of the intention. Nonprofit hustlers and clout-chasing activists are in and out. Primetime network interviews. Red carpet Hollywood events. Meet and greets with NBA All-Stars. Constantly confronted with Love & Hate. Even being spooked meeting Ghost.
A realization that one of them had forgotten about a work commitment. Suddenly, some have the audience of the President of the United States of America. They all have at one time been the next (but not for long) to be received by a growing and tight group of Families United.
They bag on each other. Laugh with each other. Cry and revisit trauma together.
There they were…
As with the previous evening — following a full day of travel for some — we were on the ground in the West Akron community.
We were there to form that processional line for the Jayland Walker family.
Convening the Black-led organizing collaborative at the Exchange Street headquarters of Freedom BLOC — members of Black Lives Matter Grassroots co-facilitated informational sessions with the intention of building Black political power. Upping the community's capacity — and arming them with the tools to take on systems designed to crush all that dare fight against White Domination.
One such way is to increase a greater electoral turnout in local elections.
"When we fight, we win." Dr. Melina Abdullah, Director of BLMGR reminded the overflowing storefront office location.
How to accomplish a win — requires training and understanding.
Freedom Bloc class is in session…
In a tightly packed and heated room, a few dozen sat attentive to an informational session on grassroots organizing and activism. There were some moments of spontaneous anger balanced with knowledge-based approaches.
Some sat with a pen and notebook. The brother to my left typed his notes on his phone. Smartphones made the room smarter. A speaker paused while they  searched online — adding to the kinetic group learning.
No one was smarter than anyone else. The sense of meeting everyone where they are, then bringing them along actualized the African Proverb about going fast alone — versus going far together.
Voter education, political organizing, and real dialogue about Black Liberation all discussed.
Entering this space, you are immediately rushed by the energy of pride. A generation ago, basement-type meeting rooms where meetings were mostly held covertly has been replaced. Questions about voter education, political organizing, and real dialogue about Black Liberation — are all discussed.
The BLOC meeting was safe for both the curious and well informed alike. Whoever entered the room, needed to respect the space.
Even I had to seek permission and approval from the room's pseudonymous leader. The instructions included not mentioning their name. I shook hands and was given a dead-ass serious look — there was no room for misunderstanding. If pressed by anyone about taking photos or video, I was instructed to let them know 'the Undead' said it's ok.
It didn't take long for shutter clicking on my Canon to unhelpfully allow me to blend in and be unnoticed.
One-mic, so we can move that to action and real power…
There was plenty of space for dialog, but the one-mic call-out centers the room for the speaker that has the floor. The afternoon's facilitators, unfortunately, gained experience organizing after the 2016 shooting death of Henry Green.
People's Justice Project co-founder and one of the afternoon's presenters, Aramis, unafraid, yet vacillating cautiously — balancing the awareness of what could come with organizing. Aramis explained, "A comrade (and I) were plotting it out."
Knowing their next play couldn't be walked back, they calculated the weight of their next moves. It would have to be a zero-fail mission. He explained, "Because we knew that after going public and there's no going back. "
Aramis is an educator. 30 seconds into speaking, it was obvious he was walking and talking in his purpose. He emoted a mood of militancy in his speech cadence, it was as if walking through the door was a portal into the past. I closed my eyes and listened to the midwestern scholarly historian — who has studied revolutions in two hemispheres.
He never stoked the flames  or advocated for violence, he didn't have to. Violence is and has been the tool used by actors in an unending play of White Domination. It is the throughline plotted by the gatekeepers of oppressive systems, then deployed in the form of policing.
Aramis rhetorically asked, "So are you willing to go that far?!"
"I have always been organizing but never really understood until I came to the Justice Project." Columbus, Ohio-based activist Tammy Moore said. The mother and grandmother shared about the victories of resisting systemic systems. Adding, "We can move that to action in real power and win."
To gain a working knowledge of the systems, they began political education sessions in their Columbus community.
"What's happening here in Akron, is with (Jayland Walker), it hits home so closely for us (speaking about Columbus, OH) because those are our lived experiences too." Moore added.
They conducted a power analysis and power mapping, to identify who has the power to give the activists their demands.
I listened as they reflected on how they moved their trauma and pain into political wins and wielding power. Repeated many times over, 'when we fight we win.' has become a mantra within activist circles across the nation,
It worked. They got their area prosecutor voted out of office.
Moore continued, "I understood the feelings that we have. Black bodies move onto the streets in protest. But, what I didn't know is we can move that to action — in real power."
FTP — Fight the Police — Fighting the law with the Law
Pointing to a victory that established a legal precedent, the story of 26 Columbus activists suing the Columbus Police Department was told. A federal judge ordered the city of Columbus to pay out $5.75 million in April of 2021.
United States District Court Chief Judge, Algenon L. Marbley opined "This case is the sad tale of police officers, clothed with the awesome power of the state, run amok."
Chief Judge Marbley placed a permanent injunction — barring the use of chemical agents or less than lethal weapons from being used on non-violent protesters. Police are now prohibited from obscuring their identification and badge numbers when contacting the public.
"We won that," Moore added proudly. "People across the country will win — too."
Voting matters too
"I teach people how to vote" Said Black Lives Matter Akron member Rev. Green. "We're going to educate you about how to vote."
"It's frustrating when people go vote and don't know what to vote for."
Green wanted them to harness their own agency and ability to influence others. "Y'all have a circle." Green would go on to break down the Ward's that make up the community.
Asking would you like to run for office? Do you know how many votes are needed?
That's why we need you here. That's why we have these classes.
Shop talk…
While awaiting the arrival of the Walker family. I popped into Monty's Place Barbershop.
The 60-inch Smart TV would allow me to watch the Summit County Medical Examiners press conference breaking on the 5 o'clock news.
My foot was barely inside and Sanford, a barber stationed at the first chair cracked a joke on this California journalist.
"You Brothers from Cali out here shining. All that sun and ocean breeze." A chuckle erupts in the busy shop.
Sanford, a journeyman master barber, and shop owner, Weez faded customers young and old.
The unrehearsed duo has well-played roles in the community.
Rapping about policing in Akron they flow like Darryl and Joseph. They intensely exchanged tales about how tricky surviving heavy-handed law enforcement can be in Ohio's 5th largest city.
Sanford explained that Akron PD only assigns officers within the predominantly Black area that are with a stop and frisk cowboy mentality.
"Jump out boys," Sanford called them. It's a reference to both uniformed and plain clothes officers seeing brothers and harassing them — onsite.
"These cops will F*** you up, Nephew." One customer said.
This community is still working through the 2017 in-custody death of Xavier McMullen. According to a lawsuit filed by his mother, McMullen wasn't searched prior to being placed in the backseat of a police cruiser.
When police returned to the vehicle, McMullen was leaning forward with a gunshot wound to the head, the back passenger window was blown out, and the teen had a .45-caliber pistol in his hand, the lawsuit stated.
McMullen's hands were still in cuffs behind his back at the time of the shooting, his mother says. The Summit County Medical Examiner's Officer ruled his death a suicide. CourtHouse News reported.
Our attention turned to the TV as Breaking News scrolled across the screen.
Before I returned back outside, I had to ask a question that could have possibly gotten me ejected from the salon.
Is anyone surprised that Walker was shot that many times?
Responses ranged from dark-humored sarcasm to other reactions that are unrepeatable without much more cultural context.
Jayland Walker's Family Arrives on the BLOC
Back outside of Monty's Place Barbershop. Walker's cousin Pastor Robert DeJournett walked up along with his two aunts. 48 hours ago, DeJournett had just eulogized his younger cousin. The aunties were soft-spoken, Other than saying "yes" and "thank you" to the growing crowd as word spread on the block — behind their masks, you could see broken hearts and a familiar 1000 yard stare.
They had just attended in yet another scrum line of media.
"I used to wrestle with Jayland" some from the encircling group.
More shared. "He was my nephew's coach. Jayland was such a good person." Could be overheard.
West Akron got much smaller and the Walker family roots were exposed.
A five-minute drive over to COGIC.
A 20-foot Fist was erected on the church's lawn in plain sight of the busy street.
Artist Jordan drove 12 hours from Minneapolis towing a U-haul trailer to transport the monument.
This was his second handcrafted structure. The other was installed back in his twin-cities hometown in George Floyd Square.
Side-by-side, the brothers from Families United offloaded the 15x15 square 300-pound base.
A youthful, 74-year-old Baba Akili was the first to secure a corner of the structure.
A walk through this pillered Akron Church of God in Christ — would reveal more about Walker's upbringing. He was a church boy. For those unfamiliar with that term — it simply means he was raised in the church. That translates to being in or around church seven days a week — and twice on Sundays.
The Walker family are charter members of Ashworth Temple COGIC. Jayland's great ancestors' photos are mounted in the historic gallery of previous Pastors and foundational members.
Walker had never been in trouble with the law. As for the gun police allegedly recovered — it's not an indicator of him seeking nefarious possession.
Dinner at Edgars L I S T E N
Dinner that evening at Edgar's was more like a repast.
To my left at the head of the table was Jacob Blake Sr., across was Bianca Austin and to my right was Pressure and Cortez Rice.
Three were arrested during a protest. Jacobs was hospitalized after suffering a seizure. Pressure was violently beaten while handcuffed. Austin sat in a holding cell unsure of the welfare or whereabouts of the other imprisoned.
For much of the day, I was with Pressure. He doesn't say much. But throughout the afternoon he would call out L I S T E N.
A month earlier Jacob shared a story of him seeing his own son laying shackled in a hospital bed in the summer of 2020 after being shot 7 times in the back in Kinosha, Wisconsin.
A week earlier, after regaining consciousness, Jacob found himself exposed in chains — listed as a John Doe on the in-custody floor at a nearby hospital. Awake and now aware of the seriousness of his cognition.
Big Jake is the General. Uncle Bobby moves about as the adjunct. Drew sergeant at arms. Rice and Pressure are soldiers. Some decades separate them from the other fathers and uncles. They bring warrior energy to the elder men wisdom and guardian spirit.
It will never get better.
In an interview on Hard Knock Radio with Davey D, the mother of Sandra Bland, Rev Geneva Reed shared advice she offers grieving families. "I never tell a family it will get better." Said on the national radio program. But she does offer these words of encouragement. "I tell them, they'll learn how to manage."
Jayland is more than a hashtag.
Writers note: At the request of some interviewees, I only used their first name or omitted their names.
Story editing by Georgia Sanders. Photos by James Farr
Support of Conversation Live provided by Pasadena Media Foundation #SaveLocalNews