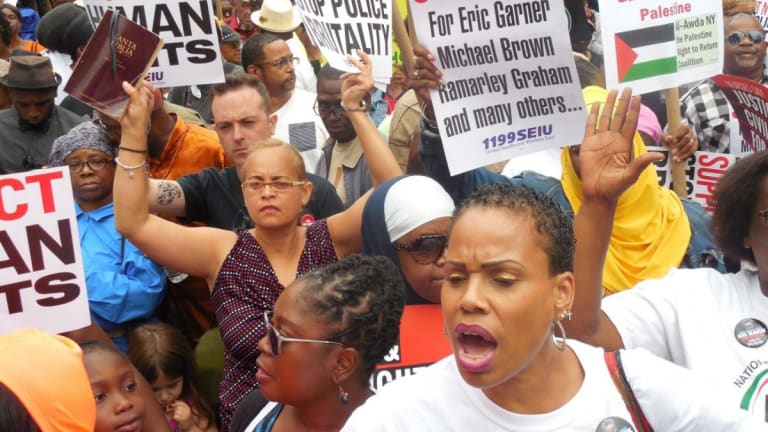 Justice Denied for Eric Garner
Margaret Viggiani: From the beginning it was clear that the hearing would produce little truth and less transparency.
Seven years later, a judicial inquiry probed the murder of Eric Garner
"I can't breathe." Eric Garner repeated this plea over eleven times before he collapsed. In 2014, the sounds of New York City cops murdering a Black man on a Staten Island sidewalk stunned the world. No one has ever been charged with his murder.
Despite a public outcry, it took five years for one officer to be fired. Daniel Pantaleo lost his job for using a banned chokehold. Additionally, Sgt. Adonis, who happened onto the scene, lost 20 vacation days for failing to properly supervise officers. No one else has been disciplined or charged with a crime.
The Civilian Complaint Review Board of New York City, an oversight agency that investigates questions of police misconduct, recommended filing charges against several other officers. But Internal Affairs of the New York Police Department (NYPD) dismissed these recommendations. Unfortunately, the review board has no independent authority to compel compliance.
Getting no satisfaction from the police review process, Gwen Carr and Ellisha Samuels-Garner, Eric Garner's mother and sister respectively, filed a lawsuit in August 2019 demanding answers. Several organizations dedicated to dealing with police abuse joined them. This led to a judicial inquiry, held in late October 2021.
Looking for answers
A judicial inquiry is a relic in the New York City Charter. It allows private citizens to probe decisions by government officials. It cannot issue rulings or penalties. In over a century, it has been used only two or three times.
From the beginning it was clear that the hearing would produce little truth and less transparency.
Garner's family hoped that the hearing would shed light on his death, which the medical examiner ruled a homicide. Also, his mother looked for accountability for "a cover-up that involved city officials at the highest levels." The petitioners wanted four issues examined: the use of force to restrain Garner; the veracity of documents filed after the arrest; how information on his medical history and autopsy was leaked; and whether NYPD personnel on-site withheld life-saving medical care. They expected the inquest to answer lingering questions and set the record straight.
Justice denied. From the beginning it was clear that the hearing would produce little truth and less transparency.
Judge Erika Edwards presided over the two-week proceedings, where she excluded all high-level witnesses. She excused from testifying NYC Mayor Bill de Blasio and three current and former police commissioners. This included Kevin Richardson, head of the NYPD Department Advocate's Office at the time of the murder in 2014 and of Pantaleo's firing in 2019. This police division determines which officers will face disciplinary measures. Further, Edwards only ordered twelve witnesses to testify, mostly police at the scene. The list excluded Daniel Pantaleo. No one with decision-making authority was questioned.
Garner's mother Gwen Carr issued a statement regarding Edwards' actions. "The way Judge Edwards denied our request for a closing statement and our request to question Kevin Richardson felt really callous. … It felt like a disservice to not only me and my family, but to all New Yorkers."
The inquiry, which began with optimism, ended with frustration. Many questions remained unanswered because those in the know, those responsible, were not compelled to testify under oath. Carr's lawyer Gideon Oliver told the New York Daily News that he believed there had been "a number of officers who've told a number of lies" during the proceedings. Added Gwen Carr after the hearing, "It's just a nest of lies. A web of deceit."
Police accountability
What's needed in the Big Apple and other cities across the United States," said Melissa Miccio with the Campaign for an Elected Civilian Review Board, "are oversight boards with real power. The police won't police themselves and the current NYC review board has no teeth."
In New York City, the Freedom Socialist Party initiated the grassroots coalition Miccio represents. It calls for a review board that is elected by the community, not appointed by city officials, with the authority to hold police accountable.
The group has succeeded in submitting before the New York City Council legislation called the Community POWER Act. It would replace the current feeble appointed committee with an elected board empowered to investigate. The act also creates an independent prosecutor to pursue cases against officers. This would eliminate the conflict district attorneys face in prosecuting officers whose cooperation they need to make criminal convictions.
Melissa Miccio is cautiously optimistic about the future. "There is a new crop of council members slated to take office in 2022. These progressives are willing to endorse the legislation." She added, "It may be in the interest of some bureaucrats to water down the original version. But we aren't going to let that happen. We know we need to stay vigilant and fight for an Elected Civilian Review Board the way it was intended to be. This includes maintaining a strong grassroots effort in the communities most affected by police brutality."
The passage of the Community POWER Act will not bring back Eric Garner. But it will allow for those who murder while carrying a badge, along with those who aid and abet them, to be held accountable. That would be a giant step forward.
Margaret Viggiani
Freedom Socialist