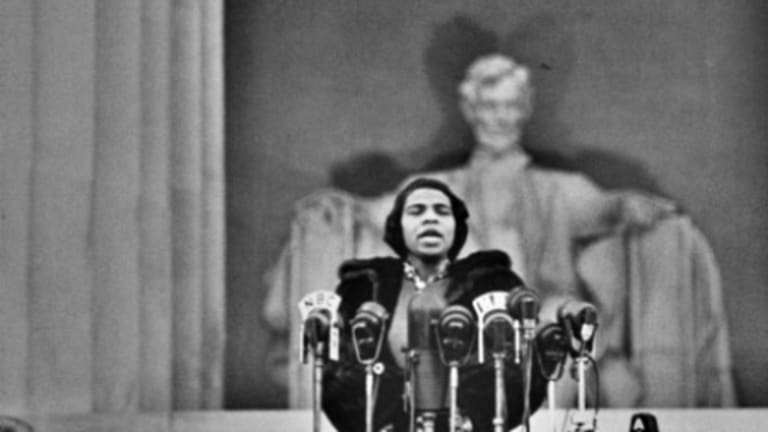 The Lincoln Memorial and How We Failed to Awaken National Empathy
Walter G. Moss: When Anderson sang "My country 'tis of thee, Sweet land of liberty, To thee we sing," the irony (and sadness) of a gifted woman who had suffered a lifetime of discrimination singing such words was profound
I have an old photo of our daughter, Jenny, sitting in a baby carriage in front of the Lincoln Memorial. It's 1965, and she is not yet a year old. Two years earlier Martin Luther King, Jr. (MLK) had made his great "I-Have-a-Dream" speech at the same memorial before a crowd estimated at 250,000, stretched out along the Reflecting Pool from the memorial to the Washington Monument. A generation earlier, in 1939, famous Black singer Marian Anderson had stood in the same spot as MLK and faced an audience of about 75,000. She began her greatly anticipated concert by singing "My country 'tis of thee, Sweet land of liberty, To thee we sing." In 1967, another significant ceremony was held at Lincoln Memorial--this time as many as 6,000 people came to honor a white man who had recently died, but one who was a "major prophet of Civil Rights," the poet and Lincoln biographer, Carl Sandburg.
All three of the important people mentioned above reflect our national struggle with racism. And as I look at the 1960's photo of Jenny in front of the Lincoln Memorial, I ask myself, "Among all the other people who have grown from infancy since that time, how good a job have we done awaking national guilt for the many injustices perpetrated against African Americans, from slave-holding days until the present?"
Let's start with Anderson, about whom PBS's "American Experience" has just produced the excellent "Voice of Freedom." By 1939 she was the highest paid singer in the world. And her concert, a benefit for Howard University, and how she came to sing it that year on Easter Sunday at the Lincoln Memorial is full of symbolism regarding Black people and U. S. history.
She did so because the Daughters of the American Revolution (DAR) had first refused her permission to sing at D. C.'s Constitution Hall, which was owned by the DAR, and which in 1932 adopted a rule excluding African-American musicians from performing there. The DAR itself symbolized a major flaw of American history--for here was anorganization of women claiming descendance from ancestors "who aided in achieving American independence" and hoped to foster patriotism, but which failed to recognize the many evils the U. S. had perpetrated on Black people and favored apseudo patriotism and half-baked history. (For more on this failure, seehere.) 
Although widespread segregation, for example in restaurants and theaters, was then common in our nation's capital, Anderson still responded to the DAR action by saying, "I'm shocked to be barred from the capital of my own country after having appeared in almost every other capital of the world."
After Walter White (the then head of the NAACP), Eleanor Roosevelt, and others had protested the decision, White began negotiating with Harold Ickes, Franklin Roosevelt's Secretary of the Interior, for an outdoor concert to be held at the Lincoln Memorial. When asked if it was possible, FDR replied, "She can sing from the top of the Washington Monument if she wants to." 
The venue where Anderson sang on that Easter Sunday, with her back to the Lincoln Memorial and looking forward beyond the Reflecting Pool to the Washington Monument, was also full of symbolism regarding U. S. history from the time of our first president up through Lincoln and beyond to 1922 when the memorial was dedicated. On that later occasion, Booker T. Washington wished to say that the new memorial "is but a hollow mockery, a symbol of hypocrisy, unless we together can make real in our national life, in every state and in every section, the things for which he [Lincoln] died." But Republican politicians on the Lincoln Memorial Commission, favoring a pseudo patriotism,"forced him to remove" these words. 
When Anderson sang "My country 'tis of thee, Sweet land of liberty, To thee we sing," the irony (and sadness) of a gifted woman who had suffered a lifetime of discrimination singing such words was profound
Thus, when Anderson sang "My country 'tis of thee, Sweet land of liberty, To thee we sing," the irony (and sadness) of a gifted woman who had suffered a lifetime of discrimination singing such words was profound (For more see Raymond Arsenault'sThe Sound of Freedom: Marian Anderson, the Lincoln Memorial, and the Concert That Awakened America.)
Just a few years before her concert the gifted Black poet Langston Hughes had captured that same ambivalent condition for African Americans who valued their country but were discriminated against in it. He did so in his "Let America Be America Again," which should be read in its entirety--it's only a few pages. Here, however, is a little of it:
O, let my land be a land where Liberty
Is crowned with no false patriotic wreath,
But opportunity is real, and life is free,
Equality is in the air we breathe.

(There's never been equality for me,
Nor freedom in this "homeland of the free.")
In the PBS's "Voice of History," historian Adriane Lentz-Smith states that the "concert makes clear the potential for using publicity to point out America's hypocrisy, to shame white Americans into living up to their stated ideals. Like it's not the only strategy, but coupled with other things, it is an effective one. It is inspiration for other generations of African American civil rights activists; imagining how they might use these strategies again in the future."
Yet, despite the words of poet Hughes and the magnificent voice of Anderson, Blacks continued to suffer oppression in the so-called "land of the free." Especially in the south, where segregation continued unchecked. Nevertheless Anderson's legacy was passed on to others, including a ten-year-old boy named Martin Luther King Jr., who heard her Easter-Sunday concert on the radio and later wrote about it in a high school essay.
Thus, it was natural in August 1963, when plans were finalized for the March on Washington and the Lincoln Memorial events, that NAACP head Roy Wilkins would write to her that his committee "unanimously decided that [an] invitation to sing be extended to you for this historic occasion." And at the memorial, she did again sing. But on this occasion the main event was King's famous "I Have a Dream Speech."
He began by saying,
Five score years ago, a great American, in whose symbolic shadow we stand today, signed the Emancipation Proclamation. . . . But 100 years later, the Negro still is not free. One hundred years later, the life of the Negro is still sadly crippled by the manacles of segregation and the chains of discrimination. One hundred years later, the Negro lives on a lonely island of poverty in the midst of a vast ocean of material prosperity. One hundred years later, the Negro is still languished in the corners of American society and finds himself in exile in his own land. And so we've come here today to dramatize a shameful condition.
But toward the end of his speech, he indicated that he still had a dream.
I have a dream that one day down in Alabama. . . little black boys and black girls will be able to join hands with little white boys and white girls as sisters and brothers. . . . With this faith we will be able to transform the jangling discords of our nation into a beautiful symphony of brotherhood. With this faith we will be able to work together, to pray together, to struggle together, to go to jail together, to stand up for freedom together. . . . When we allow freedom [to] ring, when we let it ring from every village and every hamlet, from every state and every city, we will be able to speed up that day when all of God's children, black men and white men, Jews and Gentiles, Protestants and Catholics, will be able to join hands and sing in the words of the old Negro spiritual: "Free at last! Free at last! Thank God Almighty, we are free at last!
Unlike Anderson's 1939 Easter-Day concert, this memorial event, along with other King actions, produced significant legal changes, for example under President Johnson (LBJ) in 1965, the Voting Rights Act and affirmative action measures.
Compared to the 1939 concert of Anderson and the 1963 speech of MLK, the Carl Sandburg ceremony in 1967, also at the Lincoln Memorial, does not seem as momentous. Yet to commemorate his long life (1878-1967), President Lyndon Johnson was on hand. So too was Chief Justice Warren of the Supreme Court; Carl's friend, the first African American Supreme Court Justice, Thurgood Marshall; various members of Congress; and about six thousand other people. And more than any other man of his time, Sandburg, with his multi-volume biography of Lincoln, had popularized him.
In his remarks LBJ said, "Sandburg seemed to have his finger on the American pulse. He seemed able to give voice to the whole range of America's hopes and America's hates. . . . He could give you the savage emotions of a lynch mob. He could just as well express, with affection and insight, the courage, and the impatience, even the braggadocio, that spurred our amazing development."
Almost a decade and a half earlier, in 1953, Adlai Stevenson, the Democratic presidential nominee in 1952 and 1956, said about his friend Sandburg, he "is the one living man whose work and whose life epitomize the American dream."
By then Sandburg had long been a critic of racism. In August 1919, at a time Marian Anderson (then in her mid-twenties) made her concert debut in Chicago, the city was still experiencing the aftershock of race riots. Sandburg, then a reporter for the Chicago Daily News, wrote a series of articles on them, later gathered together and published as a little book entitled The Chicago Race Riots, July 1919. In his reporting he mentioned the hatred of "white hoodlums" and a few days after the riots began a poem, dealing with them, "Hoodlums." Later, in the 1960s, the same NAACP head, Wilkens, who had written to Anderson, made Sandburg a lifetime member of the NAACP and declared him "a major prophet of Civil Rights."
Now, more than a half century after Sandburg's death and our family moving away from D. C. (where I had done my graduate study), I question what we have learned about racism and our history from the events at the Lincoln Memorial involving Anderson, King, and Sandburg.
True, we have now had for decades an official Black History month (February) and a Martin Luther King Jr. Day (the third Monday of January), but attitudes toward affirmative action are still ambivalent and "an overwhelming majority still opposes payments meant to address the legacy of slavery and tackle the persistent wealth gap between Black and White Americans." True, in 2008 we elected our first Black president (actually half Black, half White), but followed him up with one of our more racist presidents, Donald Trump. And in 2020, 47 percent of voters wanted to re-elect him. And during our present Covid-19 pandemic, Blacks, Hispanics, and Native Americans have suffered and died in disproportionate numbers.
Sure, there are many historians who have tried to weave the stories of slavery, of Black opponents of it like former slaves Frederick Douglass and Harriet Tubman, and of civil rights champions such as Rosa Parks and MLK into our national story, but too many Americans, including some state Boards of Education, resist such efforts. In a recent article I asked, "Why does systematic racism continue to trouble our country, a century and a half after the end of slavery?" My answer: "We have not sufficiently acknowledged, not sufficiently atoned for, the sin of slavery."
Our main problem seems to be an empathy failure. In his pre-presidentialAudacity of Hope, Barack Obama wrote that empathy was "at the heart of my moral code, and it is how I understand the Golden Rule--not simply as a call to sympathy or charity, but as something more demanding, a call to stand in somebody else's shoes and see through their eyes."
But we Whites have failed to do this. In general, our ancestors and we have for centuries failed to put ourselves in the shoes of slaves, or those denied entry to restaurants, theaters, or certain jobs, or called "boy" even when we have long ceased to be one. We have not imagined and felt what it might be like to walk innocently down the street while being pierced by suspicious Whites stares.
In his astutePolitical Animals historian Rick Shenkman regretfully observes, "We think we can count on our own empathy to provide us with the necessary warmth and humanity to address issues we face as citizens in a democracy. But we can't. Our inability to do so skews public debates. It gives the advantage to the side wanting to take action to achieve a goal that inconveniences, harms, or kills people we don't know." He laments that "we cannot see the people on welfare as people. We see them as potential cheaters. . . . That swamps all of our other responses."
Unfortunately, he is too often right, and as I look back at the picture of my daughter, taken over a half-century ago, I think sorrowfully of all the other young people, decade after decade, that we failed to educate properly. That we failed to develop empathy in towards all the African Americans suffering from injustice, from early slaves to George Floyd.
Walter G. Moss