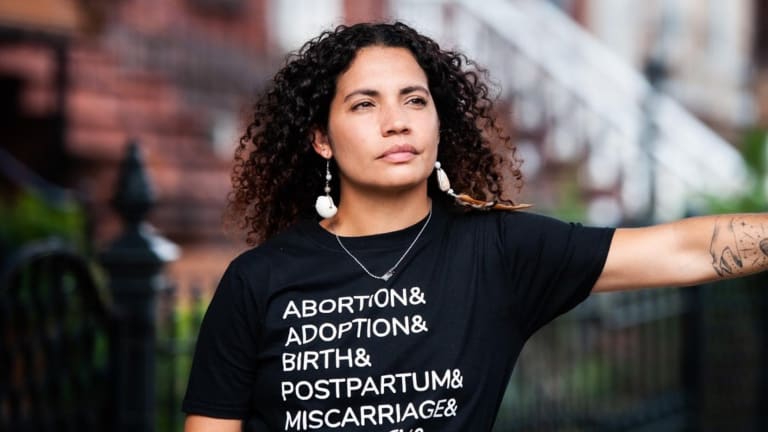 Vital Care
COVID increased maternal health risks for Hispanic people. Why? And who's helping them navigate the challenges to their well-being?
Republished with permission from palabra.
Anabel Rivera, a Puerto Rican mother of two, was inspired to help other Latinas through the maternity process after navigating the American healthcare system as an expectant mother.
"The appointments are sometimes so fast and you have questions they don't take the time to answer. There is no humanity or cultural humility in the way you are treated. And in places like the United States and New York where we have so much diversity, it is important that health providers have cultural humility. They need to understand that our cultural beliefs and practices from the places we are from, make us who we are. It's important to consider that during pregnancy healthcare."
Anabel, who is also a doula at New York City's JustBirth Space and Ancient Song Doula Services, moved from Puerto Rico to NYC in 2014 and hired doulas for both of her pregnancies. "Learning how to navigate the healthcare system in New York was very discouraging. You're just a number, right?"
Anabel took from what she learned from her own personal experiences and used her knowledge to help others during their birthing journey. Her clients have primarily included the Hispanic community and immigrants. "I do not refuse anyone," she says. She has taught pregnancy education classes in Spanish, accompanied her clients to their appointments, and informed them about their rights and what to expect during the process of receiving medical care.
Maternal care is more important than ever since the overturn of Roe v. Wade. The United States has the highest maternal mortality rates among industrialized countries. The Centers for Disease Control and Prevention released a 2020 report indicating that the U.S. experiences 23.8 maternal deaths per every 100,000 live births, a number that far surpasses France, Canada, and the UK, with deaths of 8.7, 8.6, and 6.5 per 100,000, respectively. The rate has increased steadily since 2017.
Additionally, while there is a focus on prenatal health care and care during pregnancy, nearly one-third of maternal deaths occur between a week and a year after giving birth. Not enough attention is paid to the postpartum stage. Medical treatment continues to be crucial after giving birth to ensure a full safe recovery for the mother.
For Latinas, maternal mortality is a serious threat and has become more so during the COVID pandemic, when maternal mortality rates of Hispanic women rose by an alarming 74.2%. Numbers were still troubling, but lower, for Black and white peers, at 40.2% and 17.2%, respectively, according to a 2022 study published by JAMA Network.
This finding is unusual, says study co-author, Eugene R. Declercq, in an interview with palabra. "In the last decade or so, Hispanic women have consistently had lower maternal mortality rates than non-Hispanic white women." Dr. Declercq, a professor of Obstetrics and Gynecology at the Boston University School of Medicine, has focused on maternal mortality and severe maternal morbidity during the past decade of his research.
With respect to the lower mortality rates of Hispanic women pre-pandemic, Dr. Declercq noted a correlation with the age of Hispanic mothers. "Hispanic mothers tend to be younger, and younger women are at less risk. But that doesn't account for all of it by any means. In another analysis I did, Hispanic mothers have a lower maternal mortality rate under 25, than whites, comparable 25 to 39, where the rates are similar."
But during the pandemic, the maternal mortality rates have exhibited new – and troubling – trends. The rates were attributed to indirect causes, "other viral diseases," circulatory, and respiratory diseases — the latter of which surged and disproportionately affected Hispanic and Black women. Despite this, COVID-19 was not listed as the leading cause of death.
Dr. Declercq and his team were reluctant to blame COVID-19 as the direct cause of the rise in Hispanic maternal deaths. "There's another problem that gets deeper," he says. "There is trouble coding deaths clearly. A lot of the cases where COVID was a secondary condition, the underlying condition was listed in a very general category of 'Other'." More research is still being done to determine exact causes.
This fact is important, Declerq notes, because the risk factors linked to the increase in maternal mortality for Hispanic women during the pandemic, were the same ones that contributed to maternal mortality pre-pandemic. "The biggest one was sepsis infection, hemorrhage was next, and then cardiac conditions," he notes. These medical conditions have been studied by doctors and are referenced as frequent causes for health complications during pregnancy.
Anabel's first pregnancy took place in Puerto Rico and the second was in NYC. Her doulas kept her company for both deliveries. They made a birth plan ahead of time— she wanted her husband to be present, for her baby to be nearby at all times, and no C-section or pain medication during labor. Her doulas made sure the nurses and doctors followed the requests while she gave birth.
Having them at her side comforted Anabel– she was in the care of women who understood her experience of being an expectant mother and understood her cultural and linguistic needs as a Latina. She commented, "It is so important. Giving birth is such a vulnerable moment. We have an extra pair of eyes to advocate for our needs if they are not met at a moment when we might not be able to express what we want."
Anabel's childbirths were not without health complications. After her first pregnancy, she had year-long postpartum depression, and preeclampsia during childbirth in the second pregnancy, a condition that resulted from high blood pressure. It spiked to 160, a number that shocked her. The ideal number for blood pressure is lower than 120, according to The American College of Obstetricians and Gynecologists. Fortunately, she did not experience any major side effects from preeclampsia and a relative took care of her after. "My mother asked the head nurse if she could stay. She told the nurse she wasn't going anywhere."
EXPERIENCING SYSTEMIC RACISM
Although the exact causes for high mortality rates are unclear, another important factor is racism, according to Monique Baumont, manager of Research and Impact at Every Mother Counts, an organization that supports community-based groups working to improve, quality, respectful, and equitable care across the U.S. and in countries around the world, such as Guatemala and Bangladesh. Monique stays up-to-date with research about maternal health and observes that "It has been found through many research studies (that) maternal mortality (can be attributed to) issues of structural racism, including mistreatment, discrimination, and bias within the healthcare system." The research Monique references certainly squares with Anabel Rivera's anecdotal reports and her own experiences.
Every Mother Counts was created by Christy Turlington Burns, who faced difficulties after giving birth and recovered safely with private care.  On the organization's history page, she acknowledged that without this support, she may have had a worse outcome. CDC statistics from 1987 to 2018 show, on average, that Black and Indigenous women were three to two times more likely to die than their white counterparts. Maternal care advocates who work with pregnant women of color urge that resources and support must be culturally conscious and competent in order to support women's health and survival.
Katherine Riley is the policy director at COLOR Latina in Colorado, which connects expectant Latina mothers from underserved communities to resources such as healthcare, contraceptives, doulas, and other forms of social support. Her upbringing in Texas inspired her to pursue this career. "I've seen firsthand the barriers that my community faces. I feel like I understand in a unique way, the care that we need." COLOR's recent efforts involved advocacy for undocumented women to qualify for maternal healthcare through the state's Medicaid and CHIP programs. Undocumented children in Colorado who are 18 and under now qualify for these benefits.
"I think that the barriers for our Latino communities to access care, in general, are enormous, especially if they are immigrants," Katherine says. "And also if they're undocumented, but either way, most of our members are lower income. They have a harder time accessing either insurance or the good insurance plans that come with contraceptive methods and other prenatal-postpartum care. We see a lot of our folks in rural areas."
Accessing resources is a big part of a Latina doula's job, says Anabel; in fact, equitable resource access is vital to Hispanic women's health. It's prenatal and postpartum one-on-one services, Anabel says, that she has sought to provide in her doula practice. Language is the biggest obstacle Anabel has encountered, both in her own maternal experiences and in those of the women she serves. It is difficult to find providers who speak Spanish. Although NYC hospitals provide translation services, she shared that her clients do not trust them to accurately communicate what is said to them — often, hospital translators lack fluency in maternal care or medical terminology.
Medical services and care should be widely accessible in Spanish for better care and attention during the crucial stages of maternity, both in the prenatal and postnatal periods. Though they make up more than 18% of the overall population, Latinos represent only 5.8% of doctors in the United States, according to the American Association of Medical Colleges. The number may be even lower among specialties, such as obstetrics and gynecology. Issues of bias within maternal healthcare cannot be remedied without the adequate support of medical professionals who are responsible for mothers' lives.
Every Mother Counts and COLOR Latina are just two of many organizations that champion legislation and policy change, create public awareness campaigns, provide childbirth education, and work for expanding social support for expectant mothers to fill the gaps in the healthcare system. A growing number of organizations are dedicated specifically to Hispanic maternal health.
In the meantime, women like Anabel continue to give support to pregnant people. Anabel expressed the importance of providing women with interpersonal assistance to prevent or aid in resolving complications that can arise during pregnancy. She shared the birthing story of one of her most recent clients in NYC, whose name and hospital she did not reveal to protect their identity. "My client asked for pain management during labor and the anesthesiologist administered the epidural incorrectly the first time. She was in so much pain that she fainted. Thankfully, I was present. I was able to hold them and provide support. If that person had gone by themselves, something could have gone wrong."
For the future of maternal health of Hispanic mothers, Dr. Declercq, Monique, and Anabel emphasized postpartum coverage needs to be improved across all 50 states. As of July 2022, about 20 states, including New York, have extended postpartum Medicaid coverage from up to one year after a mother gives birth. Fourteen states planned to expand Medicaid coverage, and two have proposed a limited extension. Such policy interventions will hopefully have an impact on preventing maternal mortality rates from escalating.
Dr. Declercq is currently researching to see if peer support makes a difference in maternal mortality. "We've got a study going now in Massachusetts trying to identify women at risk and providing them with community, such as doulas to help them, and the idea is that their health is to be valued in and of itself."
What remains unclear is whether the link between COVID and maternal risk will decline once COVID recedes. It's a question that's on Dr. Declerq's mind. "When COVID abates, is it going to go back to lower maternal mortality rates for Hispanic mothers? Or is this the beginning of an unfortunate trend?" Dr. Declerq asks. "We don't know that yet."