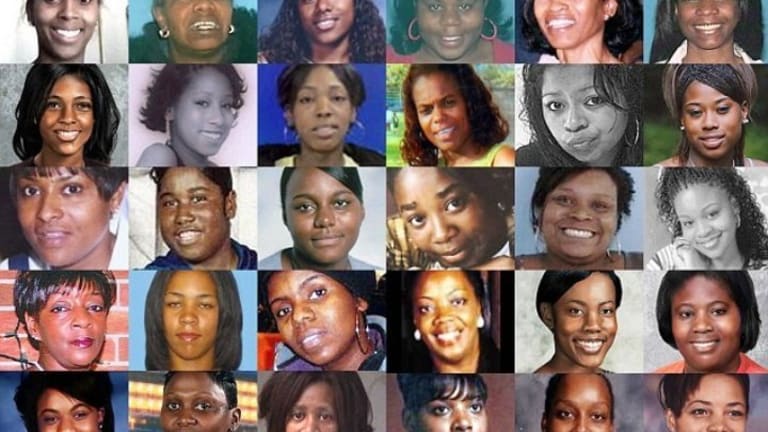 The Murder of Black Women Must Stop
Pastor William Smart: Muhlaysia Booker, a 23-year-old transgender woman, was brutally beaten on April 12 in the middle of a Dallas street. Onlookers cheered, some of them.
Several weeks ago my wife, Pastor Thembekila Smart, told me that I needed to use my position as President of the Southern Christian Leadership Conference-Southern California to advocate for the cause of woman—particularly Black Woman given the violence, racism, and neglect that Black Women face every day. I reluctantly said, "okay," more to appease than appreciate. More to accommodate than to advocate.
But I now know that she had the spiritual insight to see beyond the horizon because this issue is pushing me and won't let me go.
I have been awakened to the cause by my National President's wife, Cathelean Steele, who gave a dynamic charge and insight at our recent MLK luncheon, about the way sex traffickers come into our community and destroy the lives of young girls. I am seriously mad—agitated, dismayed, disturbed—and ready to take action because of this and two other events.
Muhlaysia Booker, a 23-year-old transgender woman, was brutally beaten on April 12 in the middle of a Dallas street. Onlookers cheered, some of them.
In the past two weeks, two African American women have been brutally beaten and killed at the hands of men. In one case, I cannot say with assurance that her murderer was a black man, but her earlier beating certainly was. Muhlaysia Booker, a 23-year-old transgender woman, was brutally beaten on April 12 in the middle of a Dallas street. Onlookers cheered, some of them. Then on Saturday, May 18th, she was fatally shot.
It is pathetic situation and deplorable plight for a Black woman to face this type of beating and then death. It's not enough to sigh, shake our heads, and move on.
With the epidemic of police violence spreading across this country, many people are leery totalk about Black-on-Black crime. However, we must raise the issue if we are to bring about solutions to the death around us. But don't think that Blacks are the only ethnicity that habitually kills their own. According to a Criminal Justice Service Center report, 90% of Black homicide victims are killed by other Blacks. The report goes on to show that 83.3% of Whites homicides are killed by other Whites. So races have proclivities to kill their own—and there are many reasons for that. Our purposes here, however, are to accentuate what is happening among Blacks and offer the beginning of a solution to fix it.
Muhlaysia's murder raises another issue that is rarely articulated in the African American community—homophobia. Specifically, homophobia and prejudice toward Black Trans Woman. "The National Transgender Discrimination Survey"—published in partnership between the National Black Justice Coalition, the National Center for Transgender Equality, and the National Gay and Lesbian Task Force—is instructive.
In surveying 381 Black and Black Multiracial people, the report showed that Black Transgender people live in extreme poverty, 34% having annual household incomes below $10,000—twice the rate of other transgender populations. Clearly, to be Black and trans is a double-jeopardy albatross. The prejudice, discrimination, racism, and bigotry of being Black adds to homophobia, hatred, contempt, and fear. Then for Black woman, add a third—a triple jeopardy of misogyny, chauvinism, sexism and objectification.
So when Muhlaysia was being beaten, there was a unabated momentum of hatred and homophobia displayed by an African American man who could not accept her for what she was. Many people are in the same mindset. The Human Rights Campaign has identified four killings of Black Trans woman in 2019 as of March.
In Baytown, Texas, the second sister, Pamela Turner, faced the same type of malice-laced actions, in this case by the very entity that was created to protect her. A police officer who knew her used the proverbial "I feared for my life" ruse in killing her.
Recently, the Washington Post cited 363 fatal police shooting in 2019 as of the end of April. Police killed 1134 people during 2018. Among these, the names of Blacks resound like a litany of lives that have been cut down far too soon.
Pamela Turner, a Black woman with kids, did not deserve to die, especially when each killing like hers displays the racial bias of police. How often do we hear of whites who have guns in their hands and are coaxed out of tense situations, while Blacks are gunned down unarmed and empty-handed, often by cops who act before they think.
In Blink, The Art of Thinking Without Thinking, Malcolm Gladwell discusses a term, "white space," which is the distance between a police officer and a potential assailant. The more space there is, the more time a protector has to read the mind of a potential threat. White space gives officers time to think before acting. It helps accentuate the response time so that the officer has more time to analyze the situation.
Gladwell also talks about judgement and first impression when he gives an account of Amadou Diallo, the unarmed Black immigrant who was shot 41 times by police on February 4, 1999, in Bronx, New York. This concept goes a long way in explaining why so many African Americans are getting killed by police. The police impressions of Blacks are already warped and debased. They perceive Blacks to automatically be more dangerous, automatically a threat. They fear them more. So it's easy for them to make a judgement to shoot us, while letting a "safer" White person carrying a gun go. Even in the case of Pamela Turner, it was not necessary to shoot her. Maybe metaphorically white space means whites have space.
Given the way police have executed their responsibilities in our community, we have a right now to question if they really mean "to protect and serve"—or "neglect and destroy" when it comes to Black people,
Unlike some other activists, I have always felt that there are two axioms when you say "Black Lives Matters." First, the police-sanctioned violence against Black people—that's a abomination. Their disregard for Black life is a prevalent cross Blacks must bear. State-sanctioned violence by the occupying police forces in our communities just has to end.
Second, though, is the self-inflicted violence that we inflict on each other, devaluing ourselves as we deprive others of life, liberties, and happiness.
Recently, I've heard comments that the call for justice from police killings is waning—that we aren't out in the streets as much as we were, that we somehow got tired of the battle, that we've moved on. But, no! I thank God for the Black Lives Matter Movement because they are not going to let it die. They are on the front lines every day, making us remember the names of the victims, demanding justice.
When it comes to those who are bold enough to say we also have a Black-on-Black crime problem, I thank God for the Nation of Islam that is on the front lines teaching, reaching, and loving Brothers and Sisters to exercise self love and respect.
The two women I cited earlier—Muhlayshia Booker and Pamela Turner—represent the population of African Americans that face violence each day.
There cannot be this continual annihilation of Black life. We cannot allow it to exist.
The same way Highway Patrol Officer Daniel Andrew beat the hell out of Marlene Pinnock in Los Angeles on July 1 2014, was the same way Muhlayshia Booker was beaten by Edward Thomas. The violence that Black Woman are subjected to is categorically malicious and disgraceful.
This violence also appears in the form of young girls going missing in Africa, the discrepancies in the wages Black women get in America, the family violence that Black woman and young girls deal with in their homes.
I have tried to stick to the topic centered around these two murders, but there is another area I would like to briefly highlight. As of March 19, 2019, there are 64,000 missing Black women and girls In America. Nobody seems to care. It's as if we just pass it by. Massive hunts are launched when a White girl goes missing and there are celebrations when white girls are found. But you'll find no stories about similar earnest efforts to find missing Black women.
If we want the value of Black Woman to be enhanced, we all have to pitch in. Their importance must become so valued that they will not be shot, killed or beaten down. As a society, we must understand that all life has value and all people have dreams. We should not let their color, race, or sexual orientation stop us from seeing their humanity. It is time to stand for the sisters.
Everybody has the spirit of God in them and should be treated as such. Nobody has the right to bring harm on anybody. We have to move beyond racism, sexism, and transphobia.
Your love must be so strong, dynamic and impervious that your blood boils at the mere suspicion of injustice to woman. You cannot sit here and wait. You must answer the call.
With each of my writings, I will give a call to action. We must do more than talk.
If you want to get involved in this change join the Woman of SCLC-SC as they begin taking on trafficking and other issues that pertain to the struggle of Black Woman Contact them at 213.268.3082
If you are concerned about police violence join Black Lives Matters of Los Angeles, reach out on Facebook.
If you are concern about the struggle of the Sisters in the Trans Community, contact the National Black Justice Coalition.
If are concern about the missing sister get involve with Black and Missing Foundation.
Pastor William D. Smart Jr.
Co-Pastor Christ Liberation Ministries
President/ CEO Southern Christian Leadership Conference -Southern California