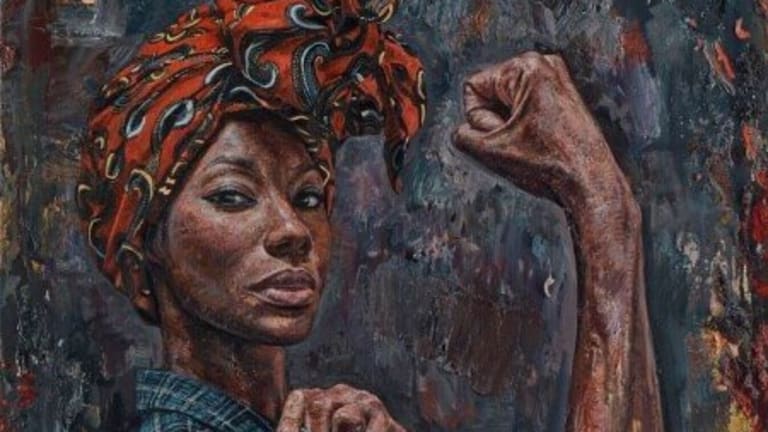 Your Deepest Fear
Arica L. Coleman: My deepest fear is that I live in a society which presumes I am incompetent and punishes self-actualized Black women like me who refuse to remain "in their place,"
For my daughter Julienne and Black women everywhere
In her poem "Our Deepest Fear" Marianne Williamson opens with these words, "Our deepest fear is not that we are inadequate. Our deepest fear is that we are powerful beyond measure. It is our light, not our darkness, that most frightens us."
I serendipitously encountered these words today after a telephone conversation with a white male associate which left me feeling, in a word, exhausted. The long and short of the conversation can be summed up in his assertion that "People don't like Black women like you Arica," he stated. "Your intelligence, confidence, and assertiveness is unappealing." While he agreed that this attitude reflected classic discrimination, he nonetheless placed the onus upon me to "tone it down" for my own sake.
While I had often found solace, inspiration and affirmation in Williamson's words, the poem at once took on a different meaning. It was no longer an affirmation, a reminder of unrealized potential, but rather an erasure of my own reality, and that of numerous Black women in America and indeed the world.
My deepest fear is that I live in a society which presumes I am incompetent and punishes self-actualized Black women like me who refuse to remain "in their place."
"Our" deepest fear? No! My deepest fear is that I live in a society which presumes I am incompetent and punishes self-actualized Black women like me who refuse to remain "in their place;" and that due to this hostile environment I will be robbed of opportunities to provide my gifts to a world that is in such desperate need of them.
As I wrestled with Williamson's words, I soon realized as Angela Davis said, rather than "accept the things I cannot change," as the Serenity Prayer suggest, I can "change the things I cannot accept." So rather than abandon the poem altogether, I decided to modify it to reflect my own truth.
America, your deepest fear is not that I, a Black women, am inadequate. Your deepest fear is that I am powerful beyond measure. It is my light, not my darkness (which you use to justify your dehumanization of me), that most frightens you.
"Who are you to be brilliant, gorgeous, talented, and fabulous," you ask?
Who are I not to be?!
I am a child of God! A daughter of the original peoples of this earth, radiating phenomenal beauty and wisdom embodied in this feminine form which has been French kissed by the sun.
My mother is Maya who taught me that the sassiness, haughtiness, and sexiness of Black women is the envy of the ages; and that despite all of your lies, Still I rise.
My other mother is Nikki who taught me that Ego Tripping can make me "fly high like a bird in the sky" above the centuries of stereotypes and disfigured images of black womanhood. Each morning when I rise I celebrate that "I am perfect, divine, ethereal, and surreal," drinking in my goddess beauty declaring, "Mirror, mirror on the wall, I am bad! I mean damn, I am one badaaaazz sistah!"
I know you like to play ignorant America; but you know who I be. It's a pity that your unjustified fear of my divine magnificence makes you think that by playing me small somehow serves you. Well, it doesn't serve you or the world. Despite what the seventeenth century European philosophers thought, there's nothing enlightened or enlightening about shrinking my importance so that you won't feel insecure around me.
But your fear and ignorance does not change my destiny. As Zora said, "I am not tragically colored," or female. I am born to make manifest the glory of God that is within me. But it's not just in me; it's in everyone, even in you. But we must each choose our own path, fear or liberation. You don't need my permission; and I certainly don't need yours. I have chosen to let my own light shine and to liberate my own self.
Arica L. Coleman