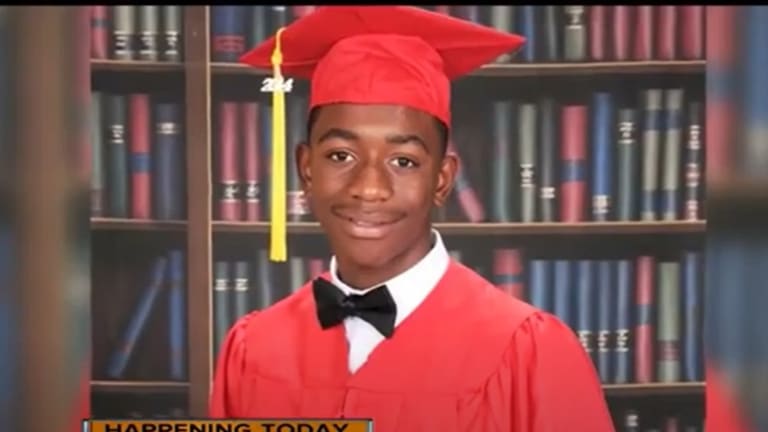 Qualified Immunity for the Negligent Treatment of Andrew Joseph
After eight painful and grueling years — the parents of Joseph Jr will finally have their day in court.
Imagine visiting the department store to purchase the last pair of underwear your 14-year-old son will ever wear.
You can't. Neither can I. Let's continue.
Andrew Joseph Jr. said that to a crumline of Los Angeles television news crews. Joseph Sr and his wife Deanna stood with other families outside of the Center for Black Power in the historic Leimert Park district. Just a few feet away from the birthplace of the first Black Lives Matter -LA Chapter — back in 2013.
Joseph Sr's voice rose louder over the dual glass exhaust pipes of the Harley riders parading down Crenshaw Boulevard. 
This upcoming Monday — they will finally have their day in a Hills County, Florida courtroom. After eight painful and grueling years — the parents of Joseph Jr will finally have their day in court. Front and center is their call for justice and accountability. Standing between them and justice is Qualified Immunity afforded to the Hillsborough County Sheriff Deputies that detained, then abandon their 14-year-old son on the side of Tampa interstate.
Qualified Immunity is a legal principle that grants government officials performing discretionary (optional) functions immunity from civil suits unless the plaintiff shows that the official violated "clearly established statutory or constitutional rights of which a reasonable person would have known" It is a form of sovereign immunity less strict than absolute immunity that is intended to protect officials who "make reasonable but mistaken judgments about open legal questions", extending to "all [officials] but the plainly incompetent or those who knowingly violate the law". Qualified immunity applies only to government officials in civil litigation, and does not protect the government itself from suits arising from officials' actions.
Back in February 2014. A then 14-year-old Andrew Joseph lll left home for the last time, Like }most teenage boys, Pee Wee (as his friends and family called him was looking forward to attending the Florida State Fair 'Student Day'
At some point, a group of teens got unruley — as the Fairs security and Hillsborough County Sheriffs arrived to disperse the youth — the kids scattered in different directions.
Below is a narrative of the night provided by Florida's 9th congressional district. Hon. Alan Greyson about the fateful night and racism in America, from the House floor on April 19, 2015.
In an open session, Greyson said, "There was a great deal of friction that night between the white police force and the African American teenagers who were there that night."
Grayson provided some context and polarizing contrast with how a white teenage girl was treated — compared to Black teens when contacted by the police.
"I want to begin by relating two stories, both from my home state of Florida. First one involves a 16-year-old girl. She's white. She had an encounter with police officers who were also white. She lived on the Atlantic coast, which is largely white
[And] I heard about this from a friend of a friend. What happened to her is that her parents got a call from the police officer late one night. They didn't tell her why they were calling, they said, You have to come to this location, we need to talk to you about your daughter, she's here with us. The mother went to that location, spoke to the white police officers. They informed her that her daughter had been drinking in a car with her boyfriend. And she needs to take her home. She (mom) was shaken up a bit. So was the (her underage drinking) daughter. But everybody ended that night alive.
Now I want to tell you a different story. That didn't so nicely. This was on the Gulf Coast of Florida. That is heavily African American. And on the Gulf Coast one night there was a theme park, you call it a fairground that was open to all students without having to pay. They could go on the rides and enjoy themselves. One Day each year. This is done in Tampa. Now teenagers being teenagers, some of them got a little bit out of hand. Many African Americans frequent that area. And they were out in force that night at the fairgrounds.
Some of them actually started running around, might have bumped into a few other people as they're running around.
Someone started to scream. You'll notice that apart from that physical contact, nothing I described is actually against the law. For instance, drinking in a car with your boyfriend, when you're 16 years old. A number of them about 100 of African American youths were arrested that night two years ago, in Tampa. The white police officers insisted that they stripped to the waist that apparently was for the purpose and the minds of the police officers to see whether they had gang colors on their bodies. At least that's what they said.
Now one of them. Andrew Joseph lll. He actually hadn't done any of that running around and he had to scream. And he had that casual bumping. He had done any of that. But he saw his classmates being arrested. Can't see what was going on. So one of them had his hat fall off his head.
Whenever when he picked it up. the officer said I didn't say I could do that. So they arrested him for picking up his friend's hat. They took Andrew Joseph lll, a 14 year old boy two miles away from the fairgrounds. And they pushed him out of the police car and said "You're on your own."
A 14-year-old boy has parents who were reachable by telephone. They pushed him out to a neighborhood he had never been to before. He had no idea where he was. He remembered that his father was going to pick them up at the fairgrounds and felt pretty shaken up because he had just been arrested and was told to be stripped to the waist, and frankly, felt humiliated. So he found his way as best he could back to the fairgrounds two miles away.
He didn't call his parents because frankly, he was scared barest didn't want them no. Almost as far as the fairgrounds try to cross the interstate highway to get to the fairgrounds. In the midst of traffic in both directions. He was struck by a car and died right on the spot, immediately.
The 16-year-old white girl — is alive today. The 14-year-old African American boy,is dead. His parents didn't get a call that night to say, come to pick him up.
I submit to you. This is not just one person's tragedy. It's not the tragedy of these parents.
Listen to Con Greyson's full remarks (Click Here)
Deanna spoke about her son and their fight for justice on First Things First with Dominique DiPrima on KBLA Talk 1580. She told the Los Angeles morning drive-time host, " he was an honor roll student, a scholar-athlete, a beloved son and brother." She continued — carefully, "my son was a giver and helper. Not a single behavioral issue in or out of school. He was a model child."
Andrew wasn't involved. That didn't stop Hillsborough Sheriff Deputies from rounding up dozens of minors. According to a statement issued by Black Lives Matter Grassroots, "When Andrew came to the aid of a teammate who sheriffs were wrongfully holding, Andrew himself was targeted, detained, taken, treated as a suspect, and - with 98 other Black children — were rejected from the Fairgrounds."
A statement from Black Lives Matter Grassroots allege that "after Andrew's death, the Sheriff's Office attempted to cover up their negligence by attempting to assassinate the child's character, painting him as a gang member and falsely claiming that he was part of a pack of Black youth who were "wilding" at the fair."
The statement continued "Law enforcement are coving up the death and actions of the officers involved. For years, the sheriffs have used the unjust legal doctrine of qualified immunity to stall the case, filing appeal after appeal, dragging it out, dodging accountability, and causing even greater heartache for the Joseph family."
A jury will decide if Corporal Mark Clark violated Andrew's civil rights by taking him from the fair without any reasonable suspicion or probable cause. Clark claims he doesn't remember anything Andrew did that night, but he had the right to take the child into custody and had the right to eject him because Andrew may have been running at the fair.
Hundreds are expected to stand with Andrew's family over the course of the two-week trial,
The Joseph family has been fighting for justice in Andrew's name since the day his life was stolen on February 7, 2014, as the police responsible for his death elude accountability under the veil of qualified immunity.
To win a civil lawsuit against a police officer, the victim or survivor must show that the officer violated "clearly established law," most often by pointing to previous "factually similar" cases. Otherwise, officers are protected from liability of the harm they caused. Additionally, it gives police nearly unlimited rights of appeal, enabling them to drag court cases out for years, exhausting, further traumatizing, and often making cases financially untenable for those seeking remedies.
LA Progressive will provide coverage Follow @jamesfarrlive on Twitter for updates.
Photos by @jamesfarrlive