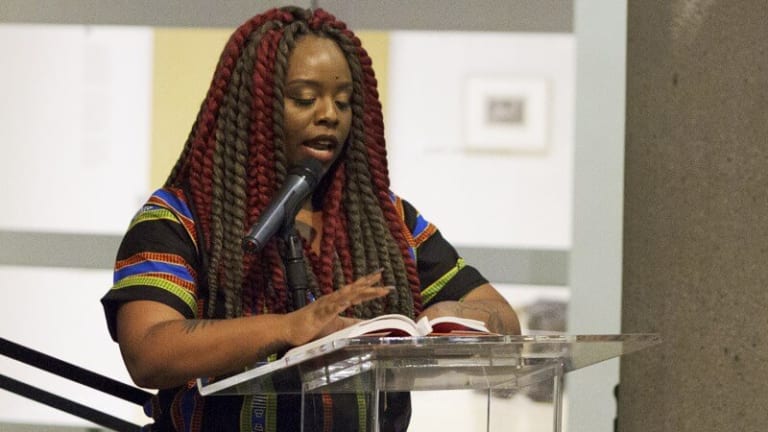 Saving American Democracy
Justin Chapman: Patrisse Khan-Cullors explains why Black Lives Matter in a powerful memoir with asha bandele, 'when they call you a terrorist'
Patrisse Khan-Cullors explains why Black Lives Matter in a powerful memoir with Asha Bandele, 'when they call you a terrorist'
As the city of Pasadena deals with the fallout over the use-of-force incident in which Pasadena police officers beat a young African-American man named Chris Ballew on Nov. 9, Patrisse Khan-Cullors has released her timely and powerful memoir about co-founding Black Lives Matter and, in part, denouncing police brutality and calling for independent, community-led police auditors.
When They Call You a Terrorist: A Black Lives Matter Memoir is a deeply personal exploration of Khan-Cullors' life, from her hardscrabble upbringing in Van Nuys and the trauma of watching her pre-teen brothers being arrested for doing nothing to her exploration of her sexuality (she identifies as queer but had a couple of meaningful heterosexual relationships throughout her life). She describes bonding with her father and the pain of losing him too early, first to drugs and jail and then ultimately to death.
The book weaves her often painful personal and family history into the larger class and racial struggles taking place in Los Angeles in the 1980s and '90s. From an early age, she learned that the police were not looking out for her or her family's best interests.
The book weaves her often painful personal and family history into the larger class and racial struggles taking place in Los Angeles in the 1980s and '90s. From an early age, she learned that the police were not looking out for her or her family's best interests.
"For my brothers, learning that they did not matter, that they were expendable, began in the streets, began while they were hanging out with friends, began while they were literally breathing while Black," she wrote. "For us, law enforcement had nothing to do with protecting and serving, but controlling and containing the movement of children who had been labeled super-predators simply by virtue of who they were born to and where they were born, not because they were actually doing anything predatory."
An Unheard Story
The memoir, co-authored by writer and activist asha bandele, with an introduction by activist and scholar Angela Davis, is written poetically, at once calling out the injustices of America while also inspiring hope into a new generation and instilling the fight in those to come. On Friday, Khan-Cullors and bandele launched a 14-city book tour at the California African American Museum in Los Angeles, which was attended by hundreds of people.
"Part of the reason why I wrote this book is because I wanted to have a larger conversation about what it means to grow up black and queer as a woman in Los Angeles, which has been deeply impacted by militant policing and a jail system that is the largest jailor in the world," said Khan-Cullors. "How does that actually impact black women and young black girls? We haven't heard a story in that way, because mass incarceration and state violence is so often talked about through the lens of black men. It's also a coming of age story. It's about how I became an organizer and eventually how I helped start Black Lives Matter."
Her work inspired Jasmine Abdullah and Black Lives Matter Pasadena, who have been vocal in opposition to the killings and brutality carried out by the Pasadena Police Department. Khan-Cullors called their work "powerful."
"Pasadena often reminds me of a small suburb outside of a big city that gets very little attention," she said. "I remember the very small story about Kendrec McDade's killing and Reginald Thomas' killing. Black Lives Matter Pasadena is a lot of young people, 11 year olds and 12 year olds, who are trying to carve out a space for black people in a historically white town."
The book also lays out the tragedy of Khan-Cullors' brother Monte, who suffered from schizoaffective disorder but was treated like a criminal and a gang member by the police, who arrested him, charged him with terrorism for yelling after a fender bender, withheld medication from him, beat him and humiliated him in jail, and repeated the process shortly after he was released. His life, like many other young black men before and after him, was never the same, and neither were the lives of his family members, who were forced to be the support network that society denied him.
After reading the 2011 ACLU report detailing the abuse deputies inflicted upon inmates in LA County jails, Khan-Cullors realized that although she and other activists are often called terrorists, it is the police who terrorize black people.
"I am still a teenager when [Monte] is tortured by the LA County Sheriff's Department," she wrote. "Torture is planned out and its purpose is to deliberately and systematically dismantle a person's identity and humanity. It is designed to destroy a sense of community and eliminate leaders and create a climate of fear. Torture is terrorism."
First and foremost, Khan-Cullors wants people who read the book to realize how resilient black people and other people at the margins of society actually are.
"I want people to see more than just the really tragic stories that I talk about in the book, but also that organizing and activism can actually save American democracy," she said. "And I want people to see the love that I have and that so many of us have for black people."
Birth of a Movement
Black Lives Matter was founded in 2013 following the tragic acquittal of George Zimmerman for the murder of 17-year-old Trayvon Martin. In the wake of the verdict, Khan-Cullors responded to a Facebook post by her friend Alicia with a hashtag that would soon go viral. In response to her friend writing, "Stop saying that we are not surprised. That's a damn shame in itself. I continue to be surprised at how little Black lives matter. Stop giving up on black life," Khan-Cullors wrote, "#BlackLivesMatter." And thus, a movement was born. And Khan-Cullors began organizing.
The movement picked up steam in 2014 following the shooting of an unarmed 18-year-old named Michael Brown in Ferguson, Missouri, by a white officer. With each new killing of an unarmed black person by a white officer across the country, the message that black lives do not matter became further ingrained, Khan-Cullors writes in her memoir, and therefore all the more necessary is the message of Black Lives Matter.
Looking ahead, Khan-Cullors said Black Lives Matter is developing a strategic vision and plan for the next five years.
"Black Lives Matter, the organization, and the larger movement for black lives is in a really powerful moment," she said. "We are taking stock of the last four and a half years and taking the time to really codify the work that we've done. We are in a place where much of our work is about what it takes to build strong institutions that can take on administrations like we have right now under 45."
She added that President Donald Trump's recent comments referring to Haiti and African countries as "shitholes" is "absolutely disturbing."
[dc]"T[/dc]he fact that he's the president is disturbing," she said. "The reality that he is the president for such a marginal part of our population, and that he really represents the underbelly of American society."
Justin Chapman
Pasadena Weekly