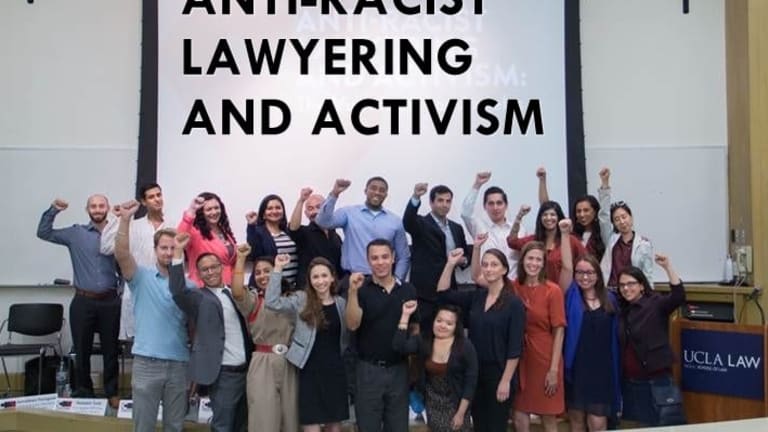 Trump Attacks Critical Race Studies
we at Critical Race Studies raise our fists against what Cheryl I. Harris, CRS co-founder, refers to as "the same old song of anti-anti-racism [that] is still cued up and on heavy rotation."
A Note from the Publisher of the LA Progressive
When I learned that Donald Trump recently decided to target Critical Race Studies, I thought of UCLA Law School and the phenomenal work they've done in the Critical Race Studies arena.
Following is a message I received from Yasleen Kohli, Director of the Critical Race Studies Program at UCLA. I urge you to read it and take action if you are able.
Dear Friends and Allies of Critical Race Studies at UCLA Law,
Derrick Bell published Race, Racism, and American Lawin 1970. The first page of this seminal critical race theory text includes the iconic photograph of Thomas Smith and John Carlos at the 1968 Mexico City Olympics. While accepting their medals, they defiantly held their fists up in the Black Power salute. Fifty years later, the Trump administration instructed federal agencies to end racial sensitivity trainings that address topics like white privilege and critical race theory, calling them "divisive, anti-American propaganda."
In response, we at Critical Race Studies raise our fists against what Cheryl I. Harris, CRS co-founder, refers to as "the same old song of anti-anti-racism [that] is still cued up and on heavy rotation." CRS co-founder and current faculty director Laura E. Gómez points out in her recent op-ed that "our nearly 1,000 alumni work in grassroots social change organizations, for national civil rights organizations…, for small and middle-size civil rights practices, for large law firms that engage in critical pro bono work and as legal counsel for state and federal agencies. Whether or not he knows it and despite OMB's memo, Trump already has those who are learned in critical race theory working for federal agencies. And we are all better for it."
Join us by raising your fist in the air. We urge you to donate today so that CRS can continue the fight for racial justice.
Photo from 2017 Anti-Racist Lawyering and Activism: The View From Los Angeles
P.S. We thank UCLA Law's Promise Institute and the Deans of the University of California law schools for their statements of support.
Jasleen Kohli
Pronouns: she/her/hersDirector, Critical Race Studies ProgramUCLA School of Law
The Critical Race Studies Program at UCLA acknowledges the Tongva peoples as the traditional land caretakers of Tovaangar (Los Angeles basin, So. Channel Islands). As a land grant institution, we pay our respects to Honuukvetam (Ancestors), 'Ahiihirom (Elders), and 'eyoohiinkem (our relatives/relations) past, present and emerging.