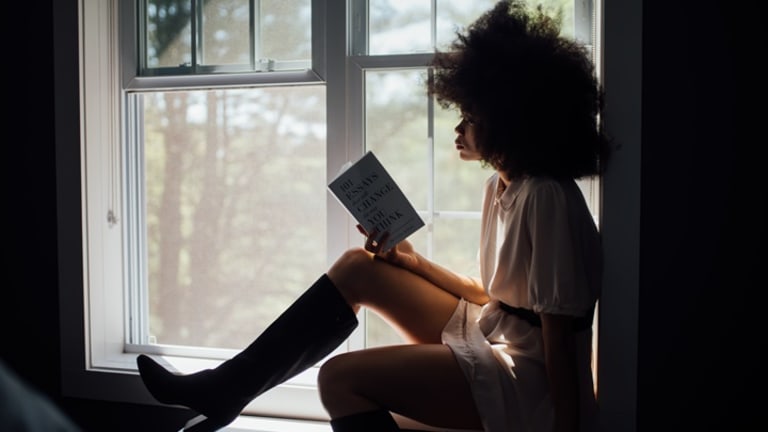 bell hooks: The Warm-Heart Storyteller
Lenore Daniels: bell hooks writes of being in the classroom feeling as if in "prison." It had become difficult for her, she explains, to create a "positive context for learning."
I still remember her face. I was coming up her aisle on my way to the front of the classroom, when she turned as I approached her desk. A Black girl among a small class of maybe 10-12 Upward Bound juniors and seniors.
"Do you have the book?" She wanted the book. She wanted her own copy of the whole book.
I was in Philadelphia intending to teach at a four-year university during the early years of the Obama era when America wanted to believe racism was in its past. The foundational ideology of white supremacy married to capitalism subordinating people of color. Women. Difference. All of which the colleges and universities refused to hear even in the Bush Jr. era, unless texts and lectures steered clear from challenging a system depended on complaint educators.
"Do you have the book?"
I had wondered into one of those box bookstores in 2004 and found bell hooks' Teaching Community: A Pedagogy of Hope, published the year before. Familiar with hooks' work, I purchased this book. While I waited in the check-out line, I thought about how I tracked her down to New York University, called was told hooks had quit. Walked out.
I, a big-city girl, made my way back to the house I was renting to teach at a small HBC in Tuscaloosa, Alabama. That evening, I put everything on hold to open up the book and begin reading.
"When contemporary progressive educators all around the nation challenge the way institutionalized systems of domination (race, sex, nationalist imperialism) have, since the origin of public education, used schooling to reinforce dominator values, a pedagogical revolution began in college classrooms…
"In this space where they offered alternative ways of thinking, a student could engage in the insurrection of subjugated knowledge…
"Progressive professors did not need to indoctrinate students and teach them that they should oppose domination. Students came to these positions via their own capacity to think critically and assess the world they live in…
"That awareness has created the conditions for concrete change, even if those conditions are not yet known to everyone…
"Hence the backlash has been equally awesome…
"The critique of 'otherness' spearheaded by progressive educators was not as powerful as conservative mass media's insistence that otherness must be acknowledged, hunted down,"
And so bell hooks writes of being in the classroom feeling as if in "prison." It had become difficult for her, she explains, to create a "positive context for learning." Maybe it was her "sense of gloom," she thought, about classroom size. Or maybe it was the "gap in skills and aptitude" of her students. Or maybe it was the spying, the "intensified spying on the part of administration and faculty (usually taking the form of grilling students about what happened in my classrooms)."
Then, hooks realized that these were obstacles which had always accompanied her to the university classroom. What had changed, she understood, was her "capacity to cope" with the obstacles in "constructive ways."
Hooks surmised that she needed time away from the classroom.
She writes how she feared announcing her resignation since people would immediately assume she hadn't performed "with the degree of grace and excellence as a teacher." It's the go-to explanation in a cultural atmosphere where the fault always rests with the Black against the university. A Black woman, for certain, is at fault.
But hooks found herself offered a Distinguished Professorship with a "huge salary" only to resign thereafter because, as hooks explains, she was "simply no longer satisfied" with herself in the classroom and "with the educational climate in the university."
She received feedback from her peers, some of whom thought it was "madness" to walk away from the "big bucks." Here she was after years of low-paying teaching positions now offered a "six-figure salary." However, Bell Hooks was bell hooks and not her peers. "Their focus was solely," she writes, "on financial reward—the big bucks." They didn't share a concern, she adds, with the "quality of life in the classroom."
How is complying with a system that feeds on inequality fostering wellbeing for the individual, for the community?
Bell hooks ends Teaching Community with this observation: "Dominator culture has tried to keep us all afraid, to make us chose safety instead of risk, sameness instead of diversity. Moving though that fear, finding out what connects us, reveling in our differences; this is the process that brings us closer, that gives us a world of shared values, of meaningful community."
"Do you have the book?"
Well, I had my copy. This wasn't the first time I taught for an Upward Bound program. Most programs operate on a limited budget, depending on the size of the host college or university. This was a small suburban private college. Predominantly white. The students in our program were predominantly Black, from public high schools in Philadelphia. Given we only had so many weeks during this summer program, I copied short stories, chapters or poems in an effort to appease program and host administrators tallying the expenses, and yet still manage to expose the students to as many writers as possible. Particularly those thinkers and writers they wouldn't likely encounter in their home classrooms. Sometimes Black children need a good storyteller to help them see beyond the dark.
I imagined Bone Black: Memories of Girlhood would be accessible to high school students. The students were reading the short opening chapter on family. There was the mother and the gift of the guilt for the hope chest. The mother's hope chest was filled with odds and ends, treasures, from her mother. A purse. A faded summer dress. And a guilt of stars. All for little Gloria Watkins.
Hooks recalls watching her mother clutching all the items, and handing them to her daughter, who in turn, clutches the items, she hopes she has fulfilled a promise that had to be kept. However, hooks writes that her mother knew she was "hopeless." She adds, "she stores no treasures for my coming marriage. I do not want to be given away. I cannot contain my dreams until tomorrow. I cannot wait for someone else, a stranger, to take my hand."
She has a dream that night of going away. At the bus station is her mother, waving good-bye. When Gloria returns from her journey, she finds that fire has destroyed all. So it seems. No one is present when she cries and cries, like that of a peacock. Then suddenly her mother appears with candles. The two begin searching among the fragments and discover the hope chest hasn't burned through and through. They open the chest. In the candlelight, the two see that the photos are charred, but they are, nonetheless, carefully passed from one hand to another. Mother and daughter's weeping give "testimony" of being "moved."
Above their weeping, they hear a voice that reminds them of the "stern sound" of her mother's mother. The voice instructs them to form a circle around the candles. The voice tells the females that the candles are burning another fire to warm their hearts.
"She says Listen, let me tell you a story." And "she begins to put together in words all that has been destroyed in the fire. We are all rejoicing when the dream ends."
The next morning, little Gloria wants to know the identity of the storyteller. Saru. The grandmother. The storyteller. "The interpreter of dreams." You should know the storyteller, her mother tells her. You and she are one. "That they are my sisters, family." Part of you is making the story, "making the story, making the words, making the new fires, that it is my heart burning in the center of the flames."
"Do you have the book?"
I can get it for you, I said. No problem.
When I heard the news a few weeks ago on December 15 that bell hooks had died, I thought of this high school student in Philadelphia all those years ago who wanted to read her memoir. No "budget" or racist policy interfering with the learning process. Just critical thinking connecting, beyond the classroom walls, the student to a storyteller with a warm heart.