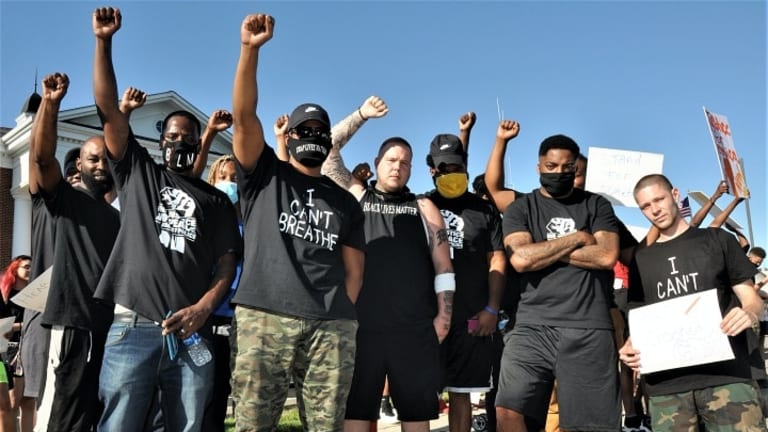 Deep Red Kentucky Says Black Lives Matter, Too!
Berry Craig: Marches in my neck of the Bluegrass State woods—and in other small towns statewide—have given me hope that times just might be a-changin.'
I was gobsmacked.
"A protest has been organized for 5 PM... at the Court House square," said the surprise email from Bruce Dobyns, our local NAACP president.
Marches in my neck of the Bluegrass State woods—and in other small towns statewide—have given me hope that times just might be a-changin.'
Could it be that Mayfield, my 80 percent white, Trump-tilting hometown, was about to show Kentucky that Black lives matter here, too?
My wife, Melinda, and I headed uptown and joined upwards of 400 people, most of whom trooped around our 1880s-vintage, red-brick courthouse chanting in unison "Black lives matter!" Mayor Kathy O'Nan, a fellow NAACP member, characterized the rally as "very peaceful, very orderly."
I've never been prouder of Mayfield, where I've lived all my 70 years. It's smack in the middle of the Jackson Purchase, Kentucky's westernmost region and, arguably, the Commonwealth's most conservative corner. But marches in my neck of the Bluegrass State woods—and in other small towns statewide—have given me hope that times just might be a-changin.'
I was doubly dumbfounded—and elated—to hear there were similar marches in the nearby towns of Benton, Murray (Melinda, our son, Berry IV, and I are proud Murray State alums), and Paducah, where I worked for 37 years, first as a reporter at the Sun-Democrat and Sun and, afterwards, as a history prof at West Kentucky Community and Technical College.
Geographically and politically, the Purchase is far from "liberal Louisville" and a little-less-left-leaning Lexington, both in central Kentucky. So I fear hogs will fly before the Purchase—deep in the heart of Trumpistan—goes Blue in November.
Oh, Kentucky's westernmost region used to be the state's "Democratic Gibraltar." But back then, most local Democrats were white folks partial to the party's Southern wing. (During the Civil War, the Purchase—"the South Carolina of Kentucky"—was the state's only Confederate-majority region.)
Even so, it took the GOP's thinly-veiled race-baiting Southern Strategy a while longer to percolate up to the Purchase, which went for Carter, Dukakis, and Clinton twice. Republicans have rolled since. Purchase soil is fertile for sprouting Confederate and Trump flags, which often fly together.
State Rep. Charles Booker, D-Louisville, who wants Sen. Mitch McConnell's job, suggested that "protest" isn't the right word for what's been happening in Mayfield and across Kentucky, led by Lexington and Louisville, those twin Blue islets in a mostly Red sea.
"This is not a protest, this is an uprising," the Lexington Herald-Leader quoted Booker, an African American whom the paper endorsed for Tuesday's Democratic senatorial primary. "This is much bigger than just demanding justice, this is us leading for justice." (The influential H-L and the Louisville Courier-Journal, the Bluegrass State's largest paper, endorsed Booker over a pair of retired Marine officers, both white—Mike Broihier and Amy McGrath, the first woman to pilot a Marine plane in combat.)
Three weeks later, I'm still pumped about the June 1 Mayfield "uprising," which drew African American, white and Hispanic Mayfieldians. There were kids—including toddlers in strollers—teens, grownups and senior citizens. Passing motorists honked horns in support. (In Murray, two middle-aged white guys in cars menaced some marchers with pepper spray and a pistol. Both were arrested.)
"It's time for people to start paying attention, particularly whites who don't realize the pain and suffering African Americans have endured since they got to this country," said Dobyns, former pastor at First Christian Church. "Their suffering is not over, and we whites are complicit because we are in power. There needs to be a power sharing."
Dobyns, masked like most of the marchers, carried a homemade "I can't breathe" sign and sported a bright red Mayfield High School Cardinals ball cap.
Melinda, a retired English teacher, spied several of her former MHS students, including Josh Dunn, who was also masked. The ex-Red Bird football standout lives in Mayfield but belongs to Paducah-based International Brotherhood of Electrical Workers Local 816.
"We're all part of the working class," said Dunn. He paraphrased one of my heroes in history, labor leader and five time Socialist presidential candidate Eugene V. Debs: "If there is a lower class, then I'm amongst it."
Dr. Martin Luther King Jr. saw organized labor and the civil rights movement as natural allies. "As I have said many times, and believe with all my heart, the coalition that can have the greatest impact in the struggle for human dignity here in America is that of the Negro and the forces of labor because their fortunes are so closely intertwined," he said.
Dr. King also warned that "the labor-hater and labor-baiter is virtually always a twin-headed creature spewing anti-Negro epithets from one mouth and anti-labor propaganda from the other mouth."
Ralph Priddy, who helped restart the Mayfield NAACP chapter, said it hurt him to "see the tears flowing from my Black brothers and sisters." But it pains him more when African Americans, especially youths, don't vote. "Our forefathers fought and died for the right to vote," Priddy said.
Registering and encouraging people to vote is a top NAACP priority, Dobyns said. "We've got to vote. We've got to encourage everybody to vote."
Berry Craig