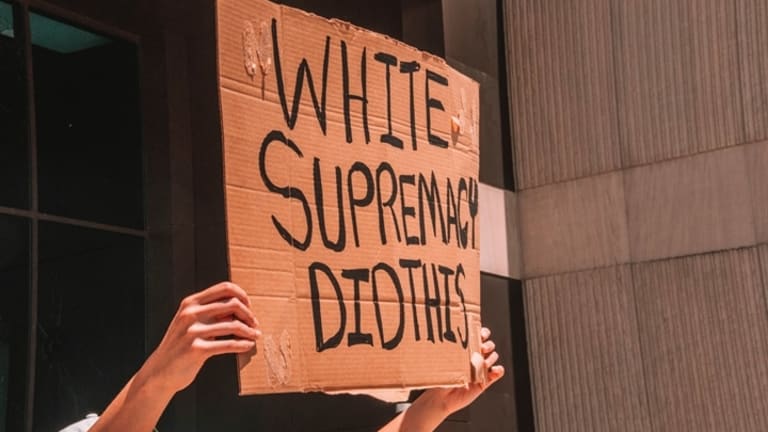 White Racist for Black Lives Matter
Johnny Townsend: My bias doesn't prevent me from recognizing the urgent need to dismantle institutional racism and to support the efforts of those more knowledgeable than I am to do so.
I never thought I was racist. I knew my family was, of course. And I knew my religion was. Growing up in New Orleans with extended family in rural Mississippi, I said the N-word like everyone else, only stopping in my teens. But that didn't mean I was no longer prejudiced.
When I relocated to Seattle after Hurricane Katrina, I encountered what at first seemed a less racist culture. Then I noticed that my coworkers limited their racist comments until our black manager left the room. One even said he wished the military would dump airplane fuel on black protesters.
But I wasn't like that. I watched movies like The Hate U Give and Get Out. I donated to the United Negro College Fund. I read James Baldwin. I wasn't racist.
At another job, employees were asked to take an assessment test that determined levels of unconscious bias. My results showed I have a "strong preference" for white people over black. And I took the assessment right after participating in two Black Lives Matter protests.
It felt like taking a DNA test and discovering I was adopted. I'm not who I thought I was.
My bias doesn't prevent me from recognizing the urgent need to dismantle institutional racism and to support the efforts of those more knowledgeable than I am to do so.
But my bias doesn't prevent me from recognizing the urgent need to dismantle institutional racism and to support the efforts of those more knowledgeable than I am to do so.
For years, I've known about the "black national anthem." When I heard it a few Saturdays ago during a rally at Othello Playground, I didn't even recognize the melody. I'm 60 years old and never bothered to look it up. I've learned over the past several weeks that it's not possible to be non-racist in a society that shapes us to be racist every day of our lives. I'm now finally trying to be anti-racist.
At the rally, I held up my handmade sign, the words, "Black Trans Lives Matter" on one side and "LGBTQ for BLM" on the other. It was still Pride month, after all.
Other signs insisted we "End Qualified Immunity" and "Say her name!" A white man's hat bore the words "Veterans for Peace" while a white woman held a sign asking us to "Amplify Black Voices."
Probably 400 people were at the rally, far fewer than the thousands at other local protests over the past few weeks. I saw a white friend at the park, an older woman with bursitis. A longtime activist, she told me, "I can't run anymore, and when you know the police might attack you for no reason, you want to be able to run." Another white friend was there, too, walking unsteadily with a cane.
I was painfully aware I'd never had a black friend, only a handful of acquaintances.
A white counter-protester started shouting from the street using a megaphone. The speaker on the stand carried on while about 30 folks in the crowd blocked the man from approaching, drowning out his intrusion with chants of "Black Lives Matter!"
I tensed when I heard sirens in the distance, growing louder until…they passed by on nearby MLK. Several protesters sighed in relief. I expect most of the white folks at the rally were used to seeing police violence, not worrying about becoming the recipients of it. These past few weeks, some of us were likely feeling this particular fear for the first time.
I remembered a photo I'd seen online, a black man with a sign explaining, "We aren't trying to start a race war. We're trying to end one."
A young woman on the stand read some poetry. Other young women performed a dance. Several speakers gave short talks, the emphasis at today's rally the lives of black women. A Somali talked of the retaliation she'd faced at work for speaking out about unsafe conditions during the pandemic.
Then all the non-black folks—about 300 of us—were ordered to the street, the black protesters asked to remain near the stand. On Othello, a group of bicycle riders raced up and down the block, guiding the white, Asian, Indian, and Latinx protesters to line up along both curbs. We were to lock arms and act as a shield against any counter-protesters who might try to break through and interfere with the black marchers. "Alternate which direction you're facing," one of the riders instructed us, "so you can be on the alert to danger approaching from any direction."
Another bicycle rider zipped by. "Remember why you're here," he said.
A white woman on the other side of the street stepped onto her porch with a lighted candle and held it out toward us for moral support.
After fifteen or twenty minutes, the black protesters walked over from the main part of the rally. They headed west toward MLK, and the non-black allies kept on both sides and behind as they marched toward the police station a few blocks away to make their demands known…again.
When I returned home, I checked my social media and saw several new racist posts from my family. It was disappointing, but I also felt hope.
Because while I'm white, and still strongly biased, I'm one of many who know that Black Lives Matter.
Johnny Townsend