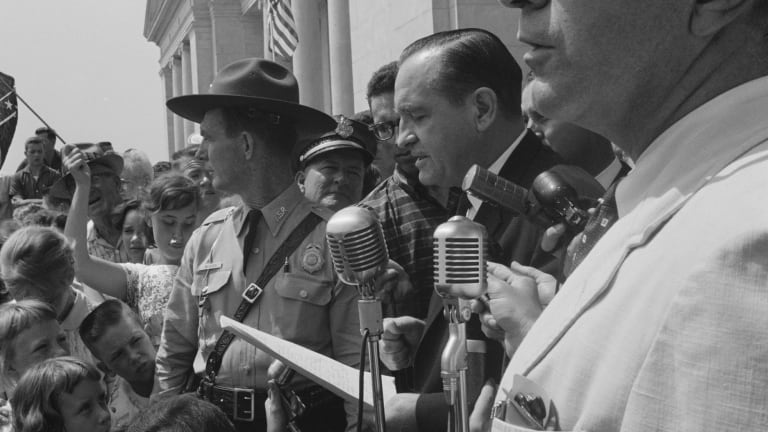 The More Things Change: Remembering the Little Rock Nine
It was 1957 and the beginning of the Television Age. The drama played out before our eyes on the nightly news that we were just coming to know.
For those of us of a certain age, the image is forever seared in our minds of Governor Orville Faubus blocking the doorway to Little Rock's Central High School, flanked by members of the Arkansas National Guard, denying entrance to a group of nine black students. It was 1957 and the beginning of the Television Age. The drama played out before our eyes on the nightly news that we were just coming to know.
Then, shortly afterwards, President Dwight Eisenhower sent the 101st Airborne Division—the same unit occupying Baghdad today—to enforce the 1954 Brown v. Board of Education Supreme Court school integration decision. Who can forget that 15-year-old black girl—Elizabeth Eckford was her name—striding bravely and alone through the crowd of cursing, jeering, spitting white students and their parents toward the schoolhouse door, determined to get her chance at an equal education?
Clearly, that was a signal moment in the history of race relations in America, opening the door to even more fundamental change as the Civil Rights movement gained momentum in decades that followed. Or so some of us thought. Today, with America's schools—like much of our society—still largely segregated in fact if no longer in law, that 10-year-old kid watching history flicker past in 1957 wonders what happened.
One of Nine
To mark the 50th anniversary of the Little Rock Nine, one of the original nine—then Terry Roberts, now Dr. Terrence Roberts—spoke of his experiences then and since at the Urban Issues Forum. Founded and moderated by journalist and professor Anthony Asadullah Samad, the Forum holds monthly breakfast meetings at the African-American Museum that address urban political, social, and economic issues relevant to Central Los Angeles communities.
Now a clinical psychologist with a practice in Pasadena, a program chair at Antioch University, and a charming and much sought-after speaker, Roberts directed his remarks especially to the 50 or so mostly black and brown students from Jefferson High School and Samad's classes at East Los Angeles and Southwest Colleges who attended the Urban Issues session on September 14th. "Early on, I was advised to become the executive in charge of my own education," Roberts said. "So when they asked for volunteers to go to Central High, I had both hands in the air."
Volunteering came at a high price. "I was assigned a personal tormentor—we all were—whose job it was to follow me everywhere in the school and make my life miserable, with punches, kicks, and taunts," he said, who was then a rather skinny 15-year-old junior. "And he wasn't the only one."
Eventually, he and the tormentor—one Jerry Tully—had to wrestle in gym class. When Roberts won rather decisively, he was surrounded after class by a circle of white boys who wouldn't let him pass. "One massive boy—much bigger than Jerry—approached me slowly with a baseball bat in his hand. He said, 'If you weren't so small…," dropped the bat, and walked away," Robert said. "I told my body it was time to go, but I just couldn't move."
Having lunch with his mother in Pasadena 20 years later, he learned that she had gotten a call telling her that he had been beaten so badly that he wouldn't live out the hour. "She rushed to school and the principal showed her that I was safe in class, but she knew that wouldn't be the end of it," Roberts said. "It's hard to imagine the pressure our parents felt."
Resegregation
Answering questions afterwards, Roberts and Samad decried the lack of progress over the past 50 years. "There has been a massive, organized resistance to integration," Roberts said. "Little Rock was just a part of it, a small part."
"The Cold War was on when the Supreme Court passed Brown v. Board of Education," Samad said. "Our government was reacting to criticism from Russia about our civil rights abuses. So, when the Court said school integration should proceed 'with all deliberate speed,' that meant 'sloooowly.'"
(In "The More Things Stay the Same", Sharon shares her own parallel experiences during the 1970s.)
Pressed for solutions to the lack of progress on desegregation since Little Rock, Roberts returned to the role of taking personal responsibility. "Read a book every week," he admonished the students in the audience. "Read two. Raising our own kids, my wife and I decided not to have a television in the house. They've become delightful young adults, in part thanks to that, I think."
Celebrating Fifty Years
Central High was closed for the 1958-59 school year, so Roberts finished high school in Los Angeles and later went on to earn a bachelor's degree in sociology, a master's degree in social welfare, and a doctorate in psychology. With his Central High classmates, Roberts formed the Little Rock Nine Foundation to promote the ideals of justice and equality of opportunity for all.
On September 25, all nine former students will speak at an anniversary celebration at Little Rock's Central High, along with President George Bush and former President Bill Clinton. "We'll use it to raise funds for the scholarships our foundation provides," he said.
(Part 2 of this story continues here)
Dick Price
Editor, LA Progressive