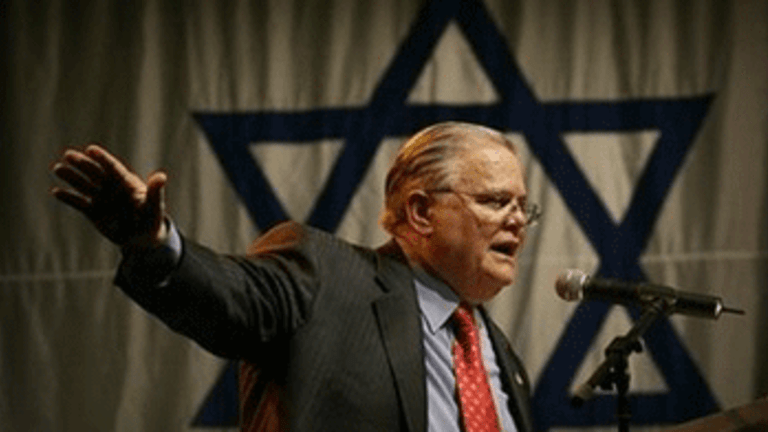 Friday Feedback: Are Republican Politicians Good for Jews?
Friday Feedback: This week, frequent commentator Joe Weinstein comments on author Steve Hochstadt's article, "Are Republican Politicians Good for Jews?" Steve then responds.
Each Friday, LA Progressive presents a comment we editors find to be most profound, insightful, or just plain irritating.
This week, frequent commentator Joe Weinstein comments on author Steve Hochstadt's article, "Are Republican Politicians Good for Jews?" Steve then responds.
Please contact us if you'd like to recommend a comment or exchange for inclusion in "Friday Feedback."
Dick Price & Sharon Kyle, Editor & Publisher
Writes Joe Weinstein:
Author Steve H. makes three notable big points: two are erroneous, and the third is correct – but possibly not for the reason Steve tacitly has in mind.
(1) He says: "Both of our unending wars come out of the international tensions which focus on the borders of Israel."
Utterly WRONG. Both of our unending wars owe to elective decisions by warmongering presidents.
And utterly misleading too even had these wars been started by other means. The so-called "international tensions which focus on the borders of Israel" are the choice of others, not of Israel. These tensions owe to demagogic scapegoating by Islamic fanatics – and earlier by Arab nationalist fanatics – who portray their religious or national fulfillment as requiring obliteration – immediately or by stages – of Israel, or indeed of any non-Moslem or non-Arab state in its place. In fact, the 'international tensions' have existed no matter where the 'borders of Israel' have been, and even before Israel existed (ever since Arab demagogs chose to scapegoat a then-merely-potential Jewish state.
According to Steve, "the most fanatical settler organizations … plan to make war forever with the Palestinians." Steve not only is wrong but moreover grossly misleads by omitting to note the big difference between the two fanaticisms. The most 'fanatic' settlers are intent on a positive goal: Jewish resettlement of biblical-era Jewish Judea and Samaria. War with anyone is not their program – and it isn't inevitable either, because a fair amount of non-Palestinian-owned land is available in the area. But, writing presumably for American and world-wide consumption, not merely demagogic appeal at home) in the NY Times this spring, Mr. Abbas noted just one goal for his would-be Palestine state: the negative one of serving as a tool for more effectively fighting Israel.
This is basically what the 'nternational tensions'and 'Palestinian cause' have been about ever since Day 1. In 1937, 1947, 2000 and 2008 this 'cause' compelled Palestinian leaders to reject fair and even generous British, UN and Israeli offers for establishing and recognizing a Palestinian Arab state. In 2011 this 'cause' now seeks recognition of a Palestinian Arab state as a tool not for peace but for continuation of conflict.
(2) Republicans are of course after both Jewish and other votes, but – contra Steve H. – their argument is NOT merely that maintaining the US-Israel alliance is 'thus better for American Jews'. Their argument is that maintaining the alliance is 'thus better for the USA.'
This argument is correct, and it merits not rebuttal but reiteration by the Democrats. The alliance links the USA with the Mideast's one functioning democracy, its most dynamic and progressive society, and the USA's most durable friend in the region. Contrary to the Obamites' mistaken presumptions, political leaders world-wide – not least the dictators and thugs who run most of the Mideast nations – respect the USA more, not less, for our support of our friends.
(3) Steve concludes that "The only way that we as Americans can influence the state of terror alert under which we live every day is to elect the government which has the best ideas about how to find a solution to the state of mostly cold, but sometimes hot, war in the Holy Land."
Correct, although it's not clear that Steve's tacit underlying reason is correct. It's important to perceive the true relation between the local war in the Holy Land and the global war being waged for Islamist domination: the local war is symptom, the global war is cause – not vice versa. Only from defeat or anyhow severe restraint of the Islamic supremacists can we hope for lasting peace in the Holy Land – or indeed in some other places.
Steve speaks loosely of 'the world's most dangerous crisis' and complains that Republican candidates offer neither plan nor policies to 'solve' it. Well, the basic crisis is one of insufficiently checked aggressions by Islamic supremacists – on religious toleration in Moslem countries, on free critical speech and scholarship in Western European countries and in some North American universities, on unbiased constructive approaches to global welfare in the UN, and on the very existence of a Jewish state in the Mideast. But Democrats too have so far articulated no 'solution' or indeed recognition of the nature of the crisis.
Joe Weinstein
Author Steve Hochstadt responds:
Joe Weinstein says I am "utterly wrong". That makes it easy to dismiss ideas that I put forward, and that other people put forward, in favor of those utterly right ideas with which he is comfortable. In his discussion of the decades of tension in the Middle East, the blame is all laid on Islamic and Arab nationalist fanatics. On the other side is the "positive goal" of Jewish resettlement of Judea and Samaria. That was positive for Jews, but not so positive for the many non-Jews who were pushed off of their lands by Jews for this positive goal. This argument has been going on seemingly forever. One reason for that is the certainty of some Jews and some Muslims, and some others, like the Republican politicians I mentioned, that they are right and everyone else is utterly wrong.
If Weinstein wants to defend the Jewish perspective, why not directly confront the unpleasant reasoning behind fundamentalist Christian "support" of the conservative position he stakes out on Israel's borders?
He might have to give up his easy dismissal of virtually everyone's ideas: Republicans and Obama are immoral and nonsensical, "Obamites" are subverting US interests, etc. He might have to admit that Israeli policies, then and now, are not a exact reflection of Jewish ethical values. He might have to admit that there are plenty of Jews who believe they are practicing their ethical values by opposing his and the current Israeli government's policy prescriptions.
He might have to admit that Jan makes some valid points about the willingness of Obama, and other Democrats and other Republicans to accept Israeli policies which make peace much less likely.
The vast, unexpected, and unpredictable changes that are reshaping governments in the Middle East require more than such certainties about what is good for Jews. What I notice is that my discussion of the sources of Republican "support" for settler extremists just allowed a variety of commenters, on both sides of the liberal-conservative divide, to return to the arguments with which they are comfortable, in which they are moral and everyone else is not. Whatever one thinks about the proper borders of an Israeli state, or the power of Islamic radicals, or even Obama's foreign policy, what does it mean to accept, and seek out, support from people who think Jews were responsible for our own persecution, and who fervently hope for a moment when Jews all go to the flames or become Christians?
Steve Hochstadt