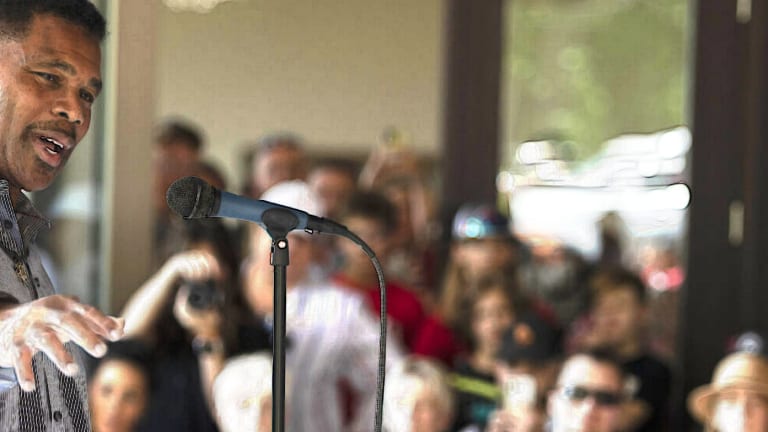 Herschel Walker Graduates
I want this job, and, to quote a former resident of Siam, there are no finer cats than I am.
Atlanta Journal-Constitution, December 17, 2021: Republican Herschel Walker's campaign deleted a false claim that he graduated from the University of Georgia hours after it was posted on a website promoting his U.S. Senate bid. The former football star's campaign removed the reference that he "graduated from UGA with a Bachelor's degree in Criminal Justice" late Thursday after The Atlanta Journal-Constitution inquired about the claim. It's a falsehood that has proliferated elsewhere, including in an online biography advertising Walker's book, at a campaign rally for his bid to unseat Democratic U.S. Sen. Raphael Warnock, and even during his introduction this year at a congressional hearing.
For immediate release:
From Herschel Walker for Senate, a transcript of the remarks Senate Candidate Herschel Walker will deliver this evening to the Georgia Republican Committee.
Madame Chair, Ladies and Gentlemen, my fellow Conservatives:
I want to thank you for giving me the opportunity to speak, and to thank our host for that wonderful introduction. Y'all know that a talk like this is a resume, job application, and job interview rolled into one, so—even at the risk of seeming immodest—I'm not going to hide my light under a bushel and must say that our host's brief outline of my life just scratches the surface of what I have accomplished, nor does it hint at what I will accomplish in the remaining years the good Lord has seen fit to grant me.
It is common knowledge I was a record-setting running back for our state university's football team, but now I am running hard toward a different goal: one of this great state's two Senate seats. I want this job, and, to quote a former resident of Siam, there are no finer cats than I am.
When I speak to audiences, particularly young people, I try to inspire them by recounting the trajectory of my life, an arc that began with nothing and progressed to everything: Born and raised in a one-room Louisiana shotgun shack, I now own many spectacular homes around the globe. Starting out as a small, sickly child, I morphed into the stunning physical specimen you see before you. When I was a learning-disabled child in elementary-school, my teachers despaired, but defying their assessment, I have earned multiple PhDs from the world's most-respected universities: from the Sorbonne, a Doctorate in French Literature; from the University of California, Berkeley, a Doctorate in Linguistics; from the Massachusetts Institute of Technology, Doctorates in Chemistry, Theoretical Physics, and Quantum Computing; and from Yale, a Doctorate in Psychology. In addition to those, I have along the way collected an MD from Harvard Medical School, a JD from Harvard Law School, and an MBA from Stanford. Also, I am a tenured professor of Constitutional Law at Yale Law School. In every school but one I earned perfect grades. The exception is MIT, where I earned better-than-perfect grades. Smart as they are over there, they're still lifting their beanies and scratching their heads trying to figure out how I pulled that off.
Lest the "gotcha-loving," lame-stream media seek to pounce, let me here take a moment to clarify one detail: I did not start with nothing if by "nothing" you mean "nothing." It is certainly true that my family lacked material wealth, but from birth I was blessed with the greatest asset: hard-working, family-loving, god-fearing parents who taught me to worship our lord, cherish his bible, and honor the nuclear family. My parents instilled in me a work ethic that has never deserted me, not for a second. It has made me the amazing man I am.
Over the course of my life, beginning as someone who panicked during both written and oral exams and was tongue-tied during any kind of public speaking, I have evolved into someone who has passed the bar in twenty-six states. Once a shy, stuttering child, I have grown into a wildly-successful, go-for-the-jugular attorney who has argued no fewer than 37 cases before the United States Supreme Court, prevailing every time. From having to navigate the world in an awkward, make-shift, child's wheel chair, I developed into the only NFL running back ever to score winning touchdowns for both opposing teams in the same Super Bowl game. Initially a child afraid of his own shadow, I became an astronaut and the first human to set foot on the moon. Additionally I served one term as Vice President of the United States, one term as President of Harvard, and one term as Secretary General of the United Nations. I held all those positions simultaneously.
My stint as Secretary General of the United Nations helped fill in my already deep comprehension of the complexities of diplomacy and foreign relations, experience that will be a significant advantage for a United States Senator. This last fact is particularly pertinent because I have been informed that after I win this upcoming election, I will be appointed Chair of the Senate Foreign Relations Committee. Aiding my effectiveness as Chair will be my command of 46 foreign languages comprising fluency in 34 and a working knowledge of 12. As an aside, because some of these are the languages of "shit-hole countries," I guess y'all can more-accurately describe my knowledge of their languages as "effluency." [Laugh] Related to this, you should also know that I spent two years as an undercover CIA agent in the Sierra Maestra with Fidel Castro, with whom I unexpectedly bonded over our mutual love of Cuban cigars. That relationship made it emotionally difficult when I conceived and planned the abortive invasion of Cuba that began at the Bahia de Cochinos—the infamous Bay of Pigs. That ill-fated effort, spearheaded by a dedicated, resourceful, determined, and heroic cadre of Cuban exiles, was betrayed by the lib-tard John Fitzgerald Kennedy. That same year I received Nobel prizes in both Physics and Chemistry, patented the LASER, and, because I had insufficient time to give it the attention it deserved, provided an outline of the BASIC computer language to Bill Gates and Paul Allen. I also served one term as Chief Justice of the United States Supreme Court, a position from which I voluntarily resigned because I believe no Justice should be granted life-time tenure.
But I am not just a policy wonk. Interrupting my education to indulge my love of music and the arts, I spent several happy years as lead singer of the Shirelles, one of the most-successful girl groups of all time. I also wrote many of their hits, including "Will You Still Love Me Tomorrow?" With its cheery surface gloss, dark subtext, complex rhyme scheme, and bouncy, syncopated beat, that one is by far my favorite. After that monster hit was released, Carole King called and asked me to help her with her soon-to-be megahit "Up On The Roof." I also won a Tony for my portrayal of Curly McLain in "Oklahoma!"; conducted the Metropolitan Opera in its critically-acclaimed revival of "Rigoletto"; and was awarded a Nobel Prize in Literature for my highly-praised, best-selling historical-fiction trilogy "Wolf Hall."
That same year, I designed a practical electric vehicle—an EV—but then shelved that project, believing the world not yet ready. Recently, as I watched our oppressive government lie about climate change while wrong-headedly deemphasizing fossil fuels, I sensed a financial opportunity and decided to resurrect it. However, because I was producing, directing, and writing what would be an Academy Award-winning film, I lacked sufficient time to work on the EV project and so turned it over to my entrepreneurial twin, Elon Musk, someone with whom I had worked on other projects and whom I knew had the character to complete difficult and complex projects. Clearly my judgment was sound, because reasonable people will admit that Elon has steered my EV to spectacular success. His one stipulation was the right to change the its name. Albeit reluctantly, I agreed that he could call it something other than a "Herschel." Bittersweet indeed.
Regarding my afore-mentioned Academy Award-winning film: Knowing I would be perfect for the role, I had initially intended also to act in it, but, during my three years at Yale Drama School—to which I received a full-ride scholarship—I learned that playing so complex a character demands a complete, immersive subsidence of one's ego and personality. Realizing that would drain too much energy and focus from other, more-pressing projects. I offered the part to my brother-from-another-mother, Will Smith. Will jumped at the opportunity, and the rest is cinematic history. (And just let me here give a shout-out to the lovely Jada! Bald is beautiful, honey!)
I have also received: from the Guggenheim Foundation a fellowship to support my continuing investigation of deconstruction; and a so-called "genius grant"—I am a co-founder of Mensa—from the MacArthur Foundation for my work on Virtual Reality, which I invented. Additionally I was nominated for a Grammy for my ground-breaking music-video choreography, but, because I would have had to share the stage with underdressed women and filth-spewing hip-hop [air quotes] gangstas [air quotes], I asked that my name be withdrawn from consideration.
To conclude: Though this is a far-from-exhaustive list of my achievements, y'all are wondering how, from such humble beginnings, I was able to accomplish so much. The answer is simple: talent, hard work, and nose-to-the-grindstone stick-to-itiveness. In other words, grit (a word that I coined).
I have tonight painted a spoken-word portrait of someone to whom you can in good conscience entrust the grave and awesome responsibility of representing your interests in the world's greatest deliberative body, the United States Senate. I am someone who will champion a Conservative agenda, someone of good character and moral fiber, someone who will always make you proud. I'm excited about my new job, and, because I'm a former star running back, I will hit the ground running. Together, assuming this election is not also stolen, we will score a touchdown and Make America Great Again.
I'm Herschel Walker, and I'm asking for your vote. Thank y'all very much for hearing me out. And should anyone from the lame-stream media ask, I never said any of this.