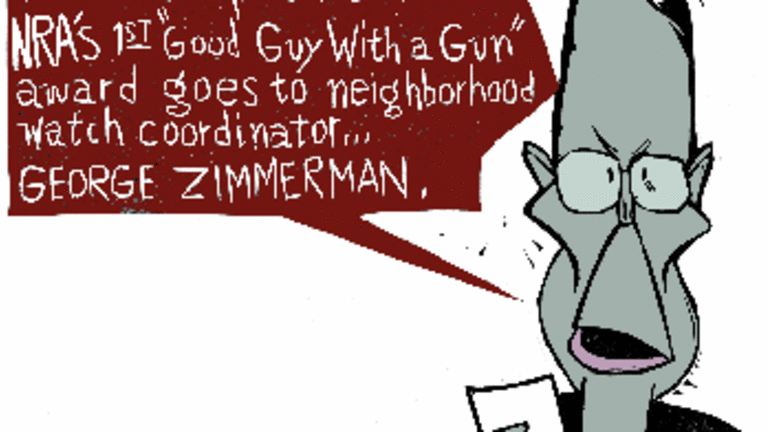 NRA Enemies List: With Enemies Like These, Who Needs Guns?
The NRA enemies list posted here has become a hot media topic as the organization and its executive director Wayne LaPierre leap from self-parody into the realm of the truly demented. The right-wing Murdoch-owned New York Post called LaPierre a "loon" on its front page after one of his rants; the centrist Daily News went with "The Craziest Man On Earth"; and last week LaPierre argued against background checks for gun owners on the nonsensical grounds that criminals wouldn't submit to them.
The NRA list, of course, harkens back to Richard Nixon's notorious enemies list, which targeted journalists, entertainers, academics and other citizens who opposed an administration that would soon be devoured by scandal. Indeed, many on the list considered it a badge of honor. Journalist Daniel Schorr said his inclusion, which he discovered only when he was reading the list aloud on CBS-TV News, was his proudest achievement.
At first glance, the NRA lineup may seem strangely goofy, but perhaps LaPierre and his cronies are crazy like foxes. Consider the possibility that Sara Lee, Hallmark Cards and the St. Louis Rams -- corporations, and therefore also people -- are joining forces to come for your guns. It's not unreasonable to think that a powerful coalition of octogenarians -- Leonard Nimoy, Eli Wallach, Lauren Bacall and Joanne Woodward -- will stand in the way of the NRA's attempt to post gun-toting guards at every American school. Scarier still, what if the notorious Brooks Brothers -- Mel, Albert and James -- are secretly plotting to make a joke of the Second Amendment?
Understanding the power of the pen, the NRA chose to shine a light on such legendary literary icons as Brad Gooch and Sarah Ban Breathnach. Sensing the importance of including an author who was around during the First World War, when guns were guns and men were men, they picked Herman Wouk, who turns 98 in a few months. Can you imagine the whole-is-greater-than-the-sum-of-its-parts firepower of this trio?
All these choices are fine as far as they go. But everyone knows that music is the most potent communications medium known to man, so it's no wonder that the NRA has been especially careful in identifying its musical adversaries.
There's no mystery behind the inclusion of Barbra Streisand (the only singer who also made Nixon's list), Peter Yarrow and Judy Collins, who together have inhabited our planet for 217 years, just four fewer than the Second Amendment's entire existence. Throw in Tony Bennett, who left his lefty heart in lefty San Francisco and is still singing love songs at 86, and you have more than 300 years worth of tuneful foes.
(One quibble: The NRA should have refrained from putting Andy Williams on their list, for two reasons. Number one, he's dead. In addition, Williams believed Barack Obama to be a foreign-born communist, which ought to put him in posthumous good stead with the gun lobbyists.)
A particularly fascinating choice is the Temptations. Here's a group that's been around for 50 years, and most of its original members passed away decades ago. One wonders which of the two dozen or so Temptations pose the gravest threat to the NRA; my guess is that the Temps of 43 years ago were singled out for "Ball of Confusion," which features the couplet, "Evolution, revolution, gun control, sound of soul/Shooting rockets to the moon, kids growing up too soon."
Barry "I am music" Manilow, Art "Don't know much about history" Garfunkel and Britney "Oops..." Spears are also, apparently, among those who, to borrow a phrase from George W Bush, hate us for our freedom. What do they have in common? They've made music videos, which, according to LaPierre, are far more dangerous than the 300 million guns owned by Americans.
Finally, the NRA must see something particularly insidious about the influence of long-in-the-tooth boy bands -- their list embraces both Nsync and Boyz II Men. The Backstreet Boys are conspicuous by their absence -- rumor has it the gun lobby will use that group's signature song "I Want It That Way" to symbolize their take-no-prisoners negotiating stance.
Michael Sigman
Republished from the Huffington Post with the author's permission.
Sunday, 9 Febraury 2013
Follow Michael Sigman on Twitter: www.twitter.com/majorsongs