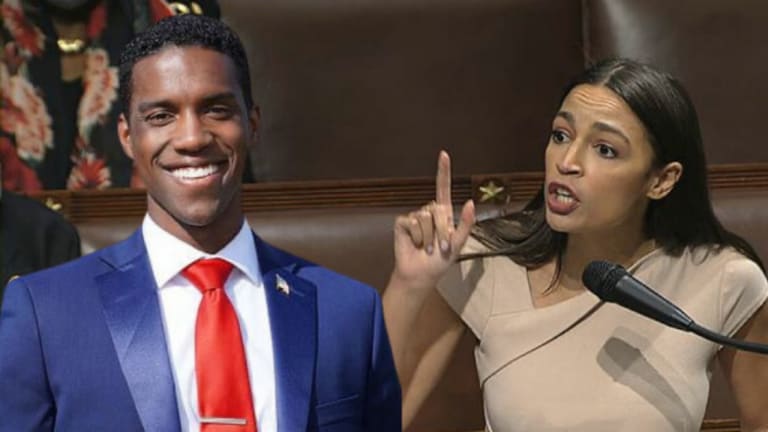 Army Officer GOP Candidate Who Denies Biden's Presidency Gets More Brazen; Army Does Nothing
About a month ago, in a post titled "Army Chaplain Running for Congress Denies that Biden is President, Vows to 'Take on AOC,'" I wrote about Army Reserve 1LT Alex Stovall, a GOP candidate for Congress from Arizona.

In that previous post, I said that 1LT Stovall was violating both military regulations and the Uniform Code of Military Justice (UCMJ) — the military regulations that prohibit the wearing of the uniform in political campaign ads and interviews, and Article 88 of the UCMJ, titled "Contempt toward officials," which states (emphasis added):
"Any commissioned officer who uses contemptuous words against the President, the Vice President, Congress, the Secretary of Defense, the Secretary of a military department, the Secretary of Homeland Security, or the Governor or legislature of any State, Commonwealth, or possession in which he is on duty or present shall be punished as a court-martial may direct."
The very next day after the Army Times reported that Stovall was under investigation, 1LT Stovall became even more brazen by tweeting from his campaign Twitter account several tweets implying that Biden is a pedophile!
How was 1LT Stovall violating Article 88? By denying that Joe Biden is the president. Stovall, in an appearance on the GunFreedomRadio podcast, had very publicly made his made his opinion of Joe Biden and the legitimacy of the 2020 election very clear, saying:
"We saw the inauguration of this well, I don't think he's President but whoever you would call this sleepy guy in office"
On May 27, the Military Religious Freedom Foundation (MRFF) sent a letter to Secretary of Defense Lloyd Austin demanding that 1LT Stovall be punished for his violation of military regulations and open contempt for the President of the United States.
And on May 28 the Army Times reported that the U.S. Army Reserve Command was investigating 1LT Stovall
"We are aware of the situation and are investigating," Lt. Col. Simon Flake, an Army Reserve Command spokesman, told Army Times. "Due to the ongoing investigation we are unable to provide more information at this time."
LTC Flake further told the Army Times:
"The U.S. Army Reserve follows the Department of Defense's long standing policy regarding service member involvement in partisan political campaigns to avoid the perception of DoD sponsorship, approval, or endorsement of any partisan political candidate, campaign, or cause." … "Standard procedural steps are being taken to ensure the investigation is conducted in a timely and thorough manner and appropriate rights will be afforded to all involved."
The very next day after the Army Times reported that Stovall was under investigation, 1LT Stovall, rather than showing any concern, became even more brazen, not only doubling down on his opinion that President Biden isn't the legitimate president by calling him "ResidentBiden," but adding even more UCMJ-violating contemptuous words about the president — by tweeting from his campaign Twitter account several tweets implying that Biden is a pedophile!
First, he retweeted a video of compiled clips of President Biden at various events, intended to make it look like the president was inappropriately touching the young girls who were present, saying of the retweeted video, "I'll just leave this here."
Then, an hour later, referring to President Biden's somewhat awkwardly telling a little girl at a military event how grown up she looked, tweeted (emphasis added):
He also retweeted a tweet from Florida state representative and Trump sycophant Anthony Sabatini saying that the result of the Arizona audit was going to be "earth shattering,"
1LT Stovall's doubling down on the very offenses that he knew he was under investigation for by the Army Reserve Command prompted MRFF founder and president Mikey Weinstein to pen an open letter to President Biden, headed "Prosecute Army Officer Who Says You're Not President (But Are a Pedophile)."
But wait! There's more!
In the last few days, 1st LT Stovall has become even more brazen.
He has now changed his name on his campaign Twitter page to include his military rank – changing it from "Alex Stovall" to "1LT Alex Stovall" – and now describes himself in his Twitter bio as "1LT Running to take on AOC's corruption." This use of his military rank for political purposes in this manner is yet another blatant violation of military regulations on political activities, the same regulations that he is already under investigation for violating!
And even more …
There is another "big lie" in 1LT Stovall's tweets and campaign videos and appearances — his claim that he's a military chaplain. He isn't! He is merely a chaplain candidate. And even though his chaplain lie was exposed by the Army Times, he persists in his fallacious claim, keeping his lie up as the pinned tweet at the top of his campaign Twitter page.
In light of 1LT and GOP candidate Stovall's continued flaunting of military regulations and the UCMJ, MRFF's Mikey Weinstein has once again reached out to Lieutenant General Jody Daniels, the Chief of Army Reserve and Commanding General, U.S. Army Reserve Command, demanding that Stovall be punished. The following was the email exchange yesterday:
Chris Rodda
Military Religious Freedom Foundation