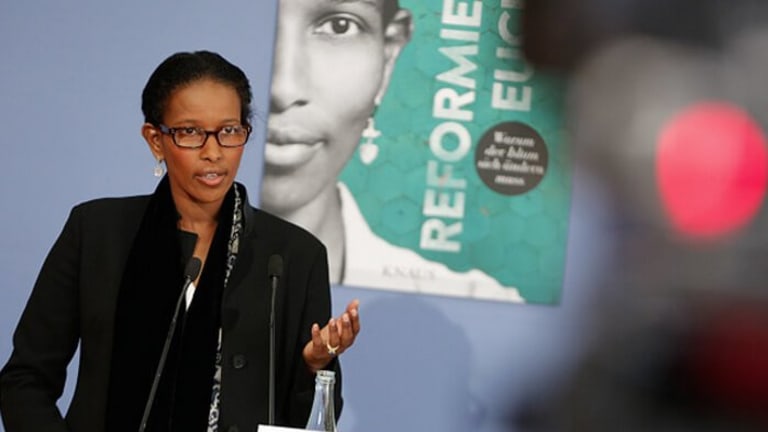 Ayaan Hirsi Ali: American Inquisition
Shayan Elahi: One of the most celebrated in the lucrative cottage industry of Islamophobia is the Somali born, Dutch import, Ayaan Hirsi Ali, who uses the account of her own victimhood to drown with invectives and victimize a minority religion in the U.S.
One of the most celebrated in the lucrative cottage industry of Islamophobia is the Somali born, Dutch import, Ayaan Hirsi Ali, who uses the account of her own victimhood to drown with invectives and victimize a minority religion in the U.S. While her aficionados intellectualize islamophobia as a justifiable approach to defend the on goings in the Middle-East, which to them is the entire so called "Muslim World". Her CV on the Harvard website lists her victimization before her education and area of expertise.
The traumatic events in her life, neatly highlighted as if the tragedy of her birth and her reaction to the savagery of her immediate family and the patriarchal community into which she was born, is the foundation of her life's work. Her deep trauma, and resentment of individual suffering has been liberally interpreted as grounds for victimizing others, who are not directly or indirectly connected to her suffering, other than a tenuous connection to a shared creed.
To illustrate the damage Ms. Ali does to rational public discourse, one need only look at her public inquisition of journalist and TV presenter Mr. Wajahat Ali, (no relation to Ms. Ali) who works with Al-Jazeera, and just happens to be Muslim. She questions his moderation and his level of affinity to the dogma which she thinks exposes him as a hack. With much hostility, and without even the limited civility, that exists in social media, she posed four questions as a litmus test challenging his morality and his dignity in the fashion unbecoming of anyone, with any level of seriousness, in academia, leave alone Harvard. The questions in her usual reductive and absurd style were deceptively amusing, she's tweeted to Mr. Ali the following query;
What is your take on enjoining good and forbidding bad?
How invested are you in Life-after-death?
What is your take on Muhammad's conduct in Medina after Hijra?
Do you hold Sharia to be above man made law? What is your take on Jihad?
We can interchange Muhammad's conduct to the conduct of various Popes, or of several Jewish Kings, (Samuel and David too might fail), or we can substitute Sharia for Canon or Halakhah, but that would be unfair and misleading. Her questioning reeks of half-baked pseudo-intellectual chicanery. Consider if a Catholic altar boy whom, having been molested by a Catholic priest, had made it his life's mission to defame and malign Catholicism as a dogma and a belief system, by attacking every Catholic as a pedophile. The fervor, with which Ms. Ali chases everyone who even dares to be in the public sphere and call themselves Muslims is that of such a wronged Catholic altar boy.
Many in the U.S., who eagerly grasp at anything that can explain the so called "Muslim World" to them, due to her peculiar history have made her a cause celebre, paying no mind to the deep injustice she causes the American children , who happen to be born in Muslim homes. (I will let the reader determine the level of irony operating in this cycle of victimization). Nor to the fact that at the very core, Ms. Ali is fundamentally on the wrong side of the American Constitution and all guarantees of liberty that extend from it to all Americans – regardless of race or creed i.e. the freedom of religion, bringing with it the right of not being publicly ridiculed for one's metaphysical beliefs. With fellow travelers who have seized on this agenda to carve out a new genre of public and scholarly discourse (with the accompanying commercial benefits, of course), such as Bill Maher and Sam Harris, Ms. Ali shines bright. Bigotry and misplaced anger provides the fuel for her fire and she occasionally elicits a confused applause from the well intentioned liberals, usually the ones who have been bamboozled by Bill Maher; but her nervousness under scrutiny from Jon Stewart, was palpable.
But what remains to be asked is whether merely attacking another's belief system is still philosophically tenable. Can someone, in this day and age, justify the application of socio-political pressure on a community of people to condemn their God and deny their scripture? A critical or even a hateful approach to another's beliefs, and religious structures, does not bring with itself the justification for creating domestic assault on minority religions. The level of vitriol that Ms. Ali and her school of thought has brought to U.S. society was evident in the siege of a mosque by armed domestic terrorists on May 29, 2015, without much resistance from the local authorities, or condemnation by the political elite.
An argument could also be made that if one condemns one monotheistic religion then one condemns all three. After all, the familial nexus of Judeo-Christian-Islamic dogma is undeniable. Why does Ms. Ali and her ilk not demand the followers of all three cousin religions to condemn and eulogize their beliefs. The fact of the matter is that the Quran and the Bible both have Torah and other Judaic scriptures as basis of their fundamentals and origin story (and one can trace the roots further back to Sumerian, Egyptian and pre-Semitic Canaanite myths). Therefore, it should logically follow that those who attack Islam to also attack Judaism and Christianity.
Why not ask Christians to sever the Torah from the New Testament physical and openly condemn the God, presumably the same God of the Old Testament, and ask Jews to give up their religion completely. Of course I am being facetious, as this would not be acceptable for various reasons besides its sheer ridiculousness and impracticality. The metaphysical and ethical realm influenced by religious doctrine is not the same as science and hence to scrutinize it through the lens of science and logic is akin to religious fundamentalism, which sees all realms solely through the scope of religious dogma. An inverse inquisition if you will.
These public intellectuals and media showboats attack American Muslims and demand apostasy, and an adherence to only her version of a 'moderate Islam', while never taking into account most of the rights we accept as guaranteed by secular state were brought about by forces and activism of leaders and political philosophers with moralistic underpinnings stemming from the same meta-physical space that brought about the compulsion and courage to struggle for the separation. Reason, spiritual and mystical exercises, and revelation all are intricately connected to the sheer desire for people to understand the meaning of their individual existence and that of the human collective, and what, if anything lies beyond. Modern living, for millions tends to be inclusive of element of all three. The governmental structures present to protect, or define the scope of its expression. To separate the two is not to deny the one. To have an ongoing relationship with the deity of your choice and to breathe in life, however flawed to some, into the scripture of your choosing, without being attacked for it, is a fundamental human right undeniably protected under the 1st and the 4th.
I have refrained from generalizing and questioning the currency of Ms. Ali's victim status. This has been a difficult restraint because my immediate instinct was to judge the person who has generalized and judged over 1.4 billion people. She lectures the "Muslim World" about critical thinking, but herself has abandoned all nuance in her blatant attacks as if all Muslims were one tribe. Her approach to this legitimate debate makes one wonders if she has actually ever really recovered from her trauma.
From my understanding of her story, it seems that she has turned her trauma into an obsession and used it in her life to propel herself from situation to situation, first seeking asylum and then to seek political influence to be appointed to the government in Netherlands, and then once that government discovered her falsehoods, to run away to safer harbors in the U.S. to seek others, who like her, were fuming mad at Islam for reasons of their own choosing – this is the continuing saga of public display of hate at the misfortune of her birthplace.
In the US, aided by Belfar Center at Harvard University and the backing of others practicing the niche of Islam bashing, she pursues to reduce to a social rubble, a religion of at least 72 sects, to the grossly reductive categories of "Mecca and Medina Muslims", laughable, yes, if it weren't coming from a Harvard-funded individual. One can only surmise that such a reductionist approach to a large swaths of humanity has to be very tribal-centric, where she—despite being out in the international sphere for decades—is inescapably stuck, incapable of making abstract and critical determinations of the diversity of the religion that she condemns so vehemently.
This tribal-centric view keeps her from where she cannot even recognize that millions of Muslims live cosmopolitan lives with frameworks that recognize secularism, modernism and tolerance and that secularism in some of these countries, despite the socio-economic limitations, has been long implemented through dual common-law judicial systems and a political compromise with their colonial past.
It should not be beyond anyone's fair judgment, that her behavior is by no means acceptable as a presumed academic, her exploitation of her own victim status to victimize others is an affront to all individuals, including myself, who sympathize with her past suffering, and this Harvard funded inquisition is surely an ominous sign of the times, and a clarion call for American Muslims to stand up, organize better, and challenge the Grand Inquisitors, who continue to chip away and make gains against all our constitutional rights in a very public way.
Shayan Elahi, Esq.
Shayan Elahi is a civil rights attorney practicing in Florida and Texas where he has been involved in high-profile cases. He has appeared on CNN, FOX, BBC, NPR, and various local media.