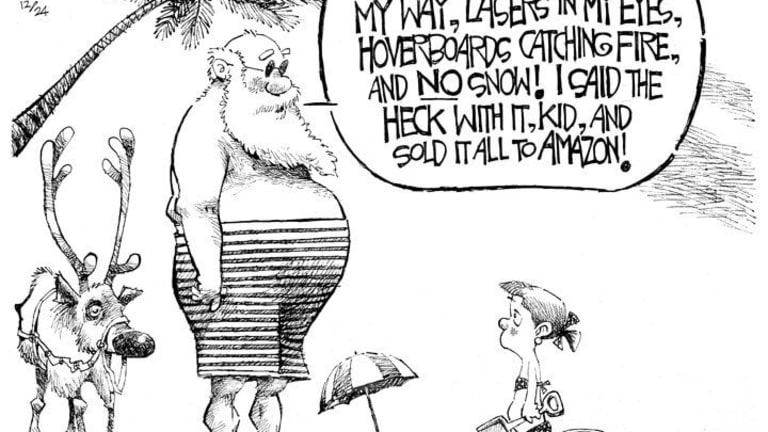 Christmas Is Always and Never the Same
Steve Hochstadt: I haven't stayed up late on Christmas Eve putting together a Barbie ice cream shop for many years.
I learned about Christmas from my wife Liz's parents, Janet and Roger. My own Jewish parents had put on a few Christmases for us, mainly as an excuse to give us presents. I can't remember if we had a tree. Those occasions left no permanent memories for me.
When my generation were all young marrieds, Christmas took place at my in-laws' house, around their tree, under their control. Every year the same foods were served and rituals were enacted, annually reproducing the Christmases my wife and her two sisters had grown up with.
I haven't stayed up late on Christmas Eve putting together a Barbie ice cream shop for many years.
I discovered there that Christmas is a family moment like no other, a universal celebration transformed into family customs, spiced with surprise and generosity. Everyone was welcome and I jumped right in.
Soon the next generation appeared in a flood, six cousins over 5 years. The needs of young families scattered across the country sometimes interfered with tradition. We had a Christmas in Maine one year with a tiny live tree, still growing these days as a towering spruce in our former front yard.
Gradually more control migrated to my generation, whether by default or assertion, it's hard to say. I felt empowered to express my wish that chipped beef on white toast, the notorious SOS, would disappear from the Christmas morning menu by demonstrating that a whole loaf of Wonder bread could be balled up and put into my pants pocket. The tomato aspic at Christmas dinner, a relic of a long dead generation which became the source of risqué humor among the youngest generation, disappeared.
Family never stops changing with time, and now my children's generation are in charge of their Christmases, shared, or more accurately, divided between families near and far. This year, Jack, the first child of a new generation, has joined us, a grandchild to my generation, to others a great-grandchild or a nephew. Jack's parents decorated their own tree and negotiated their Christmas celebration among competing sets of families. We became guests. The traditional rituals of our extended family were not abandoned, but reshaped into new circumstances.
I realize only now that Janet and Roger had not always created Christmases. They had grown up with the Christmases of their elders, then gradually took control, not in a struggle for power, but as part of life's inevitable progression. By the time I learned about Christmas from them, they were in the middle of their phase of temporary control.
I miss their raucous family gatherings, organized by two generations of adults for the benefit of our children. I haven't stayed up late on Christmas Eve putting together a Barbie ice cream shop for many years. Those delightful Christmas mornings are unforgettable, when our children and their cousins gathered excitedly at the top of the stairs, waiting for the signal to dash down toward the presents under the tree.
Those were high points during one stage in all of our lives. Those Christmases were shaped by the unique circumstances of three generations, all in agreement that these celebrations must go on forever, but unable to alter the passage of time. They have given way to a more patient brewing of coffee and tea before unwrapping stocking gifts.
As in many other things, my generation of post-war babies has had our day. We played our role as teachers of Christmas. What our children choose to take into their own Christmases will eventually tell us how we did. Baby Jack is the first of a new generation of kids, for whom Christmas will be recreated and repeated until they are old enough to know how they want to celebrate family and tradition.
Trees will still be decorated, presents wrapped and stockings filled. Well-loved ornaments will reemerge from their boxes. The repetition is comforting, and the not entirely predictable changes will remind us how exciting Christmas is for everyone.
Steve Hochstadt
Taking Back Our Lives