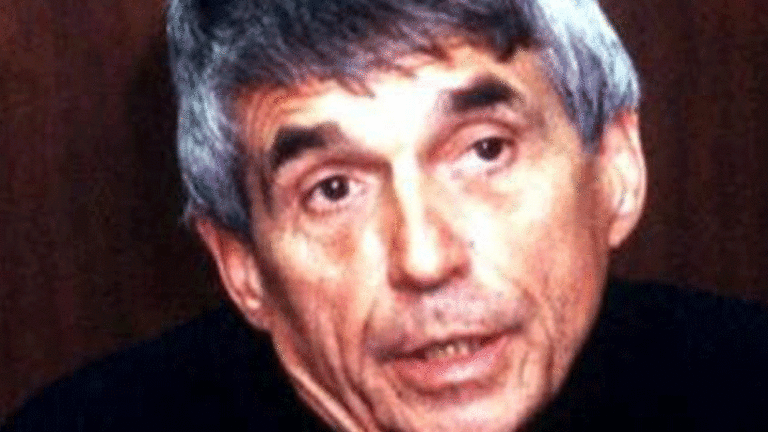 Father Daniel Berrigan, S.J. May 9, 1921 to April 30, 2016
Joseph Palermo: In 1994, as a graduate student I had the great honor of spending some time with Father Daniel Berrigan, S.J. after some of us organized an event where we invited him to return to Cornell to give a talk about his experiences there when he was a chaplain from 1967 to 1970.
In 1994, as a graduate student I had the great honor of spending some time with Father Daniel Berrigan, S.J. after some of us organized an event where we invited him to return to Cornell to give a talk about his experiences there when he was a chaplain from 1967 to 1970. I will never forget the experience of driving with Father Berrigan from Ithaca, New York to the airport in Syracuse at the close of his visit. His warmth and kindness, his commitment to social justice and political activism, his way with words and self-sacrifice affected me deeply. Every brief moment I was with him I felt I was in the presence of a shining example of what it means to be a human being. In May 2001, I was again deeply moved when I witnessed the outpouring of love at his 80th birthday celebration at Saint Paul the Apostle Church in Manhattan. And in 2011 when I saw photos of the 90-year-old Father Berrigan at Zuccotti Park lending his support to the Occupy Wall Street movement I thought about the continuity he embodied of the long struggle for justice in this country to which he dedicated his life.
Below is an early version of a biographical sketch I wrote about Daniel Berrigan for a seminar at Cornell after interviewing him in 1994 and researching his papers held in Olin Library. An edited version was published in The Human Tradition in America Since 1945edited by David L. Anderson, (Scholarly Resources, 2003).
Daniel Berrigan, S.J. and the 1960s
Father Daniel Berrigan, S.J., poet, author, playwright, and social activist, emerged in the decade of the 1960s as one of the nation's most influential peace activists. In that turbulent decade, Berrigan embarked on a journey of writing and social activism unique in American history. His activism and tireless work for peace and social justice has continued over the course of the last thirty years, but is was in the intense struggle over the Vietnam War that polarized the nation when Daniel Berrigan emerged as an "apostle of peace."
Daniel Berrigan was born May 9, 1921, in the small town of Virginia, Minnesota, into an Irish and German family that strongly identified with faith in the Catholic Church. The family moved to Syracuse, New York in 1926, where his father, Tom Berrigan, (nicknamed by the family "Dado"), worked as a licensed steam boiler and repair man at St. Mary's Maternity Hospital. Daniel was the fifth of six boys, and early on he was known as the bookish, mild brother; he had a deeply close relationship with his devout mother, Freda Fromhart Berrigan, and a volatile, often strained, even competitive relationship with his father. Young Daniel spent hours of his childhood reading voraciously and keeping to himself when the other boys were outdoors playing. When he turned eighteen, his interest in scholarship and in Christ led him to seek the priesthood as a member of the Society of Jesus. His mother was extremely proud and supportive, "Dado" less so.
At the novitiate at Saint Andrew-on-Hudson, Daniel entered the cloistered life of the Novice in the disciplined Jesuit order. He wrote many tender letters home, which show his gift as a writer even as a teenager, and he often wrote to his family about his excitement and love of seminary life. On New Years day 1940, after only a few months as a Novice, Daniel wrote home: "It has been a never to be forgotten week — an experience which older Jesuits recount with tears of joy in their eyes — a first Christmas at Saint Andrew."
Daniel's early letters home reveal his strong identification with his mother who shared in his faith and devotion, and especially to his younger brother Philip, whom he would later encourage to join the priesthood. He described his acetic daily life where Novices and "Juniors" worked long hours on the grounds of the Poughkeepsie, New York seminary, gardening, cleaning, honoring Saints' days, and praying under strict vows of silence. Daniel learned Greek and Latin as well as French and studied French literature; he lived a simple life dedicated to books, meditation, and faith that he had longed for since a child.
In 1940, cloistered at Saint Andrew, the nineteen-year-old showed little concern for world events on the eve of World War Two, but did express worry for Jesuits throughout Belgium and Germany. In December 1941, when the United States went to war against Japan and Germany, Daniel wrote a rare letter to his father, wherein some of his earliest thoughts about world peace are present:
"What a precious and rare gift it is to see these great ones moving about on the tiny palm of the Babe's hand — an insight which is ours, but which we so often allow to become obscured in the bitter reality of visible strife and defeat on all sides for the cause of Christ. . . .
"These are the days, so it seems to me, when a definite separation is at hand, when the middle course is no longer possible, and the Standard of Christ or of Satan must once and for all be embraced. But the first step in the making of a martyr, whether of blood or of love, is the conquest of the enemy which lies within our own hearts — this is the daily task and prepares the way for greater victories."
Daniel urged his younger brother Philip to secure a draft deferment, but in the spring of 1943, when Philip was inducted into the army, he gave his blessing. When Philip had a brief furlough later that fall, the two brothers were able to spend what Daniel called a "perfect day together." He subsequently wrote Philip, sharing his excitement with having his first poem published, and counseled him to keep his faith, and to believe that God wanted him to serve in the military for a reason. At this time in the young Novice's thinking about peace there was no unequivocal call for noncooperation in all war or of an uncompromising pacificism.
Daniel continued on the path of the Jesuit, toiling away with his studies and prayer, moving through the ranks to Junior consistent with the thirteen years of training of the ancient order. On June 29, 1952, he was ordained a Jesuit priest, and he offered his first mass in the Church of Saint Anthony of Padua on West Colvin Street in Syracuse; tender invitations went out to family and friends. Four years later, Daniel would write a poem, "The Innocent Throne," in honor of the ordaining of Philip into the Society of Joseph. The two youngest Berrigans were both clergymen.
When the Congress of Racial Equality (CORE) began its "Freedom Rides" into southern states using racially-integrated bus riders to challenge segregation laws on inter-state bus lines, Daniel and Philip Berrigan wholeheartedly embraced the cause and wished to help. The African-American struggle had opened their eyes and Daniel's understanding of social injustice had deepened markedly since his early days at Saint Andrew. The nation was "experiencing the birth pangs of the southern crisis," he wrote in June 1961,
"More and more precipitated by the "midwife" tactics of the freedom riders . . . As usual, the Catholic response is negligible; we will pay for this before Christ, . . . We are allowing the secular humanists . . . to teach us Christianity in its richest and most painful sense, and ourselves are fading into a poisonous silence of cowardice and luxurious shadows. . . . I take it as one of the greatest gifts of my priesthood that . . . I am allowed some part in those issues of the heart of man which are making the secret history of man — peace and the interracial convulsions of man."
In the summer of 1961, both Daniel and Philip Berrigan attempted to join the Freedom Riders; they wrote letters requesting permission from their "major superiors" in the Church, and Daniel was "courteously" refused. Philip went to the CORE headquarters, but the Josephite hierarchy ordered him to abandon the freedom ride after the Archbishop in Mississippi complained. This denial from their superiors to participate in nonviolent direct action led Daniel to conclude: "We are in a great period of complacency and inaction" in the Church. (Daniel also routinely had to submit his poetry to his superiors in the Church and obtain a "censor's report" before he published anything. )
The Berrigan brothers were keen to jump into the civil rights fray, but obedience to their respective Catholic orders prevented them from taking action; however, neither brother would again allow their loyalty to the Church hierarchy stifle their need to take direct action for progressive social change; (indeed, Philip would eventually leave the Josephite priesthood, mainly as a result of conflicts centered on his civil disobedience).
In November 1960, with the election of President John F. Kennedy, Daniel was optimistic about what he might accomplish, the youthful Irish Catholic president had earned the Jesuit's respect. Father Berrigan urged his family back home to read Michael Harrington's gripping account of poverty in the United States, The Other America, a book President Kennedy had praised, which he recommended to "all souls." Berrigan had spent time with the Kennedy family, and in 1962 he sent President Kennedy a letter expressing his "deep personal esteem," and enclosed copies of his most recent three books. "They go to you with the prayer that your courage, cheerfulness, and moral and cultural leadership continue to hearten our country and our world. With every blessing and good wish — (Rev.) Daniel Berrigan, S.J."
In November 1963, while on a sabbatical leave in France, Berrigan shared his thoughts with his family on the assassination of President Kennedy. He wrote that after the news of Kennedy's death became known the cathedral at Notre Dame had been "packed to the doors," and the French Catholics were "having some sharp second thoughts on the horrible Texas Western which followed on the president's death; . . . like a cheap TV thriller, the murder of a man [Lee Harvey Oswald] who had no benefit of process of law."
In the early 1960s, Daniel Berrigan's political and social awareness deepened, and a profound sense of social justice emerged more forcefully in his poetry, which he prolifically produced in this period. His views on American society shifted with the times, as did the views of millions of Americans. In February 1964, months before the Tonkin Gulf incident that August, a full year away from the introduction of United States ground troops, Daniel wrote his family that he had already "grow[n] more weary and resigned to the military as the only solution of things; something that is proving it[s] uselessness is V[iet] Nam." He also wrote to then Attorney General Robert F. Kennedy, who was grappling to find his own political path to follow, praising the slain President's younger brother for his recent trip to Poland, and invited him for an informal gathering to chat.
That Spring, Berrigan traveled to South Africa and worked with Catholics there; cast before his eyes were the grotesque injustices of the apartheid racial segregation system. "I am still learning to my horror," he wrote Philip, that the Africans were the "most persecuted and deprived majority of the people," but were also "the heroic elements of the Cath[olic] population."
Professors at several white South African universities refused to meet with Berrigan who was affiliated with a group called "The Grail." "The terrible thing is that the really imaginative and basic human beings are so shuttled around, and pummeled by the diabolic ingenuity of the government, that they see no way out, neither non-violent action, nor political action."
Berrigan subsequently wrote an open letter to the President of South Africa wherein he decried the treatment of blacks in the apartheid state, and drew forceful parallels, as many civil rights activists had done, between the treatment of blacks in South Africa and in the American South.
In June 1964, Berrigan privately expressed some surprise when the Society of Jesus ordered him to leave LeMoyne College in Syracuse, New York, where he taught theology, literature, and other courses, and sent him to New York City to be editor of Jesuit Missions, a monthly magazine. From his New York vantage point, Berrigan began tirelessly organizing clergy and lay groups dedicated to peace in Vietnam and other issues of social justice.
Father Berrigan could sense the shift in ideology of those around him. "The Lord has led me into a few unpopular causes," he wrote his family, "which in the past six years I feel have been taken up locally and are now in the air and being accepted by people who formerly would not have thought in the same way."
By 1964, Berrigan was already well accustomed to being an iconoclast among the Jesuits, and he felt victimized to a degree by his own Catholic order for being out front on the pressing issues of peace and social justice, which were having a ripple effect inside the community of faithful.
Some among the Church leadership, most notably the staunch conservative anticommunist and supporter of the Vietnam War, New York Archbishop Francis Cardinal Spellman, became perturbed with Daniel Berrigan's peace activism. Spellman decided to order the unruly Jesuit out of the country to serve in Latin America as a means to silence his outspoken criticism of the imminent catastrophe in Vietnam. There was an outcry of support for keeping Berrigan inside the United States among his friends and colleagues, but he obeyed the orders of his superiors, and ended up turning his banishment into an important mission to grapple with United States economic domination of Latin America. He returned after a four-month stint in Mexico with a deeper understanding of poverty and America's role in the world.
In the summer of 1964, on another sabbatical leave, Berrigan traveled throughout Eastern Europe, and even to Moscow, sending home insightful and realistic assessments of the limits placed on religious expression in the Soviet Union. He lamented the fact that there was no constructive dialogue between Socialists and the Catholic Church. His "Marxist hosts," he wrote, "were battling away at 19th Century windmills. They seem utterly unaware that church thought has developed a humanistic biblical faith and expects that a mature Marxism would meet a mature Church." The French "worker priests," who combined their faith with the struggle for social justice into a form of what might be loosely called "liberation theology," had profoundly moved Berrigan. He was disappointed to find that the Church in Eastern Europe bereft of any comparable ideas about social, conceding all of the important social issues to the Marxists.
In France, the "worker priests" had cooperated in furthering the progressive social goals of secular Socialists and Marxists; Berrigan saw this cooperation as "actually enriching the world view and the view of man held by the other." Although he embraced Marxism's critique of class society and the exploitation of the poor, he raised his own criticisms:
"Marxism is still too young to be able to claim, as it has today, that its conception of man corresponds to reality. It has probably only constructed a theory of man's nature. It needs the invigorating flow of Christian insights, in order to keep its eyes on man as he actually exists and develops. To will the other out of the picture, as Marxists treat Christians, and as Christians often treat Marxists, is to cut the real world in half, and live off half of reality."
In his public and private writings and in his social activism in this period, Berrigan proved that he was, to put it mildly, a very open-minded Catholic priest. He refused to accept the reactive anticommunism of most of the Church hierarchy, such as Cardinal Spellman, but neither was he willing to embrace the Marxist view of human nature and society as satisfactory.
The civil rights movement in the American South lay bare the hypocrisy of the American political system, its legal justifications for social injustice and racism, and the repression lurking beneath the veneer of an affluent society. The activities of CORE's freedom riders, Martin Luther King, Jr.'s Southern Christian Leadership Conference, and the Student Nonviolent Coordinating Committee (SNCC), educated Berrigan as they had millions of other Americans. More than the French "worker priests," or even the poverty and repression he witnessed in Latin America, it was the stirrings of African Americans, their tenacity, solidarity, and the power of their nonviolent civil disobedience against entrenched social forces, which revealed to Berrigan and his brother Philip the paths their own lives would have to take.
By mid-1965, Berrigan's activities against the U.S. course in Southeast Asia stimulated a negative reaction from not only the Church hierarchy, but from some right-wing groups. In July 1965, the same month President Lyndon Johnson decided to send United States combat troops to Vietnam, members of the far-right John Birch Society picketed in front of a Detroit meeting hall where Berrigan participated in an ecumenical peace liturgy. The Birchers "practically were able to break up the meeting," Berrigan later wrote, "good thing the police were there; it was the first time I have been happy to see the boys around."
In the fall of 1965, Father Daniel Berrigan, Rabbi Abraham Heschel, and Reverend Richard John Neuhaus formed "Clergy Concerned About Vietnam: An Ad Hoc Committee." This group would evolve into "Clergy and Laity Concerned About Vietnam" (CALCAV), and become one of the nation's most significant organizations seeking peace in Vietnam. Berrigan also co-founded the Catholic Peace Fellowship (CPF), which became equally indispensable to the movement.
On November 9, 1965, a twenty-two-year-old Catholic Worker activist, Roger LaPorte, who worked with Dorothy Day's Catholic Worker Center in New York, set himself afire in front of the United Nations building in New York City in protest of the Vietnam War. Berrigan was deeply shaken by the immolation of this young man who had sacrificed himself in the same manner Buddhist monks in Vietnam had immolated themselves in protest of the U.S.-backed Saigon regime.
Berrigan spent long hours beside LaPorte's hospital bed as he suffered and succumbed to his self-inflicted wounds. Berrigan referred to LaPorte simply as the "Catholic Worker boy." In a letter to family Berrigan wrote:
"It seems as though the times threaten to swallow one alive. How terrible that men should be driven so far by the war atmosphere and the frustrations and anguish of these days of death! I had met him several times along with others at the Worker; you can imagine the shock this induced in all who are there, and in Dorothy [Day] herself."
He called upon family members to pray for LaPorte as well as for the success of the newly formed CALCAV to honor this ultimate sacrifice.
Some among the Church leadership, most notably the conservative anti-communist head of the New York Archdiocese, Francis Cardinal Spellman, grew increasingly perturbed with Daniel Berrigan's activities. Spellman was livid upon hearing that Berrigan had spoken at a requiem for LaPorte and had stressed the meaning behind the young man's suicide. The cardinal ordered the unruly Jesuit to serve in Latin America as a means of silencing Berrigan's outspoken attacks on U.S. policy in Vietnam, which Spellman vigorously supported. Among Berrigan's friends and colleagues there was an outcry of support for keeping him inside in the United States.
Berrigan obeyed the instructions of his superiors and after arriving in Latin America In February 1966, ended up turning his banishment into an important mission to grapple with the pervasive, crushing poverty in Latin America that went hand-in-glove with U.S. economic domination. In early 1966, on a whirlwind trip through Latin America, Berrigan's understanding of the role of the United States in the world deepened; he reported back to his family from Chile:
"It is all quite sobering; part in fact of the massive Yanqui invasion and determination to keep a sort of economic colonialism going on . . . (the AFL-CIO activity here is strictly according to state department and CIA guidelines), and in the Alliance for Progress flop since Kennedy's death. . . . L[atin] A[merica] is a huge defenseless frontier for our exploitation. In the last ten years, some seven billions invested in several loudly touted plans of aid; but in the same period, some 17 billions extracted in profits. Well, so it goes . . . "
Berrigan was cognizant of the skewed class relations in Latin America and the role played by the United States in maintaining the status quo; (his singling out Chile in 1966 was prescient given the events that would follow there over the next seven years). He subsequently wrote his family from Peru a heart-wrenching description of poverty in a slum outside of Lima. He praised some of the "heroic" Agency for International Development (AID) workers and Peace Corps engineers, but pointed out that "2% of the country is in complete possession of the economy and therefore of the government, the military budget is one of the highest in L[atin] America. So it goes . . ." There is a plaintive tone in many of Berrigan's letters home in this period when he writes of the disgusting social injustices he confronted all around him; some of this flavor slipped into his poetry and prose.
Father Berrigan traveled through Columbia, Argentina, Venezuela, and Brazil, and he mentioned providing help in Mexico to "a young Brazilian incendiary exile," less than two years after the U.S.-backed military coup in Brazil. Perhaps the seeds were planted during this trip to Latin America for Berrigan's later willingness to himself become an "incendiary exile" in his own country. He stayed with dozens of Maryknolls, Benedictines, and other Catholics who toiled with few resources to help the enormous numbers of poor people in their communities.
Berrigan seemed to have been taken the most with Chile, complimenting the spirit of the people, and reporting home Chile had "the most enterprising and imaginative Jesuit team south of the Rio Grande." He harbored no illusions about the social unfairness in Chile, and the upper classes' disregard for the poor, which he called "the brutal hardened systems of privilege that keep about 80 percent of people outside the economy, outside political systems, caught in a vicious cycle of disease, ignorance and early death"; this state of affairs, he believed, caused an "inarticulate despair" to grip "the vast majority" of the people.
He confronted the daunting challenges of the Church in Latin America, as well as the crying need for a clergy capable of a deeper "understanding of world reality." Berrigan moved naturally toward a kind of "liberation theology." He became a barefoot activist priest, and he would do all he could to plant the seeds of a similar movement in the fertile soil of the United States in the 1960s.
In the spring and summer of 1966, Berrigan determinedly organized peace fasts and vigils, and sent letters out to Catholic, Jewish, and Protestant clergy calling for greater direct action against the war in Vietnam. "We believe that the Vietnam War," he wrote in one call letter echoing a letter he had sent home from Latin America, "is a mirror in which we may see the despair of those who live and die outside the structures of hope; without education, condemned to illness, ignorance, insecurity and early death." Berrigan offered to any Jesuit who would listen specific proposals for protests against the war.
In the early-1960s, Berrigan's peace activism made him one of the earliest and most outspoken members of what might be called the Catholic Left, often placing him at odds with the largely conservative Church leadership. "It's been a disgrace of the church," he later said, "that it's allowed war after war to continue without a Catholic resistance."
Daniel and Philip Berrigan were beginning to make progress in redirecting the mission of Catholic clergy and laity toward the goal of attaining peace in Vietnam. Philip Berrigan had served in France and Germany during World War Two, and later ordained into the Society of Joseph. In the early-1960s, he began teaching at a Catholic high school in New Orleans, a city that was then struggling with the divisions caused by decades of racial segregation. The Berrigan brothers soon became two of the earliest clerics to speak out unequivocally against United States policy in Southeast Asia, and to begin to take action against it. Philip Berrigan worked closely with Daniel and often prodded his older brother into taking greater personal risks in the name of peace and social justice.
In August 1967, Father Berrigan became an instructor and chaplain at Cornell University, the first Catholic priest to be appointed Associate Director of Cornell United Religious Work (CURW). Originally founded as a non-denominational student organization, "Cornell United Christian Association" (CUCA), CURW grew in size and diversity, and eventually became a permanent fixture of the university. Berrigan wrote to Cornell President James Perkins thanking him for the appointment.
"The campus community everywhere," he wrote, "is in the process of transforming its existence. Under pressure from war, domestic violence, wise and foolish uses of power, world poverty, and other forces, students are becoming aware of themselves in a new way. . . . It is a privilege to have a part in this explosive awakening. I hope that through counseling, teaching and liturgical activity, I may contribute to a community of service, concern and intelligence."
When Father Berrigan, who was already known as one of the nation's most prolific writers on pacifism and civil disobedience arrived at Cornell, a spontaneous rapport developed with the activist students. His new position as an instructor became an important vehicle for him to further the cause of nonviolent resistance to the war in Vietnam.
On October 22, 1967, at the first national mobilization against the war in Washington, D.C., Father Berrigan was arrested along with hundreds of others for occupying a terrace in front of the Pentagon. Five days later, Daniel was released from jail, and on that same day at the Baltimore Federal Customs House his brother Philip and three other Catholics were arrested for pouring blood over nearly a thousand 1-A draft files at the Selective Service office. This unprecedented symbolic direct action of the "Baltimore Four" served as a model for subsequent nonviolent anti-war actions. The Berrigan brothers had embarked on a political odyssey of direct actions and arrests that would continue into the 21st Century.
While he was affiliated with Cornell, Daniel Berrigan continued to be an outspoken opponent of the war. In early-1968, he and the historian from Boston University Howard Zinn traveled to Hanoi while the after-effects of the Tet offensive were still smoldering. They received three American military fliers who had become POWs after being shot down by the Vietnamese, "the first American airmen to be released in the course of the war into the custody of American peaceniks."
His two weeks in Hanoi hiding in bomb shelters while the United States Air Force bombed the city made a lasting impression on him. He wrote a book about the experience, Night Flight to Hanoi, and wrote one poem each night during their ten-day ordeal. He also went on speaking trips with a Cornell economics professor, Douglas F. Dowd (who, like Zinn, had been a U. S. Air Force fighter pilot in World War Two), and a student activist, Bruce Dancis, who started the S.D.S. chapter at Cornell and was one of the first people to be convicted of draft card burning (this offense eventually landed him in federal prison in Lexington, Kentucky). "Dan would speak first, melting people's minds," Dowd later recalled, "then I would give the lowdown on the war, and Bruce would wind up with wotcha gonna do?[sic]"
From the time of the Customs House protest, Philip Berrigan had urged his brother to take part in another bolder protest. Plans for this second direct action were finalized at Daniel's Ithaca apartment: a group of Catholic activists would enter the Selective Service office in Catonsville, Maryland, take out as many 1-A draft files as possible and then burn them with homemade "napalm." Hesitant at first, Daniel agreed to participate, because, as he recounted later, "I was threatened with verbalizing my moral substance out of existence."
On May 17, 1968, the brothers Berrigan, along with seven others (five men and two women), forcibly removed close to four hundred 1-A draft files from Selective Service Local Board Number 33 in Catonsville, took them out in a basket to the front of the building, and burned them with homemade "napalm."
The clerics and laypersons, (later dubbed "the Catonsville Nine"), held a prayer service around the flaming files, issued a statement to the assembled press, and awaited arrest. Since this destruction of United States government men and women of the clergy and laity it had the added effect of challenging fundamental notions of morality and the role of the State perpetrated not by secular criminals, but property. But this was only the beginning.
The trial of the "Catonsville Nine" itself provided an arena for the clerics to indict the war on moral grounds. Father Berrigan's meditation on stopping the war was read into the trial transcripts and disseminated to the press. Excerpts of the meditation were read at rallies and peace marches throughout the country:
". . . Our apologies, good friends, for the fracture of good order. The burning of paper, instead of children. . . . For we are sick at heart, our hearts give us no rest for thinking of the Land of Burning Children. . . . We say: killing is disorder, life and gentleness and community and unselfishness is the only order we recognize. For the sake of that order, we risk our liberty, our good name. . . . When, at what point, will you say no to this war? We have chosen to say with the gift of our liberty, if necessary our lives: the violence stops here. The death stops here. The suppression of the truth stops here. This war stops here . . . "