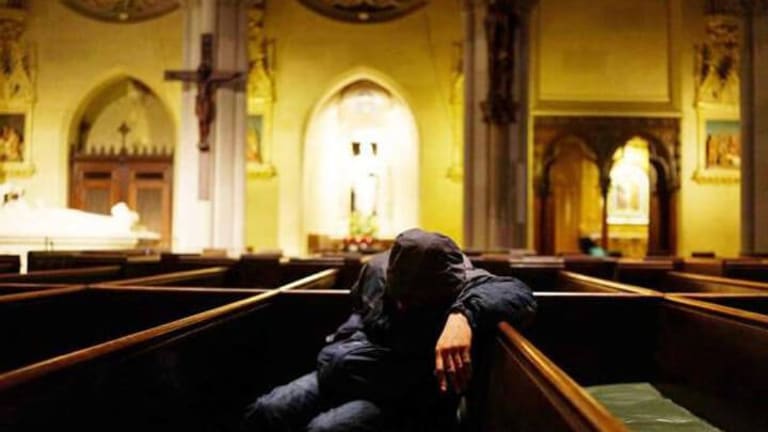 Angels Are Everywhere: LA's Homeless Army
Pastor Eddie Anderson: All too often those who are down on their luck are also on the outside looking in of our big, pristine, clean churches.
Angels are everywhere. You can find them working at your local restaurant, sleeping in cars along the street, and huddled in the shadows on notorious Skid Row. You can find them in local colleges, graduate programs, trade schools and even in your own neighborhoods. Yes, angels are everywhere in this city of angels, but their wings have been clipped.
Los Angeles is filled with angels but we often call them homeless, unemployed, underemployed, and the working poor. In Los Angeles, the rate of homelessness is on the rise according to the Los Angeles Times and the L.A. Weekly; it is virtually an epidemic. It is no secret that thousands of people descend upon Los Angeles every year seeking to make dreams metamorphize into reality. They come to be singers, actors, to start a business or to chase opportunity. They are here for the fresh setting and inspiring sun.
All too often those who are down on their luck are also on the outside looking in of our big, pristine, clean churches.
The lucky ones find some work, often balancing two or three jobs to pay rent and afford food. Others were raised here but by chance or poor decisions, or life circumstances, have found themselves on the outside of society, looking in. The truth is: all too often those who are down on their luck are also on the outside looking in of our big, pristine, clean churches.
So, I have this outrageous proposition: If the church actually is the community we advertise, maybe, just maybe, at least ten percent of our angels can find the solace they need to be able to mend their wings and fly again. If so, we will live up to the words of the minority Jewish prophet from Galilee, "for I was hungry and you gave me food, I was thirsty and you gave me something to drink, I was a stranger and you welcomed me,I was naked and you gave me clothing, I was sick and you took care of me, I was in prison and you visited me".
Here are four ideas, which could help the church rediscover our purpose.
Open the Doors
If you have a church your mission is simple. Care for people, love people and help people to find wholeness again. After all, that is what Jesus was talking about in his pinnacle sermon near a mount. Today, we have lost sight of our mission because our doors are closed to anyone who does not fit the bill, or worse, not a card carrying member of our club for the past two decades or generations. Our doors all too often are closed to those who find their backs against the wall in society.
We can open the doors, and go out into the community instead of expecting the community to come to us. [Caution: the next line may be radical so you may want to stop reading.] Moreover, when we open the doors of the church and go out into the community it should not be to save those people out there souls from hellfire and brimstone but rather to listen. Listen to the heart of the people. Listen to the people on the corner and in the coffee shops. Host at least one of your church committee meetings at a local restaurant instead of your secluded boardroom. Listen intently to needs and wants of the community, to the culture of the community, especially if the major culture of the community is different from that of your congregation).
After you listen decide to act, to respond to what you have heard because chances are the people in your community have been screaming a sermon that we have been to tone deaf to hear. The scripture reminds us "You shall not oppress a stranger, since you yourselves know the feelings of a stranger, for you also were strangers in the land of Egypt." So lets open the door and engage in the dialogue especially in a time where more and more people are being locked away in echo chambers of division.
Repurpose the Space
Now that we have learned to listen to the needs of the people and we acknowledge that the church exists for all of us; let's meet those needs by repurposing our space. I am aware of the growing trend to dismantle the walls of the church but I suggest that in many instances that is an overreaction. If you have a building that can be used to benefit the community, then use it to benefit the community. Yes, potlucks are fun but please don't let that be the only time your building is used after hours.
Look around; see how your building can meet the needs of your community. Maybe the extra fellowship hall, which you only use once a year, would be a perfect place for an AA group, an LGBT safe space meeting, a feeding program for seniors or various community activities. Maybe it is time to say YES to the nonprofit that needs temporary workspace.
What would it mean to work with a local homeless shelter to allow the overflow to sleep in your gym once a week? The point is, there are community organizations and people who you can partner with to baptize your space into the renewing water of community engagement. When you allow your building to be an asset to your community you breathe new-life into it and into the church community.
Create Jobs
One of the ways in which people find value is having a job. Yes, having a job has tremendous effects on how we view others and ourselves. At the bottom of Maslow's hierarchy of needs is security and one of the key ways that we find security in America is having a job. It is a boost to self-esteem and alleviates some stress due to economic hardships. Chances our after you repurpose your space and listen to the community you will find a gap of some kind, a need which you can help attend to as a community of faith.
Rev.Dr. Cecil Murray demonstrated this is South LA with First African-American Methodist community development corporation F.A.M.E Renaissance creating over 4,000 jobs and grew church membership to 17,000. I suggest searching for ways to create a job using social-entrepreneurship. By using social entrepreneurship you do meet the needs of the community and give back simultaneously. Moreover, in a biblical sense you start to look more like that fame community which we always hear about and reference in Acts but can't quite figure out how to live into.
Be a Common Cause Community
Lastly, once you find the thing that your community does well and how to be an active and engaged community outside and inside the walls of your community or church than continue doing that. Every one cannot be all things to all people. In fact, people will probably engage with you for two or three reasons but once you find those reasons continue to engage those people and that common thing which brings you all together.
Yes, I know you are there for Jesus, but the bigger question is Jesus doing what? Answer the what after listening to the community and you have your common cause and mission for at least the next five to seven years. Maybe just maybe the world and your community will begin to mend and a little bit of light will be brought back into your life, your community and your church. Try it out and let's help angels fly again.
Nevertheless, perhaps you have been reading this article and thinking that this sounds good but does not fit you or your community at this time due to other circumstances. Truthfully, none of this may apply to you but may I suggest you encourage your community to vote. If we are going to be citizens of the kin-dom of God then we must use our hands and feet to build the city. And voting, my friends, is a type of intercessory prayer.
At the very least all of us can do a better job of encouraging our members to vote for the basic tenant of our faiths and take care of the least of these. We have that opportunity on March 7th to vote for Measure H. The question is, will you help our angels fly again? As the apostle Paul reminds us, " "Be not forgetful to entertain strangers: for thereby some have entertained angels unawares."
Pastor Eddie Anderson