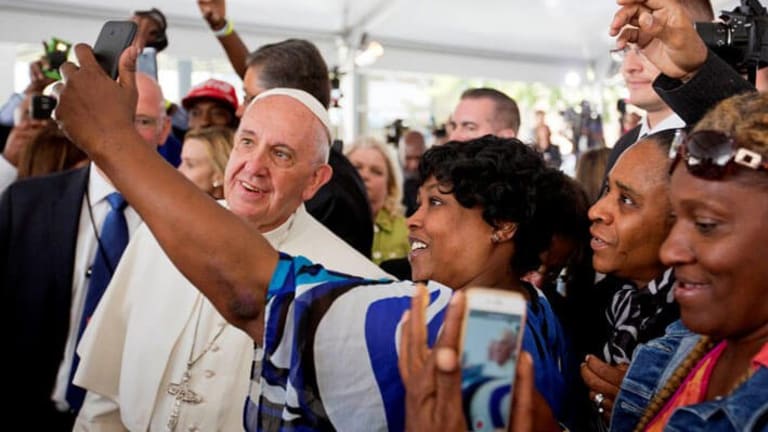 Paz en Acción: Why the Teachings of Francis of Assisi Matter Today in Social Justice Work
Victor Narro: Our unhealthy lives as activists—whether as an organizer, policy advocate, lawyer, or researcher—is impacting the overall health of our movement for justice.
Pope Francis' visit to the U.S. was indeed historic in many ways. For one week, he captured the imagination of those of us fighting for immigrant rights, economic justice, environmental justice and criminal justice. From the halls of Congress in Washington D.C. to Ground Zero in New York City, from the Catholic masses that attracted hundreds of thousands of followers to meetings with low-wage workers, migrant families and inmates at a prison, Pope Francis carried forward messages from the teachings of St. Francis of Assisi on compassion, understanding and leadership through humility. With the social media and the digital age of today, much has been written about the Pope's visits, his many addresses and his statements. During the Pope's visit, I launched Paz en Acción, the Spanish translation of my book Living Peace: Connecting Your Spirituality with Your Work for Justice.
Like Living Peace,Paz en Acción provokes dialogue with Spanish language readers for the sharing and integration of spirituality among those working for peace and justice. I reveal how the life and teachings of St. Francis of Assisi shape my work for justice, teaching me the way of peace, love, humility, and service. Through interaction with other activists, my Franciscan spirituality has also been enriched by that of others, such as Thich Nhat Hanh, Vietnamese Buddhist Zen Master, poet, scholar, and human rights activist. As he shares his reflections on various ways spirituality can nourish social activism.
Eight hundred years ago, a humble man transformed his world and renewed the Catholic Church by simple but revolutionary acts of practicing his faith as it had never been practiced before. Francis was a man of peace who was known for building bridges of communication, understanding, and cooperation between warring people, groups, and nations.
Francis was born about 1181 into an affluent family during a period of incredible violence and warfare. Francis dreamed of knighthood and he fought in battles against other towns and cities. Many historians believe that Francis participated in the killing and slaughter of other soldiers during battle. Italy during that time period was filled with daily violence on a large scale. During Francis' lifetime, the once dominant feudal system was breaking apart, and Italy's provinces and cities were engaged in ongoing strife that led to continuing military conflicts.
During his youth, Francis developed a reputation for self-indulgence and playfulness that made him a hero and leader of his town's young people. He watched as his own town of Assisi was wracked by a civil war and a long-running conflict with the nearby town of Perugia. When Francis was 20, the conflict with Perugia erupted into an all-out war. Inspired by patriotism and deep pride, Francis enlisted and went off to battle. He was captured and put in prison for nearly a year.
Two years later, Francis set out for war again, this time as a young knight of a papal army bound for the Crusades. On his way to battle, Francis had a vision that caused him to become weak and very ill. He returned to Assisi, unwilling to take up where he left off. He was ill for almost a year and he struggled with dreams and voices telling him to repair the Church that had fallen. These dreams and visions led him to turn his back on his father's wealthy business and the military heroics of his youth.
Instead, Francis chose a radical life of caring for the poor through his acts of love and humility where he lived among lepers, homeless and others that were neglected by society. Francis was a tough and demanding revolutionary voyager of the human spirit. He was someone who chose to live not with the easy metaphors of poverty, but in real, harsh, grinding "poorness." Francis had a relentless emphasis on real poverty and its necessary companion, humility. Francis was someone who lived his vision. His life (rather than his words) teaches us what it is like to live with spiritual joy in the service of other. Francis was an extraordinary person whose response to the world of the 13th century gives shape and motivation to our response to the world of the 21st.
As we are witnessing today with the recent news about the Pope Francis, the conservative wing of the Catholic Church in the U.S. and the Vatican are trying to swindle and embarrass the Pope because they strongly oppose his views and direction. Eight hundred years ago, the Vatican did the same to Francis of Assisi, a peace activist that created a social justice movement during the turbulent Middle Ages in Italy. The Vatican destroyed his movement and institutionalized it because they felt threatened by his popular movement and his attempts to reform the church. His way of life was a constant reminder of how little the Catholic Church hierarchy loved—of how selfish it had become. They persecuted and excommunicated his spiritual followers, some of which were tortured and executed. This is why Pope Francis is the first Pope to take the name of Francis of Assisi. He is trying to revive that movement.
I want to share my reflections on how Francis of Assisi nurtures me through his teachings and how he provides me with a spiritual self-care approach to my daily work for justice.
In the movement for social justice, a common thread frequently runs throughout our work. It's a kind of martyr's code that measures a person's commitment to justice by the willingness to sacrifice personal time, health and relationships. There is a lack of self-care and community-care within the movement. We are facing major challenges that far exceed our human capacity to take them on. We often find ourselves suffering fatigue and burn-out, which lead to a breakdown of our bodies and spirit. Our unhealthy lives as activists—whether as an organizer, policy advocate, lawyer, or researcher—is impacting the overall health of our movement for justice.
In Living Peace, I argue that the work for justice is a form of spirituality in and of itself. As activists, we have the foundation of spirituality within us from which we can approach the work together and rebuild our movement from within. Each of us is an instrumental creative part of the universal being of justice, and there is no one role that rises above the others. The spiritual framework that we need to strengthen our movement as we move forward will rely on
our interconnectedness with each other, and
our embrace of social justice activism through compassion and humility.
The interconnectedness between all of us in the social justice movement should become an indispensable part of our work. This is so especially where we find ourselves dispersed in so many different strategies and campaigns, and often disconnected from each other. Francis of Assisi would spend long hours with each of his brothers that formed the first band of followers of his teachings. He lived and practiced daily the heart-to-heart connections with them.
Similarly in our work for justice here in Los Angeles, we are all interwoven—ourselves, our lives, the communities we represent and what we are striving to accomplish. Francis had the capacity to go deep into someone's heart and share the joy and sadness of that person. As activists, we too have the potential to connect through our hearts and let that connection be the driving force that enables us to struggle together, to strategize together, and to win together. In reaching such a potential of human relationship, we will create the spiritual binding force from which we can move forward together in the fight for a better Los Angeles. This is true solidarity in action—our interconnectedness with one other, the spiritual force of love and compassion for one another, much in the same way of the unconditional love that Francis had for all of creation.
Thich Nhat Hanh in his Fourth Mindfulness Training, Loving Speech and Deep Listening, states that we must be "determined not to spread news that [we] do not know to be certain and not to utter words that can cause division or discord." He goes on to state that we must "make daily efforts, in [our] speaking and listening, to nourish [our] capacity for understanding, love, joy, and inclusiveness, and gradually transform anger, violence, and fear that lie deep in [our] consciousness."
We must learn to engage in active listening with our heart, which will then enable us to speak through compassion or loving speech, and not anger, frustration or fear. Active listening without passing judgment, is a gift that we can give to each other to enhance our work for justice. When we are really heard, and the other understands our meaning and emotions, we feel valued and respected, a condition necessary for strengthening our movement. There is a no more precious gift, to give or receive, than to listen to the words of another. This process of active listening and loving speech will enable us to be mindful of and respect the dignity within each one of us. There is really no meaning in a task or activity unless there is a deep inter-connection with our spirituality and with one another in our work for justice.
My daily meditation and refection with Francis serves as a spiritual incubator that helps me grow and frees me up to serve others. Francis wanted nothing more in his life than to spend himself in order to be compassionate towards others. This mindfulness is similar to Thich Nhat Hanh's concept of "interbeing." To apply it to us as activists, there is the connection between our mind, our heart and our sense of justice, which lies deep within our heart. We become truly alive as activists once we make this connection and it then leads to the interconnectedness between our heart and the hearts of those around us. We either keep our spirituality and faith to ourselves, or there is no process to integrate it and use it as a source of inter-connectedness to build strong solidarity.
Our ability to do our work for social justice is reliant on our physical capacity and our health. There should be no disconnection here. If we are unhealthy, we are limited to what we are able to do as activists. Healthy body, mind and spirit should equate healthy activism.
The second principle we must embrace is a model of compassion and humility. Francis taught me that to be humbled, strengthens a generous spirit. Like the principles of non-violence, humility in social justice work is not submission or a state of passiveness; rather, it is a powerful force for change. Francis understood that the biggest threat to humility was the power of human pride and ego. For him, humility in its highest form (holy or spiritual humility) always puts pride and ego to shame. Francis saw humility as the only way to prevent our ego from poisoning our pride. In this way, humility is a form of "self-activism" where we as activists take proactive steps to ensure that we act for the act itself, and not to feed our selfish desires or be puffed up by the praises of others.
Just as Francis preached a way of life through the principle of humility, we too must approach our work in the same way. What does this mean? It means that we must exercise humility through acts of compassion and selflessness as we carry out our tasks in our everyday work—in a campaign, in a picket line, a protest, giving a presentation or workshop, house visits, community forums, visiting policy makers, etc. In whatever activity we engage in as part of our work for justice, we must always do it through the principle of humility that Francis teaches us. After all, true leadership is about knowing when to step back so that others can step forward.
Self-awareness at all times during our work for justice helps keep us in a state of humility. Self-awareness of how we treat others and how we engage with our colleagues in campaigns and other activities guides us in the community we are trying to build. We must always be in the presence of this self-awareness.
As we struggle to transform our work for justice, let us embrace a new approach of moving forward together. Through his teachings, Francis of Assisi provides us with a spiritual framework of humility, compassion, understanding and self-care that can help us work together to create a more sustainable, healthier, and stronger movement for justice.
Finally, I end Living Peace with an excerpt of a teaching from the great Jewish thinker, Rabbi Tarfon, as translated by Rabbi Rami Shapiro. I always share this piece with my UCLA students during my last day of class with them:
You are not obligated to complete the work,
but neither are you free to abandon it.
Do not be daunted
by the enormity of the world's grief.
Do justly, now.
Love mercy, now.
Walk humbly, now.
Victor Narro
Victor Narro is Project Director for the UCLA Labor Center. For more information on his book, Living Peace: Connecting Your Spirituality with Your Work for Justice, go here. He can also be found on Twitter at @narrovictor. To order a copy of Living Peace or Paz en Acción, go here or here.