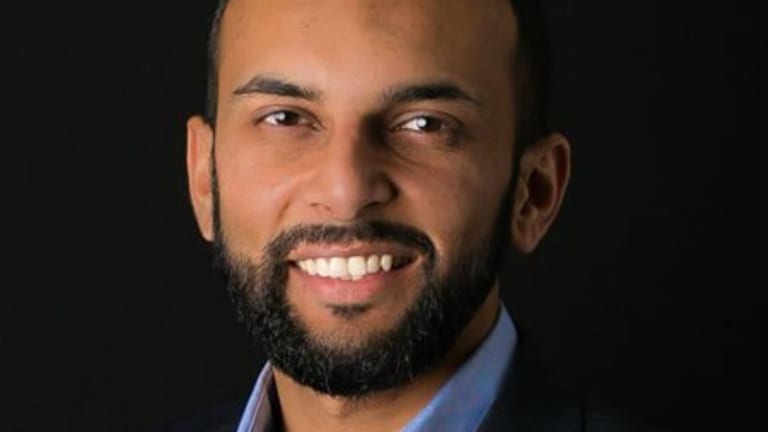 The Need for a Meaningful Dialogue About Religious Tolerance
Victor Narro: In Talk to Me Qasim Rashid takes the spiritual framework for a just society that he lays out in his earlier book, The Wrong Kind of Muslim, and transforms it to a higher level.
Book Review by Victor Narro
When Qasim Rashid reached out to me to write a review about his latest book, Talk To Me: Changing the Narrative on Race, Religion, & Education, I had a brief moment of hesitation. It was not because Rashid is a fellow alumnus of the University of Richmond Law School (Rashid from the Class of 2012 and me from the Class of 1991), and I have been a strong follower of his work in promoting religious and spiritual tolerance. It was because this is my first ever book review. After reading Talk To Me, however, I made the right decision to write this piece and share my insights.
Since 9-11 and especially this past year during the presidential primary we have seen a culture of intolerance rise to the level where many have embraced attacks against groups of people solely because of their religious and spiritual beliefs. In Talk to Me, Rashid is the spiritual in a struggle for a better society and integrates it with powerful stories of how his friends, families and colleagues have transformed themselves and those around them through a process of meaningful dialogue that integrates the values of loving speech and active listening.
In Talk to Me, Rashid takes the spiritual framework for a just society that he lays out in his earlier book, The Wrong Kind of Muslim, and transforms it to a higher level.
In Talk to Me, Rashid takes the spiritual framework for a just society that he lays out in his earlier book, The Wrong Kind of Muslim, and transforms it to a higher level. As he points out so eloquently throughout the book, our conversation today about interfaith acceptance and tolerance needs to go beyond the rights and privileges that are afforded to us by laws and policies; rather we need to elevate our dialogue with a moral standard of speech with compassion, wisdom, patience and goodly exhortation. For Rashid, "meaningful conversations are not about words – they are about action. They push us out of our comfort zones and traverse new waters and landscapes. They oblige us to learn about those different than us from those different than us. And when these conversations are conducted effectively, the results are revolutionary."
What I learned from Talk To Me is that the work for justice and religious tolerance must include values that we find in different spiritual faiths such as humility, compassion for others and appreciation of the dignity of every human being. Through a process of powerful and compelling storytelling, Rashid challenges us to embrace these values in our daily work for a better world. Throughout the book, I can feel Rashid telling me that we have the foundation of spirituality within us from which we can approach the work together. We must look inward and reflect on our work as activists drawing from our different spiritual values. Each of us can accomplish this through our own respective spiritual or religious practice or through a collective process of reflection that promote dignity and solidarity building.
St. Francis of Assisi, the peace activist of the Middle Ages from whom I derive my spirituality, would spend long hours with each of his brothers and sisters that formed the first band of followers of his teachings. Francis had the capacity to go deep into someone's heart and share the joy and suffering of that person. As activists, we too have the potential to connect through our hearts and let that connection be the driving force that enables us to struggle together, to strategize together, and to win together. As Rashid points out in Talk To Me, reaching such a potential of human relationship, we will create the spiritual binding force from which we can move forward with a collective strategy. This is true solidarity and community building in action – our interconnectedness with one other. It is solidarity reaching a radical level.
Thich Nhat Hanh, Vietnamese Buddhist Zen Master, poet, scholar, and human rights activist, in his Fourth Mindfulness Training, Loving Speech and Deep Listening, states that we must be "determined not to spread news that [we] do not know to be certain and not to utter words that can cause division or discord." He goes on to state that we must "make daily efforts, in [our] speaking and listening, to nourish [our] capacity for understanding, love, joy, and inclusiveness, and gradually transform anger, violence, and fear that lie deep in [our] consciousness."
Talk to Me is a strong reminder of the Fourth Mindfulness Training. The book inspires the reader to engage in active listening with our heart, which will then enable us to speak through compassion or mindful speech, and not anger, frustration or fear. Active listening without passing judgment, is a gift that we can give to each other to enhance our work for justice. When we are really heard, and the other understands our meaning and emotions, we feel valued and respected, a condition necessary for strengthening our communities. The process of active listening and loving speech will enable us to be mindful of and respect the dignity within each one of us. As Rashid points out in one of his stories, "Meaningful communication requires we break through the oppressive narratives with education and learn about one another from one another. Until we affirmatively take such a step, we cannot make a difference to improve the condition of those suffering."
Talk To Me is a great contribution to the struggle for religious and spiritual tolerance in America today. It is upon us now, the readers of this powerful book, to use its teachings and integrate them into the significant debates and dialogue happening today about what kind of America do we want to pass on to our children tomorrow.
Victor Narro