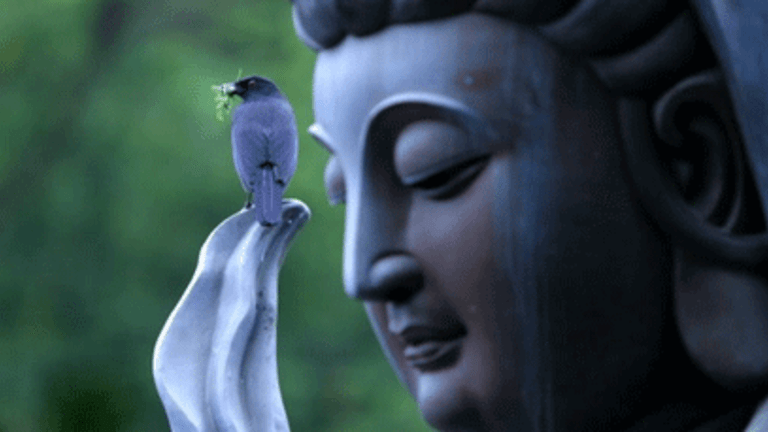 Widening Circles
Ben Becker: Memorial Day began as "Decoration Day" in the immediate aftermath of the U.S. Civil War. It was a tradition initiated by former slaves to celebrate emancipation and commemorate those who died for that cause.
[dc]"I[/dc] live my life in widening circles," writes Rumi. To pray is like the circling flight of an eagle, says Joy Harjo. I think if I were to describe my personal UU theology, it would have to do with circles.
During the April Soulful Sundown, we were asked to reflect upon, and then to creatively draw—our belief or nonbelief in God. My picture looked like a sort of spiral galaxy, lots of swirls and little yellow-star like spheres linked together. Afterwards, someone told me, "I knew that one was yours." She had seen a collage I made during a recent Bridging Group for newcomers, and said she could recognize the same patterns, colors, and meaning in my collage as in my God picture. I came home and looked at my collage, pinned on my refrigerator—there's a big golden circle of light in the middle, surrounded by swirling patterns carved in wood, lush green forests, curling vines of flowers, and blue lakes.
This led me to think, can someone recognize my theology by picture? Could someone recognize yours? What if, someone could look deep inside you, into what you believe about faith, spirit, God, Goddess, or Divine wisdom, what would they see?
Our images of the divine say a lot—not only what we believe in, but how it matters in our lives. Think of the Sistine Chapel, and the iconic image of God reaching out his hand to touch Adam's. Or the beauty of Islamic calligraphy, no portrayals of people, only the elegance of the many names of Allah. I've gone through periods when I've thought of the divine as a woman, the calm and peaceful face of the bodhisattva KuanYin seated on a lotus. I've thought of the vastness of the desert and the sky at night, an immense ineffable Mystery with no form or shape. One of my still-favorite images is of a candle, like a chalice, lit, but not burning, in my heart, representing the holiness within my own soul and every human being. I hope that somewhere you too hold images in your mind, that act as your own iconography, the symbolic shrines of your heart, that give to you, peace, comfort, and joy.
Here's my theory on why I'm so into circles in my own theology – circles represent infinite and unbroken connection – and my theology is one of interconnectedness. When I introduced myself to Neighborhood Church as your intern almost two years ago, I said that the 7th principle – the interdependent web of which we are a part – was my favorite. It still is. What does a theology of interconnection look like in my life?
When I was in seminary, I did an internship with campus ministry at Tufts University, just outside of Boston, one of the first historical Universalist colleges. I worked with the campus UU group, which met one night a week to light a chalice and hold a themed discussion. One night we had a visitor, a student who was interested but did not know anything about Unitarian Universalism. After the discussion he approached me and asked some questions, including the challenging, "So if you don't believe in God, how can you say you have faith? What do you have faith in?"
I honestly cannot remember how I answered, but I do remember that I felt dissatisfied and embarrassed by what I felt was the inadequacy of my answer about faith.
What I also remember is that one of the regular members of the UU student club, another undergraduate, jumped in; he started to give an answer to the faith question from his perspective. I felt relieved, no, more than relieved, I felt saved. I didn't have to answer this big question myself—we had one another. Now I think it represented an answer in itself—faith in our connectedness, our ability to interrelate and share in community.
Recently, I came across this poem called "Salvation" by Lynn Ungar.
Salvation
By what are you saved? And how?
Saved like a bit of string,
tucked away in a drawer?
Saved like a child rushed from
a burning building, already
singed and coughing smoke?
Or are you salvaged
like a car part -- the one good door
when the rest is wrecked?
Do you believe me when I say
you are neither salvaged nor saved,
but salved, anointed by gentle hands
where you are most tender?
Haven't you seen
the way snow curls down
like a fresh sheet, how it
covers everything,
makes everything
beautiful, without exception?
As Unitarian Universalists, we do not believe that we have nearly escaped hell nor that we are a chosen elite few. We are saved and salved, by hands that are not our own, by our love and relationships with others.
Many months ago, I visited a patient, I'll call her Mary, who I had never met before, right before she left the hospital to go home on hospice. Even though her daughter told me outside her room that she was an atheist, I thought, she might still appreciate spiritual care. After I introduced myself, Mary stretched out her hand towards me. As I took her hand, such a strong grasp she had, she pulled me towards her and asked, "Are you here to save me?"
I answered honestly, "No, you don't need to be saved. You're safe already."
I held her hand for 20 more minutes, while nurses hurried around us, while her son talked with her. I will never forget how tightly she held on to my hand, nor how deeply authentic it felt to believe truly, that we are already saved, and saved over again by one another.
To paraphrase Desmond Tutu, "A person is a person through other persons. None of us comes into the world fully formed. We would not know how to think, or walk, or speak, or behave as human beings unless we learned it from other human beings. We need other human beings in order to be human. I am because other people are."
This is also why I come to church, and why I chose to enter into ministry – Because theology is an on-going experiment; because it requires constant practice, and the company of other disciplined seekers; because my spirituality grows when it comes into relationship with others. I would add a corollary to David Foster Wallace's argument – we choose what we worship and we also choose who we worship with. We have chosen to worship together in this beloved community. It is a blessing to have this opportunity together, to seek out what is most worthy of reverence in our lives--a blessing to be on the path of growing souls together. It is a hard path that requires much patience and attention, and yet it is also a soul-healing and soul-saving path.
My time here at Neighborhood has also come to a full circle. This June I will complete my internship and say goodbye, at least for a while. I will still be working as a hospital chaplain, and will be preparing for my meeting with the Ministerial Fellowship Committee, and then will hopefully be ordained. During the past two years you have touched my life and I have touched yours, and I am deeply grateful.
Our interconnections and relationships have been profound, influential, and formative on who I am and who I will become as a minister. I have been proud to call Neighborhood my home church, and who knows, maybe I will circle back here at some future date. Thank you. It is a joy to be together with you.
Amen and blessed be.
Christina Pei-fang Shu
Neighborhood Church
Monday, 27 May 2013