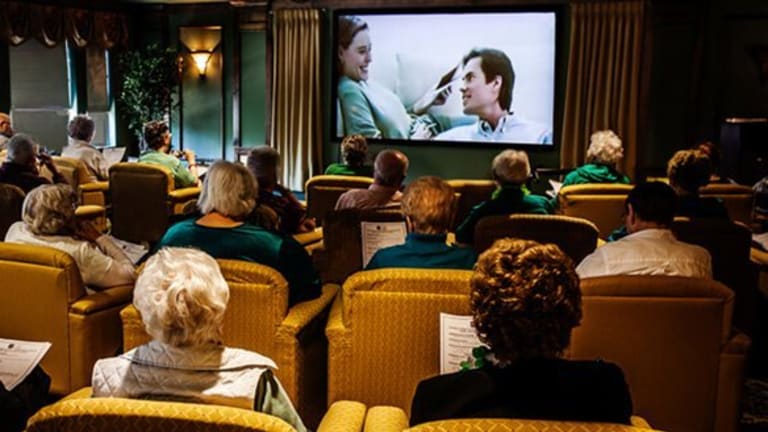 What? No Movie Nights for Seniors?
Michael T. Hertz: One night instead of having the movie night in the apartment, you have it in the lounge. Have you broken any rules? Yes, apparently.
The Clash Between Copyright Laws and Senior Living
The Motion Picture Licensing Corporation holds itself out to be "the leader in motion picture copyright compliance, supporting legal access across five continents and more than 30 countries. We represent over 1,000 producers and distributors from major Hollywood studios to independent and foreign producers." What MPLC does in the United States is attempt to enforce copyright laws for the benefit of film makers.
MPLC explains the situation this way:
"Motion pictures and other audiovisual works that are available for rental or purchase are intended for personal, private, home use only. If you wish to show the work in any other place, you must have a separate license that specifically authorizes the public performance of that work . . . . According to The Copyright Act, only the copyright owner holds the exclusive right, among others, "to perform the copyrighted work publicly."
The rental or purchase of a motion picture or other audiovisual work does not bear the right to perform the copyrighted work publicly. Films may be shown without a separate license in the home to "a normal circle of family and its social acquaintances" because such showings are not considered "public." Films may be shown without a license to non-profit educational institutions for "face-to-face teaching activities" because the law provides a limited exception for such showings.
All other public performances of motion pictures and other audiovisual works are illegal unless they have been authorized by license. Even "performances in 'semipublic' places such as clubs, lodges, factories, summer camps and schools are 'public performances' subject to copyright control."
Both for-profit organizations and non-profit institutions must secure a license to show films, regardless of whether an admission fee is charged. Non-compliance with the Copyright Act is considered infringement and carries steep and significant penalties for both the exhibitor and anyone that contributes to the infringing conduct. Unlicensed public performances are federal crimes and can be subject to a $150,000 penalty per exhibition and other penalties."
Consider this: you are part of a group of retired senior citizens living in an apartment building. You want to enjoy a film with a circle of your friends from the building. Your apartment is small, but you invite seven of them over for coffee and movie-watching. Can you do that with getting a separate MPLC license? Sure – because a showing in your home isn't a "public showing."
One night instead of having the movie night in the apartment, you have it in the lounge. Have you broken any rules? Yes, apparently.
Now let's suppose you and your friends find the apartment setting rather cramped, and furthermore there's a very nice television setup for use by residents in the downstairs lounge. So, one night instead of having the movie night in the apartment, you have it in the lounge. Have you broken any rules? Yes, apparently, because this is a "public" showing in that it is not in a home (even if the common lounge is part of the building all of you share. At least, that is MPLC's position).
This little problem has suddenly become a really big one for Meta Housing Corporation and EngAGE. Meta Housing says that it is "one of Southern California's most experienced and trusted developers of affordable and market-rate apartment communities for seniors and families. Meta Housing Corporation has built one of the industry's most successful track records, developing more than 6,000 multifamily residential units. We are a mission-driven, for-profit organization specializing in developing life-enhancing apartment communities."
In connection with housing for seniors, Meta Housing works many times with EngAGE, which says that it is "a non-profit that transforms aging and the way people think about aging by turning affordable senior apartment communities into vibrant centers of learning, wellness, and creativity." In many if not most of the EngAGE programs, the senior residents at Meta Housing projects have "movie nights" in the comfort of the common area lounge.
There are 34 Meta Housing senior buildings. EngAGE provides programs and support in 35 buildings (some with Meta Housing, some with other owners). Both Meta Housing and EngAGE assert that their programs have positive affects on society as well as the residents:
"EngAGE programs reduce by 25% the number of seniors requiring higher levels of care such as ADL and nursing care, representing a $3,000 per month, per person reduction in cost of care for at least 500 residents, causing an annual savings of $18 million. Seniors who participate in intensive, participatory arts and lifelong learning programs (like those offered by EngAGE) report improved health, fewer doctor visits and less medication usage. EngAGE had more respondents reporting improved health in the past year as contrasted to Non- EngAGE sites, where more respondents reported worsening health."
Unfortunately, MPLC has come into a significant clash with the senior programs of Meta Housing and EngAGE. In late December 2015, MPLC wrote a letter, accusing residents in a Meta Housing project of violating the Copyright Laws by enjoying movie nights in a common room rather than an apartment. As a result, Meta Housing and EngAGE were forced to stop this enjoyable pastime by the senior residents. In fact, Meta Housing told all of its senior projects to stop having movie nights. This impacted EngAGE.
Is MPLC usually this callous, threatening legal action because someone is using movies while trying to run a socially beneficial program? Not according to its website. An individual public library serving a population of 100,000 or more can get an annual license (in 2015) for $285. A K-12 day school with 1,000 or more students can get an annual license for $265.
But apparently it doesn't work quite the same way for a senior community. According to MPLC:
"Apartments, condominiums, manufactured housing, retirement and master planned communities all enjoy the types of neighborly activities and events that bring residents together and foster a sense of community. Movies are an easy, affordable way to provide entertainment to residents of all ages. However, exhibitions within common areas such as outdoor spaces, clubhouses, recreation and/or community rooms are considered "public" by law, and require a license whether two or twenty residents are present."
The MPLC website doesn't stay how MPLC charges for a senior community. However, I telephoned MPLC and was informed that the charge for 2015 was $6.50 annually per apartment, subject to certain discounts. For a building with 125 units, I was orally quoted a price in excess of $750. Unless it received a substantial discount, EngAGE with its 35 buildings would have to shell out well over $20,000 annually just to allow its residents to show their own movies in a common area.
This makes little sense. The movies that are shown are either on discs (someone paid for those) or from a streaming service (someone paid for that, too). From my own experience in the senior building in which I live, the most number of people who attend any movie night is around 20, and sometimes it's as few as 7.
But more importantly, who is going to pay to get the license and go through the hassle and rigamarole to do it? None of the individuals in the building are going to pay $750. EngAGE is a non-profit and cannot afford to pay for all of the buildings it services. And when you get right down to it, it's pretty arbitrary for MPLC to allow public libraries and schools to pay virtually nothing to service thousands of people but then charge a senior building three times as much to show movies to a very small number of participants.
This isn't to say that there is no point to MPLC and what it is doing. The major problem for holders of film copyrights is not people in senior communities who get together for a movie night. After all, they are law-abiding people, usually. They do not buy pirated discs. They use streaming services and those services pay plenty for copyrighted material. The real culprits in the copyright world are the disk pirates and people who show films for money without paying for that privilege. Attacking a senior community's movie night has no impact on copyright piracy or illegal selling. It just creates problems where none existed.
In addition, the MPLC system of charging communities by the number of apartment units rather than paying for actual use creates a huge stumbling block to the sort of model that Meta Housing and EngAGE are trying to create. Of course, Meta Housing could (in theory) negotiate an umbrella license with MPLC and pass a $6.50 charge on to all of the tenants, whether or not they came to a movie night. Doubtless no one would complain. But MPLC is basically manufacturing an expense for people who in many cases are in a low rent project.
The most reasonable outcome overall would be one in which each building would be licensed to have movie nights with a maximum number of participants. Say, twenty. One might note that it would not even be possible to sit all the occupants (over 125) of the apartment building in the common area where I live for a single movie night, so to pretend that the MPLC license is for that purpose is total nonsense.
The amount being charged is arbitrary and is solely for the purpose of showing who has the power. MPLC has created a problem where one didn't need to exist, and it has undermined efforts to improve our society purely to demonstrate its own might. This wasn't the purpose of the Copyright Law that MPLC says it is enforcing.
If anyone is thinking about re-writing the Copyright Law it would make sense to eradicate the need for MPLC's harassment of private organizations. The copyright income for creators of films should be based on sales of individual products (discs and the like) and on paid viewing (in theaters, streaming, and so on).
But anyone who pays to get access to a film should be permitted to show it to friends and neighbors in any setting, whether public or private. If the overall income is insufficient for the creator, then the cost of the product that is being shown should be raised. There should be no division between showing a film privately and publicly, so long as there is no charge being made for the so-called public viewing. The current system of pricing is far too complex and is not user friendly.
I sent a draft of the above article to MPLC and asked if there were anything MPLC would want removed or any comments it might have. I received the following:
"Contrary to your assertions, the MPLC is in no way in a significant clash (or any clash) with the senior programs at Meta Housing or EngAge. Rather, the MPLC works harmoniously with senior living and healthcare communities, as we realize many facilities are not aware of the restrictions regarding the use of movies, and our approach is an educational one. The MPLC's reputation for integrity and professionalism has led to joint positive educational efforts, and working relationships with many associations that work with seniors. Associations working to educate their members about copyright compliance include the National Council on Aging's National Institute of Senior Centers (NCOA/NISC), the American Healthcare Association (AHCA/NCAL), Leading Age (LA), the National Association of Activity Professionals (NAAP), and the National Certification Council for Activity Professionals (NCCAP). In addition, the National Apartment Association (NAA) has published articles on the MPLC and the importance of copyright compliance.
To summarily compare pricing of libraries and schools to senior communities is unfair as the breadth of producers represented in senior communities is much greater than the offerings to libraries and schools. The MPLC provides a much needed service without the hassle of reporting titles or paying per movie night. Rather, our license for senior living communities is good for one year, covers almost every producer, and there is no need to report which titles were shown.
The MPLC is on the forefront of piracy prevention, as an MPLC public performance license does not cover illegal content. Why should every consumer pay for a public exhibition license when it would only increase the cost of the DVD or streaming service, when not everyone needs that license? Your pricing hypothesis is fundamentally false and should not be included in your article, as your conversation with an MPLC licensing representative did not go into pricing for EngAge. Based on your representation over the telephone when you called the MPLC, the MPLC licensing representative believed that Meta Housing was your client so only pricing for that facility was discussed. The MPLC is in talks with Meta Housing regarding licensing and Meta Housing has confirmed that you are not acting on behalf of the owner.
Lastly, and most importantly, in no way does MPLC harass senior communities. We provide a service, and have done so for almost 30 years."
Since I told the MPLC representative that I was a tenant, it's hard to understand why he would think I represented the building. In any event, my goal was to get some sense of how much MPLC charges for a stand alone senior building, and I did receive that information.
No one is denying that MPLC provides a service, but it is not a service to senior communities. MPLC's goal is (presumably) to earn money for its clients and to throw the fear of prosecution into anyone who might be showing movies in "public" places, even if the showing is free and without charge to the viewer.
MPLC asks, "Why should every consumer pay for a public exhibition license when it would only increase the cost of the DVD or streaming service, when not everyone needs that license?"
The same question can be asked of MPLC as to why every apartment in a senior facility needs to be calculated into a fee charged to play a DVD in a common room when every tenant does not watch the movie. If MPLC included the right to play a movie without charge outside a private home in the fees for DVDs and streaming, it would eliminate the complexity of the system it has now.
Furthermore, MPLC does not say how much additional money would be added to a DVD or a streaming service simply because the user could play the movie outside a private residence. The present system has all sorts of bureaucratic fees built into it and many of those would be eliminated if the system were simplified.
One thing is certain: because MPLC did write an accusatory letter concerning one Meta Housing project's screening movies, all Meta Housing senior projects and all EngAGE projects were suddenly forced to stop screening during the 2015 holiday season. If MPLC's goal were educational only and a desire for harmony, it would have written a letter expressing an interest in negotiating with Meta Housing. A reasonable approach would have been to educate without the sort of threat that apparently forced Meta Housing and EngAGE to shut down an important part of their senior programs.
Post-script:
After I wrote this article and received the MPLC comment, I attended an EngAGE meeting where I learned that Meta Housing was in negotiations with MPLC. I was told by the EngAGE representative than Meta Housing would have to pay $6.50 per apartment unit so that its tenants could watch movies in the lounge. Movie night will start again soon.
Michael T. Hertz